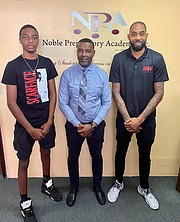 By BRENT STUBBS
Senior Sports Reporter
bstubbs@tribunemedia.net
THROUGH his Raw Talent Sports Company, professional basketball player Jaraun 'Kino' Burrows continues to open doors for more talented young Bahamians to follow in his footsteps in achieving their dreams of playing at the next level in the sport.
Burrows, who has been playing on the pro circuit for the past 12 years and 17 as a member of the Bahamas men's national basketball team, formed Raw Talent Sport in the summer of 2018 and has already assisted six Bahamians, including Dominick 'Nado' Bridgewater, Kenny Isnord, Adam Johnson and Briontae Riley to achieve their dreams.
Today, he will be heading back to Europe with his latest protégé, Whitfield Ching, a former player with the Noble Preparatory Academy, headed by Geno Bullard. Ching will be enrolling in the Byers Academy, one of the top professional teams in Fos-sur-Mer, France as a member of their junior Fos Provence basketball team.
"Nado went that route as a pro and two years ago, I took Demari Thompson, the 26-year-old who has gotten some worldwide opportunities to play," Burrows said. "He started in the academy two years ago and now everybody wants him.
"That's the same route that I want for Whitfield. I want him to get the early opportunity to soar in France so that he can get the exposure that he needs to soar. That's all I want to do for these kids, give them an opportunity to succeed."
Having grown up as a track athlete, Ching said when the pandemic struck, he found himself playing more basketball with coach Bullard at Noble Prep and when the opportunity from Burrows came, he jumped on it. "I'm excited about this opportunity to go to the next side of the world to further my basketball career," said 16-year-old Ching, who just completed the 10th grade at Noble Prep. "This was really a surprise for me. I didn't really have any future plans for basketball. I was just preparing to go back to school and complete my education. So this was really a blessing from the man above. I was glad that I was accepted into the school."
As a 6-foot, 7-inch forward, Ching said he's just looking forward to further developing his skills as a basketball player.
"Noble has really prepared me well on and off the court," said Ching, the last of three sons born to the parentage of Chris and Claudette Ching.
"So when Kino came along, I really got to showcase my skills. I am just thankful to the man above for this opportunity."
Bullard, who has worked and helped a number of Bahamian players to obtain scholarships and to play overseas from Noble Prep, said Ching demonstrated his ability to succeed from a very young age, following in the footsteps of one of his older brothers, Christian Ching, who graduated from the academy as the head boy in 2015.
"Ching has been around us since he was seven or eight and to see him grow into his purpose, we are just fortunate to have been a part of it," Bullard said. "I always told his parents that he's going to be the one in their family to really excel in basketball.
"He had the time, he absorbed and he grew into the atmosphere that we created here at NPA. He knew what success was all about, watching his brother graduate with honours and go to college and obtain two degrees. So he had that inspiration. It was in his DNA when he came to Noble. He was never below a 3.0 average. He was a hard worker and because of his background, he excelled very quickly."
Bullard said hopefully Ching can be an inspiration to the others left behind, not just at NPA, but in the Bahamas, to put in the work to be rewarded for the work ethic and having the people around them to enable them to achieve their goals.
"No one is going to give you anything in life. You have to go out there and earn it," Bullard said.
"Whitfield has certainly earned this opportunity to go off. He's a good role model for the younger people because he's done it the right way."
Bridgewater, on the other hand, just signed another deal to return to France where he will be playing in the National Division II League with the US Avignon/Pontet Basket after playing in the United States in a few G-League games for the National Basketball Association (NBA).
As for Ching, Burrows said this is an awesome opportunity for him to spread his wings.
"I am in tone who are the top kids in the Bahamas, but it's been tough to watch them because they haven't been playing that much basketball over the past two or three years because of COVID-19," Burrows said.
"But he went to Noble Academy and I know coach Geno Bullard very well. We came together and when we found out that this would be an awesome opportunity for Bridgewater, it was a no brainer. We told him to pack his bags and chase his dreams and see where it will take him."
Although he's been busy with his organisation, Burrows said he's not officially retired from playing basketball just yet. The 37-year-old forward/ centre said for the first time he didn't have to worry about playing overseas for 10 months, come home in June and head back out in August for another season.
"I am just doing it now for the kids and once I am playing over there, I am creating the opportunities for other young Bahamians to be able to represent the Bahamas," he said. "This will probably be my last season playing.
"I've been blessed. I've been in so many different countries. When I go there, I have an opportunity to live there. I get a car and a house. So I see the importance of the exposure from where we come from and that's why I want to show these kids that they can do the same thing to change their lives, even if they don't get to do it like Buddy (Hield), Deandre (Ayton) and Kai (Jones), are doing in the NBA."
During his time at home this year, Burrows spent some time developing some of the local talent that he had on display during the Bahamas Basketball Federation's Summer of Thunder Tournament with his Raw Talent Sport team.