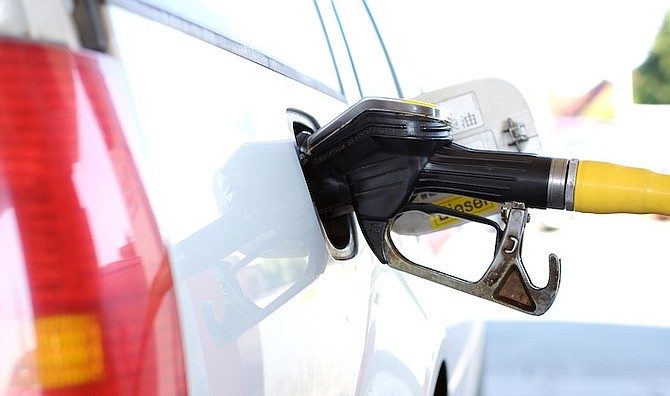 • Say oil price jump makes plight 'more worrisome'
• And resolution meeting with PM even more urgent
• Consumers warned to brace for fresh pump rises
By NEIL HARTNELL
Tribune Business Editor
nhartnell@tribunemedia.net
Bahamian petroleum retailers yesterday said "it's never been so desperate" with a surprise production cut by the major oil producing countries making their need for a margin increase even more urgent.
Vasco Bastian, the Bahamas Petroleum Retailers Association (BPRA) vice-president, told Tribune Business the sector's plight has "become even more worrisome" after the announcement by the Organisation of Petroleum Exporting Countries (OPEC) cartel sent oil prices back above the $80 mark on the major crude indices.
And, with increased global demand set to impose further pricing pressures ahead of the summer months, when households in the US and Europe hit the roads during their annual vacations, he warned that local gas station operators will once again face the prospect of having to pay more to purchase the same quantity of fuel.
This, dealers say, will result in increased overdraft and credit card fees that they must pay from price-controlled fixed margins that are already insufficient to absorb a multitude of ever-increasing costs, thus plunging many into a deeper loss-making position. Mr Bastian and others said this scenario had made a second promised meeting with Philip Davis KC and his officials to resolve their calls for a margin increase even more urgent.
Speaking after the OPEC+ group, which includes the likes of Saudi Arabia, Russia and Iraq, announced they will cut combined production by one million barrels per day or 3.7 percent of global demand, Mr Bastian told this newspaper: "That definitely, definitely would have a huge impact. It's become even more worrisome with that type of action taken by OPEC.
"It will have a devastating impact on our industry and we cannot wait another week. We cannot. I've always said we have to watch the business cycle and the oil cycle, and the US and European countries. I've spoken before about rising fuel costs in the summer, as people there do more driving then, and will be taking road trips they did not take for the last two to three years. All these things have an impact on crude oil prices."
The Brent crude index's per barrel oil price stood at $85.34 per barrel as this newspaper went to press last night, having touched $86 earlier in the day. The latter represented an $8, or 10.3 percent increase, from the $78 per barrel where the index was as recently as last Thursday, March 30. The West Texas Intermediate index, meanwhile, was slightly lower at $80.84 per barrel.
OPEC's production cut has reversed the gradual decline, and reduced volatility, in the global oil market since prices peaked in the $130 range in early 2022 as a result of Russia's invasion of Ukraine. Depending on how long the cut sustains, and it is already facing push back from the US and other consuming countries, Bahamian businesses and households will likely have to brace for increased pump prices in the coming months.
It is unclear how Bahamas Power & Light (BPL) will be impacted, and to what extent, given that it has already unveiled a "glide path" of above market charges that will peak at a 163 percent increase compared to October 2022 levels this summer as it seeks to recoup some $90m in under-recovered fuel costs. With global oil prices rising, it is possible these charges may have to go even higher.
Rising oil prices, which feed into almost every aspect of the economy and Bahamians' daily lives, especially via energy and transportation costs, will also threaten to reignite inflation and price increases that sparked a cost of living crisis for many Bahamian families in COVID's aftermath.
Mr Bastian, meanwhile, said the prospect of further oil price rises "definitely, definitely, definitely" makes it more urgent that their call for a margin increase equivalent to 7 percent of the landed cost of fuel be addressed. However, Sir Franklyn Wilson, FOCOL's chairman, has suggested that more evidence needs to be provided to justify the extent of the increase they are seeking. Present retail margins are 54 cents for gasoline and 34 cents for diesel.
"I've been corresponding with fellow dealers on different chats and groups all day," Mr Bastian said. "These are desperate times for petroleum retailers in The Bahamas. It's never been so desperate. I hate to sound like a scorched record, but these people want help. We want to change the model, and let young Bahamian men and women move on with their lives. We need help and we need it now."
He added that the Government, with VAT levied as a percentage, was the only party to benefit when oil prices increase. "The Government is the leading beneficiary of the industry and has no investment in it," Mr Bastian asserted, suggesting that if the resorts, pharmacies and food distribution industries were taxed in a similar manner to the petroleum sector then it would likely be running a Budget surplus.
The Association vice-president also contrasted the gas station operators' inability to adjust their prices when oil/fuel costs go up to BPL, which alters its fuel charge to cover the extra expense. "I'm going to church tomorrow to pray," Mr Bastian told Tribune Business. "I know Jesus always answers my prayers, but I will pray extra hard tomorrow [today].
"I've been speaking to someone inside the Prime Minister's Office, and things are looking hopeful. Hopefully we can get together this week. I know it's a short week, and it's Holy Week, but we can have at least some chance to close this whole dialogue and what we're trying to accomplish with the Government."
Raymond Jones, the Bahamas Petroleum Retailers Association's president, said multiple factors - including when the oil companies purchase their inventories, and from which refineries and countries - will influence when local consumers see a price increase at the pumps and to what extent.
As for the impact on his members, he affirmed: "The increase in [crude oil] cost will cause us to incur more overdraft fees and the like from credit to buy the same amount of fuel at the same 54 cents margin. It doesn't bode well for anybody because it drives the pump price up. The reason these guys cut their production is to boost profits by driving the price up. We'll see how long that takes to translate into the local market."
Mr Jones said some oil companies will, knowing crude prices are set to increase, seek to boost their margins at the wholesale level when they purchase from refineries. Those with wells and production assets in OPEC member countries are now especially well-placed to benefit from the new market conditions, with financial speculators and commodities traders also driving prices up on the futures market.
"That cut is going to affect us for the cost of purchasing fuel. It's going to affect our business with customers. Customers are going to have to pay a higher price in future at some point," Mr Jones said. "We don't know when.... it could be several months down the road.
"We don't have the luxury of being able to adjust our margins in the face of increasing costs that affect our margins, and that's where we need to get to. We're standing by waiting humbly for a call from the Government to come in and discuss some resolution so we can keep our businesses going as opposed to fighting day-to-day to cover costs.
"We're really hoping that will happen in the next day or two. It's now three weeks since the first meeting. We're hoping that in the next day or two they will say to come back, and we will sit with the Prime Minister and his team to work out a solution so that we get the margin we so desperately need."