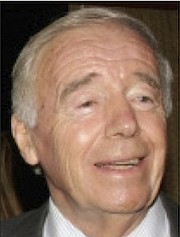 A STATE visit is a potent symbol. It confirms at the highest level the quality of relations between two countries by demonstrating the strength of their diplomatic, economic and cultural ties. It is a powerful indicator of the overall bilateral relationship.
So, in the vernacular, such occasions are a really big deal and much more so than a prime ministerial visit. They can be groundbreaking by showing attitudes and conveying messages – as was the case, for example, in The Queen's visit to India in 1961 following its independence more than a decade earlier, her post-apartheid visit to South Africa in 1995 and her bridge-building one to Ireland in 2011.
Thus, the importance of last week's three-day state visit to Germany of King Charles accompanied by his wife Camilla, the Queen Consort, should not be underestimated. By general consent, it was a huge success. Putting the pomp and glamour aside, it had a political purpose of mending Britain's frayed ties with its continental partners following the painful process of Brexit. It was the King's first state visit abroad since becoming monarch and it was the first to Germany since The Queen's state visit in 2015. He had earlier in London set the tone by meeting the President of the European Commission, Ursula von der Leyen, after last month's announcement of the Windsor Framework agreement in respect of EU trade with Northern Ireland post-Brexit.
It is clear that, unlike The Queen whose first overseas trip after her coronation was a tour of Commonwealth countries, the King's aim was to show, even before his coronation, that Europe is the UK's diplomatic priority and that there is a need to improve relations after Brexit. He had also been due to travel to France but that part of his tour had to be cancelled because of violent social unrest over pension reforms. Interestingly, Germany's President, Frank-Walter Steinmeier, was quoted as saying that the fact Germany and France had been chosen for the King's first overseas state visit was an important "European gesture", adding that, six years after Britain had started its exit from the EU, a new chapter in Anglo-German relations was opening.
I imagine the King's message will have been that even though Britain had left the EU it was not leaving Europe as such and, in particular, it was not leaving the most powerful country in Europe, Germany; nor, indeed, France. So, it looks as though the intended signal was that the importance to Britain of neither country could be questioned. The emphasis now was on rebuilding bridges, not least at a time of pressure over Ukraine and to demonstrate that, despite differences over Brexit, shared long-term interests remained the same.    Presumably, too, the British government, which uses the monarchy's so-called "soft power" to support its own objectives, will hope that giving special attention to the EU's biggest and most influential member states may also help to normalise relations with the rest of the 27-member bloc which remain important partners and allies.
The King and Queen Consort were given a fine ceremonial welcome and attracted very large crowds. Charles was the first British monarch to give an address to Germany's parliament, the Bundestag. This was an historic event. In his speech he celebrated the special bond between Britain and Germany and the "enduring value" of the relationship, saying that he wanted to "renew the pledge of friendship between our nations".
He spoke of the long and remarkable story of the two countries – described earlier by Buckingham Palace as "our shared history, culture and values" - stressing that the next chapters of the relationship should be filled "with the restless pursuit of a better tomorrow". There was a need, he said, to recast the roles of both countries as European democratic allies responding to war in Ukraine, as he praised the "generosity of spirit" of the German people in hosting more than one million Ukrainian refugees.
The King's address to the Bundestag, delivered in a mix of German and English, lasted over twenty minutes and earned him a standing ovation. He spoke strongly about the scourge of war – including the Second World War - and emphasised the need for reconciliation in which his mother had played an important role, not least in her first state visit to Germany in 1965. According to observers, his words came across as heartfelt and personal, and the general feeling was that "he had met the moment". He also visited the northern port city of Hamburg, the scene of heavy wartime bombing, where again the theme was reconciliation.
There can be little doubt that Britain benefits considerably from the "soft power" provided by members of the Royal Family. The monarch, in particular, plays a central role in how the UK projects this. At the age of 74, King Charles has been a public figure for a long time as Prince of Wales and enjoys a special aura. He is instantly recognisable as a global figure and more famous than other heads of state while, staying above politics, he is not burdened by the same constraints that they face. Many say the theatre of all this matters as much as the substance. But, by any measure, not only was the trip a success but it did indeed mark a new chapter in Britain's relationship with this important country – and, it is hoped in Britain, with the rest of Europe as well.
GLOBAL BRITAIN BECOMING A REALITY
In last weekend's UK press, people were being urged to mark March 31, 2023, as the date – in the words of the publicists – 'Brexit got done". For that was the date the UK signed a deal to join a trade pact with eleven Asia and Pacific nations, three years after it officially left the EU. It is called the CPTPP – Comprehensive and Progressive Agreement for Trans-Pacific Partnership – which was established in 2018 and comprises Australia, Brunei, Canada, Chile, Japan, Malaysia, Mexico, New Zealand, Peru, Singapore and Vietnam.
The CPTPP is said to account for about sixteen per cent of world trade and comprises a market of some 500 million people in large, developed and growing markets, with economists saying that by 2030 it will be the world's largest trading system. The UK, which already exports $70bn worth of goods and services to CPTPP countries, is the first European nation to join it and benefit from a cutting of tariffs on a range of its exports and imports together with a boost to its services sector.
It seems that this is being called the final element of Brexit because Britain's membership of the CPTPP represents its biggest trade agreement since leaving the EU. It is being described as a monumental deal with an international trade bloc which has nothing to do with the EU. It is being seen as a significant step forward for Britain - the revival of British mercantilism as it re-establishes itself as a major global trading player.
Commentators are already pointing out that, as a result, there is now little or no likelihood of the UK rejoining the EU, as the so-called Remainers are still hoping. Emphasising that Britain is at heart an open and free-trading nation, Prime Minister Rishi Sunak has said that the deal demonstrates "real economic benefits of our post-Brexit freedoms for, as part of the CPTPP, the UK is now in a prime position in the global economy to seize opportunities for new jobs, growth and innovation". It is also worth noting that this is the British Prime Minister's second major trade breakthrough after his recent pact with the EU on Northern Ireland.
Henceforward, after having already secured a Free Trade Agreement with the EU, British businesses will enjoy unparalleled access to markets from Europe to the south Pacific. The CPTPP will not replace EU trade but supplement it as well as deepening access to some of the world's fastest-growing economies. The big difference, of course, from membership of the EU is that the CPTPP is not a political project. It is a group of trading nations who only want to do business, without any institutional political involvement. The UK will now be at the centre of a dynamic and growing group of Pacific economies based on "mutual recognition, equivalence and adequacy" and without being limited by the sort of burdens imposed by EU membership like endless undemocratic restrictive rules, free movement of people and pressure towards political integration.
Britain's success in joining the CPTPP after talks with the group over the last two years seems to have come as a surprise to many commentators, not least because some doubted Britain would be able to pull it off. But, already it has been described as a seismic event and a wake-up call for Washington following the US's withdrawal from the then Trans-Pacific Partnership under President Trump in 2017. Britain's accession to this grouping of trade partners provides an example of Global Britain in action. There are also wider geopolitical implications – and I propose to examine some of these in next week's column.
A WORLD IN PERPETUAL CRISIS
Whatever their political alignment, most people will doubtless agree that the latest developments concerning the indictment of former President Trump have caused widespread alarm. His expected arraignment this afternoon in New York has created endless controversy and deep uncertainty and has been called by some a sad day for America. Self-evidently, it has sent shockwaves through the nation as the rest of the world also looks on with disbelief and trepidation about what it might lead to in relation to Western democracy.
Reflecting on this, I began to think about the broader problem in the modern world of what British historian Dominic Sandbrook has labelled the state of so-called "permacrisis" in which we live – and, interestingly, this is a word which has now found its way into the dictionary.
Loosely defined as an extended period of instability and insecurity, usually deriving from a disaster or series of negative or even catastrophic events, a sense of crisis is created that precipitates ongoing uncertainty and worry for many people. In such conditions, this can turn quickly into hysteria.
Throughout the ages, of course, people have been confronted by myriad political, economic and social problems, but we now seem to be living in an era of unprecedented crisis because bad news travels fast in an interconnected world as a result of the instant communications produced by new technology that changes and develops by the day. The media compete to disseminate news more quickly than competitors, all too often to satisfy commercial sponsors – and through the internet there are no limits on the immediate availability of information.
Furthermore, disasters are happening around the world constantly and all the time there are those who will be suffering in one way or another. But many people will admit to being overwhelmed by too much information and, in order to live their own lives in the best way possible, there have to be limits on the vicarious concern required of human beings towards others in distress who are unknown to them. This, of course, raises moral and ethical issues which there is no space to explore today. But, for now, suffice it to say that a state of "permacrisis" will surely be with us forever in this newly interconnected world.