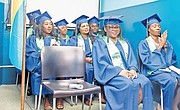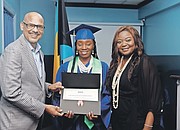 By Fay Simmons
jsimmons@tribunemedia.net
THE Nurses Edge Training Institute (NETI) held its graduation ceremony last week, ushering new additions into the local healthcare system. The Tribune spoke with some of the graduates from the Patient Care Technician (PCT) programme about their experiences and motivation behind entering the healthcare system.
Tamara Williams-Pearce, salutatorian, found the programme online while she was dealing with personal turmoil and improved her self-worth through helping others.

She said: "I was at a point in my life where I was down, I needed something to bring motivation and inspiration to my life. So, I went on Google and I was just searching for a role and then I came across NETI nursing programme and I got interested. While I was doing the programme, I realised how beneficial it is towards helping other people by becoming a helping hand in their life. Some people need help with daily activities and daily living so I think that God led me on this path to get into this programme."
She added: "People need to add value to their lives and this is a good field where you can increase your self-worth through helping others."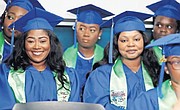 Now that she has completed the programme, Ms Pearce plans to continue her studies and become a registered nurse (RN).
She said "My future plan is to work in the patient care field, get more experience in this area, further my education and become an RN one day."
Melissa Curtis-Russell, home health aide, was always interested in becoming a nurse, however, was unable to complete her studies due to funding and work requirements. When the opportunity presented itself to enroll at NETI, she took it as a second chance to accomplish her goals.
She said: "I always wanted to become a nurse and I had made steps toward that when I was in the working field.
"I got permission from my supervisors and then all of a sudden, they could not accommodate me doing that anymore, and it was either work full time or school full time.
"I couldn't go to school without the funding so I had to work. Well, the opportunity came up again but this time, I was more into the home care thing and I said, 'okay, well, let me try'. I was scared, but I took the leap, it was something that I always wanted to do."
In addition to assisting her patients, Ms Russell is looking forward to developing ways to inform the public about dementia and how to assist those that suffer from it.

She said: "My future plans would be definitely to work as an independent contractor and also work on ways to inform the public about dementia.
"It's important to make others aware of dementia, because we come across a lot of dementia patients and because people are not aware of it, they don't know how to treat them. And that's very important."
Garlyn McKenzie enrolled in the programme while working full-time to ensure that she could adequately provide care for her ailing grandmother.

"My grandmother is up in age and she sees things, hears things and is also was a diabetic," she said.
"And I thought to myself, we don't even have a nurse in the family. So, I decided to be the person in my family to take that role on.
"And then I have kids, so I was like okay, let me be a helping hand to someone else, let me be that asset to the family."
She added: "It wasn't easy because you have to work and then you have class and then you have to deal with all different kinds of personalities."
Ms McKenzie hopes to start a business that can provide affordable health aide services to families in need.
She said: "After gaining more experience in the field I would like to start a health aide business to assist families. Persons of all ages have disabilities, dementia, blindness, deafness, mobility issues, it isn't just about the elderly, it's about anyone that needs assistance.
"I would like to provide that service for them at a fair price."