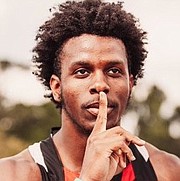 By TENAJH SWEETING
Tribune Sports Reporter
tsweeting@tribunemedia.net
SPRINTER Terrence Jones Jr expressed his thankfulness and gratitude to his teammates and fellow Bahamians that supported him throughout his recent adversity.
The sprint specialist recently had his three-month suspension, issued by the Bahamas Association of Athletic Associations (BAAA), rescinded. The punishment was initially handed down to due misconduct in violation of the BAAAs regulations at the North American, Central American and Caribbean Association (NACAC) under-18 and under-23 Championships in San Jose, Costa Rica, last month.
However, the situation has since been resolved, according to Minister of Youth, Sports and Culture Mario Bowleg.
"I spoke to the president this morning and I think they had a meeting with his executives and came to the conclusion that they would find other means and ways to levy any punishment to the athletes for any breach that was made," Mr Bowleg said.
He added that all suspensions have been lifted and all athletes are free to partake in any upcoming sporting events.
Previously, the three-month suspension would have restricted Jones from competing at the World Athletics Championships in Budapest, Hungary, August 19-27.
Meanwhile, Bahamians rallied in support of the 100 metre national champion and one of the world's fastest men going into the World Championships with a blistering personal best of 9.91 seconds.
Following the verdict to overturn the three-month suspension by the BAAA delegates, Jones relayed his word of thanks to everybody involved in a letter.
"I wanted to take this opportunity to thank the BAAA Executive Board, my Bahamian teammates as well as the club and high school coaches that showed their support," he wrote.
"This has been a humbling experience but one that made me realize how passionate our country is and how great a people we are," he continued.
The Grand Bahamian wrote that he will take his lessons from the situation and through hard work and passion make the country proud.
Although the debacle appeared to be headed south for their son, Terrence Jones Sr and Tara Martin-Jones also issued a letter of thanks to the public.
"Due to the support that Terrence Jones Jr and his family have received from each of you, expressed in your very own way, we are indeed grateful. Therefore, we take this opportunity to convey our infinite thanks and gratitude to you," the Jones wrote.
Despite a change of heart, the BAAA executives maintain that the matter has been handled internally and there will be possible sanctions to follow in regards to the athletes involved.
The focus has now shifted to the World Championships which are three weeks away. Jones has qualified to compete in both the 100m and 200m events.