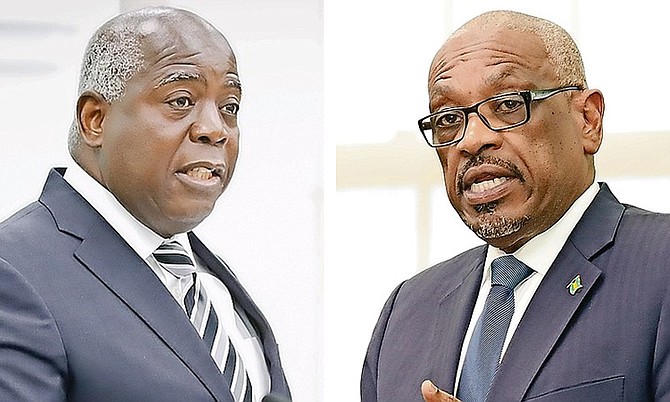 By TANEKA THOMPSON
Tribune News Editor
tmthompson@tribunemedia.net
PRIME Minister Philip Davis accused the Minnis administration of neglecting Princess Margaret Hospital during its four years in office, but charged that he will "fix" the problems left behind.
As he wrapped up debate on the Nurses and Midwives Bill in the House of Assembly last night, he hit back at criticism from former Prime Minister Dr Hubert Minnis about the state of disrepair and crisis PMH is in.
He laid the blame for the current issues at the public hospital at Dr Minnis' feet.
His remarks sparked a heated row in the House of Assembly as Dr Minnis sought to rebut what he called "wrong information" about his term in office.
"He had four years," Mr Davis said.    
"If those who were there when I visited the hospital, I spoke about the crisis and if they had witnessed what I witnessed - when we saw gurneys with elderly persons in the corridors and it appears that every little inch of the hospital because of the neglect of the infrastructure of the hospital for four years, deterioration, because of that neglect, yes I did say I (will) fix it. And we are fixing it, that's what I said."
 Mr Davis was referring to a tour of the hospital he took on Saturday of PMH's wards, in particular those that are under renovation.
 He said a number of wards had been in disuse during the Minnis administration, depriving people of needed hospital beds.
 He said it appeared "hundreds" of people were seeking attention during his visit and he saw makeshift rooms where people were on gurneys awaiting admission because there are no rooms.
 He hit out at Dr Minnis for not fixing PMH's issues when he led the country.
 "As a doctor holding the post of prime minister, and knowing the state of that hospital, and to do nothing. Nothing was done. I won't talk about the Family Islands and all the clinics they just abandoned and did nothing to. And he has the temerity to say what we must do - you don't have the moral standing to speak to these matters," Mr Davis said.
 "The neglect of our health system in recent years was indefensible. And what we were then doing, we were inspecting our efforts to fix it and it is being fixed and within the next six or eight weeks those wards will be up and running and we will no longer need (the arrangement with) Doctors Hospital West, we are also building the module hospital with 26 beds and we are well on the way, having completed the feasibility study, for the hospital to be built here in New Providence and it's now gone to the financiers for their look and we're hoping to get a response very shortly."
 He said funds have been secured for the hospital in Grand Bahama.
 "The money is here. . we should see that very soon," Mr Davis said.
 His remarks drew Dr Minnis to his feet, who said he had a right to rebut the prime minister.
 "I rise on a point of clarification. The prime minister cannot give wrong information and I sit and say nothing," Dr Minnis shouted.
 "The prime minister – cannot come here and believe that he can lambaste this side without clarification. This is not his House! This is the people's House and he has in this House, in this House every man is equal!"
 Mr Davis then rose and tried to speak, however, Dr Minnis shouted from his chair, prompting shouting from members on both sides.
 When he was given the chance to speak again, Dr Minnis said the problems at PMH are the fault of the Davis administration.
 "In this House. . .everybody is equal," Dr Minnis said. "The problems that we face today in the healthcare system is because of their inadequacies, in addition to that, the prime minister should not worry about what happened on the opposition's side — he needs to worry about that crew in the front bench."