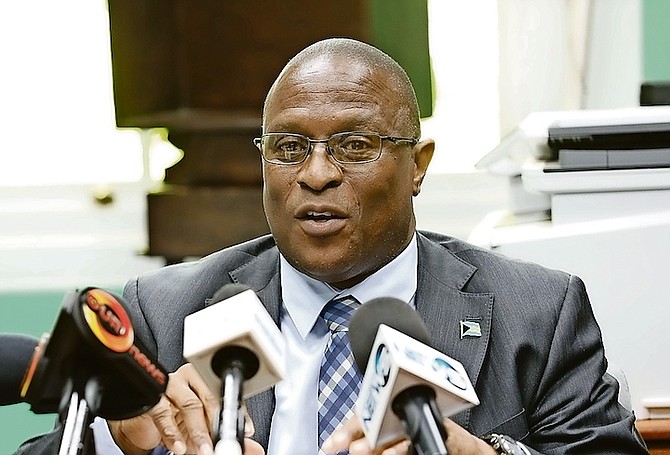 By NEIL HARTNELL
Tribune Business Editor
nhartnell@tribunemedia.net
The Opposition yesterday said it was "stunned" by the Government's forecast that property tax revenues will more than triple to $555m within four years, its leader saying: "I don't see what the Prime Minister does."
Michael Pintard, speaking after the just-released Fiscal Strategy Report also predicted that annual VAT revenues will increase by 37 percent in three years, told Tribune Business his party is "not betting against The Bahamas" or hoping that the Davis administration misses its fiscal goals.
Rather, he argued that the Free National Movement's (FNM) "scepticism" stemmed from what he alleged is the Government's "indiscipline" in failing to stick to fiscal plans and goals previously set. As an example, Mr Pintard said the 2022 Fiscal Strategy Report made no mention of slashing annual subsidies to loss-making state-owned enterprises (SOEs) by $100m - a commitment made in the same document a year earlier.
Simon Wilson, the Ministry of Finance's financial secretary, on Wednesday reiterated the Government's belief that "no new tax measures" will be required to grow its total annual revenues to over $4bn by the 2026-2027 fiscal year. However, Mr Pintard voiced the Opposition's doubts that forecast economic growth alone will be sufficient to generate $1.2bn revenue growth in just four years.
Pointing to the Davis administration's first Fiscal Strategy Report, which was also released two-and-a-half months after the legally-mandated disclosure deadline, the FNM leader told this newspaper: "Given that we were emerging from the pandemic, their revenue projections were a bit outlandish and that was confirmed by the credit rating agencies that evaluate The Bahamas."
As for the 2022 version, Mr Pintard said: "Again, I simply do not see what the Prime Minister is seeing. The additional concern is their unwillingness to be disciplined in terms of what they do and how they execute their strategy. The earlier report, which they released in January 2022 when it should have been in November, even then they didn't follow the plan where they would reduce subsidies to SOEs and not bloat the [public sector] workforce.
"Then there's a whole bunch of unbudgeted expenditure that they have engaged in since then. BPL is one example; you're talking $150m-plus." Mr Pintard urged the Government to have "a mature conversation with the people about what we're up against" from a fiscal perspective so that it could develop some "realistic" revenue targets that are achievable as well as "laying out a road map and being disciplined in following that road map".
The Opposition, in a statement, yesterday said it was "stunned" by the Government's goal of increasing total annual revenues to more than $4bn without implementing new and/or increased taxes. To get there, the Davis administration is forecasting that real property taxes will increase by 227 percent in four years, more than tripling from this year's $169.4m forecast to $554.5m.
And VAT, the main revenue source, is projected to grow by some $528m in just three years as it increases from the $1.412bn forecast for this fiscal year to $1.94bn by 2025-2026. The Fiscal Strategy report than predicts, inexplicably, that VAT will decline by $179m year-over-year to $1.761bn in 2026-2027. Together, the VAT and real property spikes are to account for the bulk of the $1.2bn total revenue increase by 2026-2027.
The FNM, questioning why the Fiscal Strategy Report made no mention of the $90m user fee increase detailed last year in a government report on how its 25 percent revenue-to-GDP target will be achieved, said: "The Government clearly intends to increase taxes to meet its goals. As this is the case, the plan to achieve this should be clearly outlined in the Fiscal Strategy Report 2022 with the proper rationale and explanations."
Mr Pintard, speaking to Tribune Business, urged the Government to "explain the rationale behind its figures". However, he quickly added: "We are not going to bet against The Bahamas. The Opposition wants the Government to financially succeed so that we are able to absorb the significant amount of unemployment that presently exists.
"We have obligations that exist nationally and internationally, and we our country to reduce the debt. We want to fashion a world-class online government so we improve the ease of doing business and become more attractive, not just to Bahamian entrepreneurs and their quality of life, but people internationally find it easier to do business in The Bahamas....
"The scepticism we have is not hoping the Government fails with these projections. Quite frankly, we hope they succeed, but it requires them making substantial changes in their behaviour." Mr Pintard argued that the Davis administration is not operating as one cohesive unit on economic policy, pointing as an example to the Prime Minister's pledge last year that the Government had no plan to increase National Insurance Board (NIB) contribution rates in the near term.
That statement was made just one day after Myles Laroda, minister of state with responsibility for NIB, indicated such an increase was critical to prevent the social security system's $1.5bn reserve fund from being depleted by 2028. The Opposition's leader also asserted that the Government has thus far failed "to eliminate a lot of the fluff" that exists in public expenditure.
He questioned whether VAT's buoyancy will continue, suggesting that the tax's post-COVID performance had been boosted by inflation-driven price increases that have increased the Government's per transaction take. And Mr Pintard also queried whether it was correct to "use a sledgehammer", and employ "a bludgeoning approach", to real property tax collections even though he agreed that all taxes due and owing must be paid.
"They are duty-bound to explain what is behind the numbers. That is part of the Government's job," he added. The Government is targeting a Budget surplus of $287.3m, where its income exceeds spending, by 2024-2025. To help achieve that, it is aiming to increase revenues as a percentage of gross domestic product (GDP) to 25 percent, while lowering - and maintaining - its fixed-cost (recurrent) spending at 20 percent of output.
The FNM, in its statement, voiced doubts as to whether the expenditure targets will be met. "To date, this Davis administration has demonstrated that it has no political will or management skill at all to contain spending," the party said. Instead, the Prime Minister and his colleagues have instead gone on a spending spree with lavish trips, engagement of consultants and any number of extravagant undertakings.
"They have put forward no sound strategies or targets to limit or decrease spending..... It remains critical that following the two unprecedented economic calamities of Hurricane Dorian and the global COVID-19 pandemic that this government takes seriously the requirement to put forward a sound and credible plan that moves the country back toward fiscal balance. This Fiscal Strategy Report 2022 falls far short from what is required to move the country toward this goal."