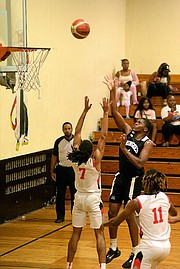 By Tanajh Sweeting
THE University of The Bahamas Mingoes men's basketball team pulled off a 69-51 rout over the TMT Giants as the two teams faced off in their second matchup of the New Providence Basketball Association (NPBA) season at the AF Adderley Gymnasium on Saturday night.
The Mingoes' leading scorer Delano Armbrister willed the team to victory with 14 points and three rebounds and Erquantae Edgecombe also had 14 points and eight rebounds. Theodore Grant also led both teams in assists with nine and has 10 points and Timothy Grant added eight points with nine rebounds.
Donovan Dean had a game high 15 points and 16 rebounds for the night for the losers. Randy Miller had 14 points and 15 rebounds and Daniel Hall chipped in with 11 points, three rebounds and three steals.
UB went up by as much as 24 points near the end of the third quarter and were able to dominate the paint 46-24.
Mingoes' Armbrister talked about the team's strategy coming off a 73-89 loss to the Giants in December.
"We feel like we are a very conditioned team so we wanted to continue going fast and continue to execute what we did in practice," Armbrister said.
The strategy seemed to work as the Mingoes were able to capitalise on turnovers with 31 points from turnovers compared to seven from the Giants.
"Last time we played it was a really close game so we took that game, we built on it and we saw the mistakes and we fixed the mistakes tonight," Armbrister added.
Terry Thompson, acting head coach of the TMT Giants, talked about their biggest takeaway from the loss.
"Conditioning, the evidence was there on the floor but not to take away from UB they played an excellent game and they were more determined," Thompson said. "Once we get some conditioning and practice under our belt we should be a better team for the next game."
The Giants only led the game once since the opening tip. It was the final meetup between both teams for the NPBA regular season.
The Mingoes are expected to face the D1 Rebels in their next game.
In the men's division II opener, Your Essential Store Giants won by default over the BIBT Great Whites.
Tonight
7pm - Discount Distributors Rockets vs Rebels (DII).
Wednesday
7pm - Mekaddish Millionaires vs RC Liquors Eagles (DII).
8 pm Zulu Media Marketing vs Rebels (D1).
Friday
7 pm BIBT Great Whites vs Mekaddish Millionaires (DII).
Saturday
7pm - Rebels vs Products Express (DII).
8pm - Rebels vs University of the Bahamas (D1).