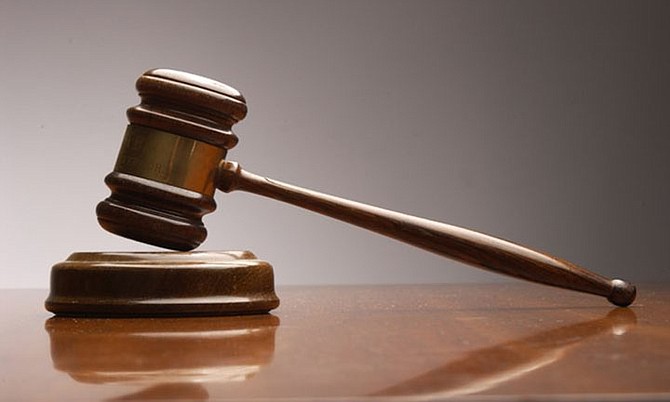 By PAVEL BAILEY
Tribune Court Reporter
pbailey@tribunemedia.net
A MAN was remanded to prison yesterday in connection with a spree of armed robberies and a housebreaking in the nation's capital last month.
The same man was also ordered to have medical assistance while on remand after claiming he was beaten while in police custody.
Denardo McPhee, 35, stood before Magistrate Algernon Allen, Jr, on several theft-related charges. He faced seven counts of armed robbery, and one count of attempted robbery, receiving, housebreaking and stealing.
McPhee's co-accused in these matters, Stephen Greene Jr, was arraigned on the same charges last week.
On January 6 in New Providence, McPhee is accused of robbing Annastasha Etienne at gunpoint of her $1,500 iPhone pro max. It is further said that McPhee also stole her gun permit, NIB card, driver's licence and $508 in cash.
Then on January 14 on Bayview Drive, McPhee is accused of breaking into Neil Dames's home. It is said he stole 65-inch and 50-inch Samsung TVs as well as a wifi box and Fire stick, of a total value of $1,413.94.
On January 17, 21 and 22, McPhee, while armed with a handgun, is said to have robbed Shari Gluckman, Michael Gluckman, Nicholas Maris, Janis Maris, Ross Salmon and Taresa Salmon at various times. During these incidents, it is said McPhee stole a variety of luxury items, including iPhones, MacBooks, jewellery, wallets and purses as well as over $1,000.
While the accused pleaded not guilty to the lesser charges, the indictable armed robbery charges will proceed to the Supreme Court by way of Voluntary Bill of Indictment (VBI).
McPhee was told that as the magistrate lacked the jurisdiction to grant him bail for the indictable offence he had the right to apply for it through the higher court.
During his arraignment, McPhee visibly had trouble breathing and had to sit down as charges were read. The accused then claimed he was beaten while in police custody and forced to give a confession. In addition to stating that he was innocent of the charges, McPhee said he had been coughing blood.
Magistrate Allen requested the accused immediately be seen by a doctor while on remand at the Bahamas Department of Correctional Services.
McPhee will return to court for potential service of his VBI and the start of his trial on the lesser charges on March 31.