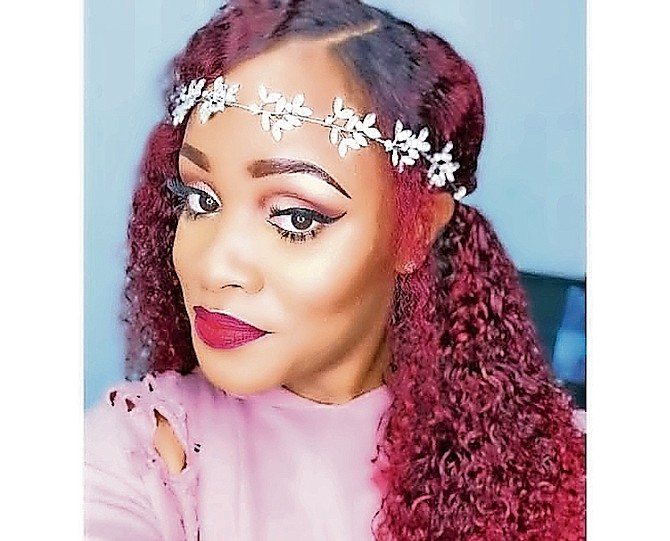 By FELICITY DARVILLE
KENISE Symonette-Darville will be remembered and honoured in a special memorial candlelight vigil tomorrow, Wednesday February 8, 2023 at 7pm at the Pinewood Park. Her death was a blow to many, and hundreds are expected to show up in her honour.
She was a vibrant woman - full of life and full of love for others. That love was exemplified in one of her final acts of community service.
Kenise was highly community-minded. She was always finding a way to bring people together, to do something productive, and to make a difference wherever she went.
She also believed in speaking out against injustice and inequality. So when she was admitted to the Princess Margaret Hospital and felt that she was faced with such injustice, she didn't hasten to make it public.
Facebook live was new to Kenise, yet on her sick bed, she utilised it to get a message out to the world. She knew that by doing so, she risked being victimised. She risked the chance of being neglected by healthcare providers, frowned upon and blackballed. She knew that in that sick and vulnerable state, she risked the side eyes, the snide remarks, and even worse, the possibility of not receiving medicine, blood and other vitals in a timely manner.
In the face of all that, Kenise was brave. She put others before herself. She was looking at the bigger picture.
She knew that people had died in hospital before her time without their cries being heard publicly, and that if she said nothing, others would come and face the same fate. By making her complaints public, the Public Hospitals Authority, the Ministry of Health, and the Princess Margaret Hospital (PMH) administration are being faced with pressure to make more changes more quickly. They must not only revitalise the system, but address the human resources of the hospital as well.
As a nurse stopped by Kenise's bed to listen to her live social media broadcast, Kenise said: "Sometimes, people just have to go down for a cause, and this is a cause I am ready to go down for".
She went on to say: "They are reckless with people's lives; they are nonchalant; they don't care; they have no empathy."
The entire healthcare system needs to change, Kenise charged.
That video was seen by thousands of people in The Bahamas and throughout the world. Her act, to me, was one of true Christianity, outlined in John 15:13: "Greater love hath no man than this, that a man lay down his life for his friends."
Kenise's condition, which had yet to be diagnosed at PMH, required her to receive blood, because her platelets were extremely low. Eight days after that broadcast, she passed away at 7:07am on January 19, 2023.
On the morning that she left this world at 7:07am, she made a post on her Whatsapp status just after 5am asking for blood donations. She was willing to pay for O positive or negative blood, as her life depended on it.
That was the reason for her Facebook live protest. She was upset that nearly a week had gone by without doctors letting her know that she needed blood donations. Her platelet count was at seven when doctors told her she needed to get donations. Kenise did not get the blood she needed in time. Giving blood can literally save lives.
What many do not know, was that Kenise's community spirit kicked in long before she was in a life and death situation.
After her first three-week encounter with Princess Margaret Hospital in October, Kenise realised how desperately the PMH blood bank needed donations. She and her husband Jerad came up with a plan to have a blood drive that would culminate on Valentine's Day, 2023.
Jerad sent me the details of the event two days before Kenise passed on January 19. The "More Love, More Life" Valentine's Day Blood Drive is designed for members of the public to "give the gift of life" by donating blood.
Kenise was ready to pour her passion into this cause and without her here, Jerad is asking the public to join hands with her friends and family and make her dream to see the PMH blood bank receive an overflow, a reality.
The Valentine's Day Blood Drive in honour of Kenise Symonette-Darville will be held at the University of the Bahamas on Tuesday, February 14, 2023 from 10am to 6pm. It will be hosted by the Alpha Phi Alpha Fraternity Incorporated and is in support of the Kenise Symonette Darville Foundation in collaboration with the Public Hospitals Authority and the National Blood Bank.
The blood bank will do a free screening test to ensure each attendee is healthy enough to donate. People are encouraged to eat 30 minutes before donating, and to bring along a government-issued identification. To preregister, visit www. thekenisesymonette-darvillefoundation.com.
Kenise's final act of kindness towards humanity is the culmination of a life of selfless giving to others. Some of her many charitable acts are remembered by her friends Rennise Hanna, Tynishka Collie, Michelle Russell, and Keneice Frazier, who were also her coworkers at her former workplace, the Customs Department.
"Kenise had an undeniable love for people that was displayed in her encounters with those she interacted with," they told me.
"As someone who was naturally giving, when her husband sought his political aspirations, she honed in on those qualities and helped to execute each plan set forth. As such, in 2020 Pinewood Gardens Community Garden was started. Along with the children, the entire family spent countless hours planting tomatoes, bananas, sweet peppers, and sweet potatoes. When harvest time came, they issued these crops to residents within the community."
"She, along with Jerad also gave back to the Elizabeth Estates children's home by hosting a Thanksgiving dinner for the children and staff members. While there, she was able to speak about life and encourage a few of the young ladies who clung to her during the night."
"Kenise took the skills she acquired at the Bahamas Agriculture and Marine Science Institute (BAMSI) as well as the Community Garden and took them to BOOST Academy where she assisted students in starting their own garden at the school grounds. She served as part of the PTA, organizing family events (movie nights, trick or treats and pumpkin carving)."
"During the lockdowns she assisted in feeding packages inclusive of food items and at home COVID-19 tests to those in Pinewood. They also had a toy drive in conjunction with Sandals Foundation, whereby they donated hundreds of toys to children in need.
With a zeal to constantly evolve, Kenise began to offer hands-on courses, teaching the skills needed to design and create these crafts. She has held three successful summer camps with attendees from ages 8-18. It gave her great joy to be able to connect with these creatively inspired kids and give them an out-of-the-box experience while passing on the skills and knowledge she has garnered over the past 13 years.
It was a dream come true. She taught them how to personalize cups, t-shirts, keychains and paper crafts. They also got an opportunity to learn how to make a business plan."
For Jerad, Kenise's charity was so genuine because "it started at home". He told me that Kenise was always eager to learn and had a knowledge that she was destined for greatness.
"Her charity started from home," he said, "Supporting her aunt's business on Wulff Road; to her cousin's nail tech business; to her other cousin's make-up business, oftentimes being a volunteer model for photo shoots."
"Kenise also invested in her cousins, providing start-up capital to encourage economic independence amongst her family members. Her journey was filled with stories of her starting at the University of The Bahamas, becoming pregnant early, working to take care of her child with the help of her mother, and then I came along during this time as a help mate.
She bounced on the opportunity to register again for UB and then take courses with Synergy. Kenise then went on to study at BAMSI for an Associates degree in Agri-Business.
While raising three kids and a husband, she took this time to cultivate her passion for design and crafts into her company, "Something Beautiful". Something Beautiful was poised to take off as she had approached many different types of businesses that helped to groom her professional ability. From selling Remy hair to selling croc pins, car rental and a food and beverage business, Kenise developed a personal touch with customers."
"She also poured into others through mentorship and ministering the word to others. Starting again from people closest to her, she was often the go to person for counselling and dispute resolution. Always with a spirit to cheer you up and the right things to say and for the most part, she knew the right food to cook as well."
"Developing her ministry, Kenise started to put on workshops to empower young women firstly by teaching them about the Supreme Being, and secondly by letting His power manifest through your actions and not working for money, but allowing your gifts and your purpose to make room for you."
"As a mother, Kenise always put her kids first always. Kenise would literally place her kids before her own welfare. Kenise embraced the opportunity to cultivate with Chozen the time that she missed out on with AJ and Colman as a working mom. With Chozen, Kenise was a stay at home mom, teacher, chef, nurse, counsellor, and nurturer. Chozen only stopped breast feeding when Kenise was admitted into the hospital in October. Less than 4 months ago, Chozen was still on his mother's breast looking for comfort, and now she is gone."
"Kenise often took the time to teach Chozen by taking him to the beach to count either by throwing bread to the birds or counting shells. Kenise engaged in a multitude of informal learning sessions to improve her ability to be a great mother."
"You would think with all of this going on, when did she have a time to be a wife. Well, I will say this: I doubt there would ever be a connection similar to us as we could both be busy all day and then when it's time for one of the kids games, we would buckle down and we would have our time together.
"At kids baseball practice we bonded, at games we bonded, and when the midnight oil started to burn on either of our projects, we were there for each other.
"We understood each other to the point that we were both equally busy and there for each other as well.
"Kenise made so many special moments in time through her food, laughter and admiration for fun. We would go on journeys discovering new foods to taste.
"As she supported me in ways no one could think of. I fell on hard times as well and like a superwoman, she kicked in and inspired me to be great, to continue to push when all signs had me ready to give up.
"Even when I was mad, she would be the one to come and make ways for us to get back to our good place. Her love came from a place that was gifted by the gods. I just don't know where she found it in her heart to have so much love, so much compassion towards others.
"She was always encouraging me towards charity, saying inspirational words to me throughout the day, especially when she knew I had a very important meeting, test, or interview. Kenise was always rooting for me."