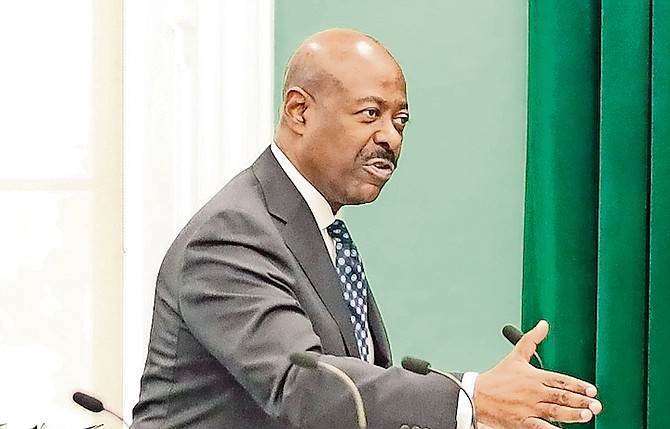 By LETRE SWEETING
lsweeting@tribunemedia.net
SOCIAL Services Minister Obie Wilchcombe said no one had shown up to shelter facilities set up for some 40 victims of Sunday's shanty town fire. He said government agencies will take the "necessary actions" investigating any undocumented people.
Mr Wilchcombe made this comment on his way into the House of Assembly yesterday morning following the fire that resulted in the loss of homes, belongings and vehicles for more than 50 people in a shanty town community in the Carmichael Road area.
Mr Wilchcombe yesterday said he and his ministry had prepared shelter with capacity for 40 people, which has been on standby for victims of the fire and will continue to be on standby for "at least another day".
"Once we were notified yesterday by the police, our team mobilised and we were there at the scene," he said.
"Subsequent to that, we prepared facilities, no one showed for the facilities, but the facilities are ready and will be on standby to provide shelter," Mr Wilchcombe said.
When asked if he thinks some victims have hesitated to come to the shelter due to fear of being deported or investigated by the Department of Immigration, Mr Wilchcombe said: "That, I suppose must be given some consideration too, but I can't say for sure."
He added: "You would appreciate that the police and Immigration will have to conduct investigations and if persons are found to be here illegally, then they will take the necessary action.
"Our job is to provide the shelter and once we provide the shelter for anyone in a difficulty at any particular time, then we would have done what we were supposed to do. The other agency will take over to carry out what they have to do," Mr Wilchcombe said.
Shortly after 10am on Sunday, firefighters were notified of a fire at Pink Meadow Road off Bellot Road. On arrival, firefighters found a shanty town consisting of wooden single-storey structures totally engulfed in flames.
Firefighters responded with three fire trucks that were reportedly filled to capacity with water and were able to bring the blaze under control within a relatively short period of time.
On the scene of Sunday's incident, where explosions could still be heard and more than 50 people were gathered crying for the loss of their homes, Police Chief Superintendent Chrislyn Skippings reported that more than 20 homes had been lost in the fire.
"There were roughly over 20 homes in this particular area and an estimated 50 people have since been displaced," CSP Skippings said.
CSP Skippings added: "At this time, of course (The Department of) Immigration maintains records and files, so once persons would've had their papers, they can go back to immigration, those papers will be filed and they will be able to provide them with a copy of their documentation."
This came two days after the Attorney General filed a summons on Friday seeking permission from the courts to demolish an expanded shanty town in Abaco as well as at two locations in New Providence.
Prime Minister Phillip Davis confirmed the filing in a tweet on Friday, a week after announcing the government's plans to seek a modification of an existing shanty town injunction.
He also revealed that further steps to address the country's immigration problem will be outlined in the days ahead.