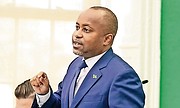 By NEIL HARTNELL
Tribune Business Editor
nhartnell@tribunemedia.net
The Opposition's finance spokesman yesterday backed calls for change at the Grand Bahama Port Authority (GBPA) and argued that its present structure has "outlasted the times".
Kwasi Thompson, also the east Grand Bahama MP, used his contribution to the House of Assembly's Fiscal Strategy Report debate to argue that Freeport's quasi-governmental and regulatory authority must become "accountable" to the people it serves and not just its owners, the Hayward and St George families.
"Madam Speaker, recently the topic of the Grand Bahama Port Authority has been raised in the media," Mr Thompson said, referring to multiple Tribune Business articles on the subject. "Clearly, we need a change in the Grand Bahama Port Authority. It has always been my view that the Grand Bahama Port Authority structure has outlasted the times.
"We need a GBPA that is accountable to the people of Grand Bahama and not just their shareholders. We need a GBPA that can and will provide a new vision for the island. We also need a GBPA that can provide the resources that the island needs for redevelopment.
"We also need more land available for development in Freeport that businesses can and Grand Bahamians can take advantage of. We need more responsibility and power in the hands of Grand Bahamians backed by an international partner with the resources to make this happen."
Mr Thompson, a former Cabinet minister in the Minnis administration, spoke out after this newspaper revealed the Government is exploring its options over how to bring about Freeport's revival through what some believe could be the greatest transformation in the city's management since its founding treaty, the Hawksbill Creek Agreement, was signed in 1955.
The Davis administration is presently examining whether change at the GBPA is best achieved through either a private buyer acquiring the Hayward and St George families' ownership interests, the Government doing itself or the regulatory and quasi-governmental powers being devolved back to Nassau.
Rupert Hayward, grandson of former GBPA co-chair, Sir Jack Hayward, has pledged "an ambitious masterplan for change" to create "thousand of jobs" in Freeport, while backing Prime Minister Philip Davis KC's stance that Grand Bahama is "in desperate need of progressive and transformational change".
Mr Hayward indicated his family intend to play a central role in this by acting as a Bahamian partner for "blue chip" foreign investors. While providing no specifics, Mr Hayward told this newspaper he has already submitted "a new partnership" proposal that "can attract billions of dollars in investment [and] create thousands of jobs" for Freeport and the wider Grand Bahama to the Davis administration.
Mr Hayward's statement indicated he is seeking to restructure the GBPA and its relationship with the Government such that the latter has more say over Freeport's running and future through "a true Public-Private Partnership" that represents the interests of all parties including city residents and GBPA licensees.
The GBPA, while described by some as a 'regulatory shell', still possesses considerable powers that include business licensing, building code and environmental enforcement, city management, and the power to levy fees and service charges together with the operation of a free trade zone that offers multiple forms of tax relief to investors.
However, its income-earning assets have been transferred to Port Group Ltd. These include the 50 percent equity stakes in DevCO and the Freeport Harbour Company, likely to be the two families' most valuable assets, together with interests in multiple other companies such as Freeport Commercial & Industrial, another major landowner.
Mr Thompson, meanwhile, called on the Government to provide an update on the purported sale of Equinor Bahamas oil storage facility to Liwothan Group, an oil terminal and logistics headquartered in Estonia, which also has assets in London.
"It is vitally important that the Government not allow Equinor to leave without ensuring that sufficient funds and resources are in place to compensate residents and businesses for any damages that have been left or damages done and not been cleaned up," Mr Thompson said in reference to the Hurricane Dorian oil spill.
"The Environment Act ensures that the Government has the power to ensure this does not happen. I ask the question: What is being done to ensure resources are in place and not allow Equinor to leave without paying for those resources. While the Government has leverage before the sale is complete, the Government must ensure that sufficient resources remain to compensate and complete any clean-up necessary.
"Environmentalists have continued to express their concern." Some 55,000 barrels of oil, around 3 percent of the total storage volume, was estimated to have been blown into the surrounding area when Hurricane Dorian's Category Five winds destroyed the roofs of several tanks at Equinor's South Riding Point facility.
Equinor responded by investing in clean-up and remediation at the site but, some 16 months after Dorian's passage, a Bahamas National Trust (BNT) report in late 2021 raised concerns that there continues to be a high concentration of crude oil around the terminal that remains a threat to wildlife. Some 31 acres was said to require revegetation, with Equinor promising to respond to the BNT's concerns.