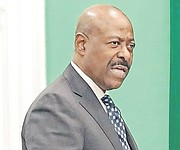 By LETRE SWEETING
lsweeting@tribunemedia.net
SOCIAL Services Minister Obie Wilchcombe yesterday pointed to poverty as the main factor contributing to the level of rape and sexual violence offences plaguing the country.
These comments came after Police Commissioner Clayton Fernander revealed during a press conference last month that there were 55 rape cases reported last year, adding that it was a 15 percent increase over 2021.
In view of the statistics as well as recent cases of sexual assault this year, Mr Wilchcombe said outside of the House of Assembly yesterday that before a change can happen with the statistics, a change must first happen with the mindset of the people in the country.
"The concern continues. We have to constantly work to try to rid it out of our society. But it has a lot to do with the mindset of our people. The behaviour of our people, the economic and social circumstances all contribute," Mr Wilchcombe said.
"So we have to get to the bottom of it to rid ourselves of it, equally to rid ourselves of poverty. I think poverty is reflective in the behaviour of a lot of people and a lot of circumstances and we have to do our best to get rid of it," he said.
Following the announced statistics last month, several activists said the increase of sex crimes was "not surprising", arguing that the government has continuously failed to prioritise laws that protect women.
Prodesta Moore, president and founder of Women United, said she was not surprised by the 2022 crime statistics on rape.
She said the number of rape cases in the country are possibly even higher noting some cases just haven't been reported.
Asked what the government could do to address sexual violence against women, Ms Moore highlighted the gender-based violence bill that has yet to be implemented by the government.
"The report that the commissioner recently released in my opinion, is not surprising. As a matter of fact, I'm under the assumption that the numbers might even be higher. Because we know that a lot of cases are unreported. People are afraid to go and report sexual violence offences, especially as it relates to violence," she said.
At the time Commissioner Fernander said eight of the victims were tourists, while 39 percent of the victims knew their assailant.
He added that the unlawful sexual intercourse victims were typically young women under the age of 16.
Additionally, police reported that there were 139 unlawful sexual intercourse cases - an 11 percent increase over 2021 numbers.
Commissioner Fernander called the sex crime numbers alarming and pleaded with parents to keep a close eye on their children.