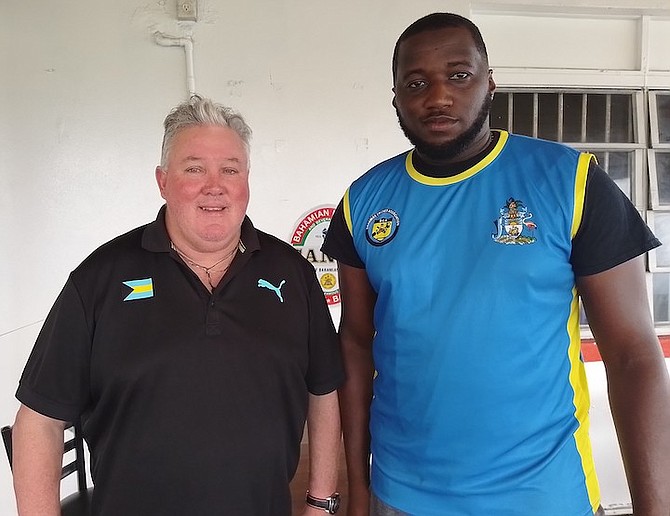 By BRENT STUBBS
Senior Sports Reporter
bstubbs@tribunemedia.net
COACH Andrew Moles is confident that he will have the men's national team fit and ready to travel to Buenos Aires, Argentina to compete in the International Cricket Club's World T20 Americas Region Qualifiers.
The tournament is scheduled for February 22 to March 5 and the Bahamas will be playing against Argentina, Belize, Bermuda, the Cayman Islands and Panama.
The team will comprise of the following players: Marc Taylor, Gregory Taylor Jr, Johnathan Barry, Narendra Ekanayake, Kevorn Hinds, Julio Jamison, Keith Burrows, Sandeep Goud, Everette Haven, Dwight Wheatley Jr, Ashok Nair, Festus Benn, Junior Scott and Turan Brown.
Moles, who has spent the past 30 years coaching in various parts of the world, said he is delighted to be here in the Bahamas assisting the men's team to reach their full potential.
"I think the team is much better than when I first got here," said Moles. "From the last tournament we played in, I think we have seen a great improvement, so I don't see why we can't perform very well this time."
In preparation for the tournament, Moles said he has taken the players through a vigorous training programme on the pitch at the Cricket Club, but he's also taken advantage of the scenic view across the road by working out on the sand and in the beach.
"Sometimes we get together for 3-4 hours every day, but it all depends on the work schedule of everybody," he said. "For those who can't make it, they come in and do their personal work on their time, but they go through the same training routine."
Marc Taylor, the team captain, said under Moles, they had a different start because their standard was not up to par when he first arrived, but their schedule and plan he implemented turned things around in the right direction.
"We still have some time left, so hopefully when it's time to leave, we will be in tip-top shape for the tournament," Taylor said.
From a mental perspective, Taylor said as long as they can do it together as a team, they can achieve their goal.
"The most difficult thing is each one actually making time from their schedule to attend all of the sessions," he pointed out.
Based on what he's seen, Taylor feels as if the BCC has assembled one of its most versatile teams in a long time. "Previously teams were definitely not as strong as this one," he noted.
"In batting, we can go from number one straight to number eleven. We also have a lot of bowling on the team and we have a lot of seniors who played on the previous team, so it's a good variety of players on this team."
As for the expectations, Taylor said it's simply to qualify.
"We have to beat a certain amount of teams, so we expect to qualify," he stated. "We have high expectations for this tournament."
The team is scheduled to open play against the Cayman Islands on February 25.
Moles said with the team assembled, he's confident that the Bahamas will advance to the next round.