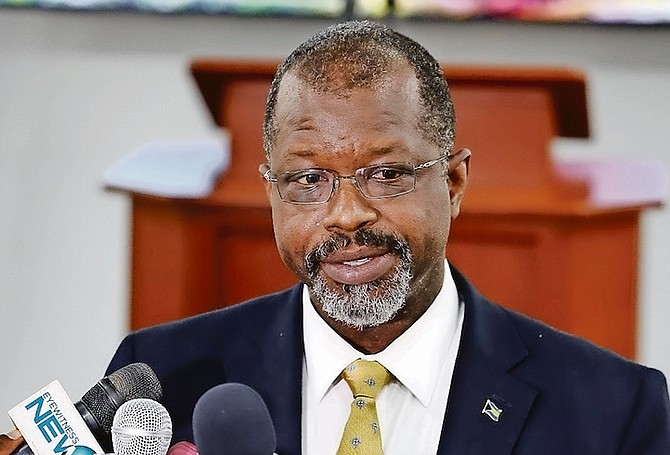 By JADE RUSSELL
Tribune Staff Reporter
jrussell@tribunemedia.net
NATIONAL Security Minister Wayne Munroe said yesterday that death threats against anyone will be investigated once reported to police.
Mr Munroe made these comments after he dismissed claims by former Prime Minister Dr Hubert Minnis on Monday that Prime Minister Philip "Brave" Davis' reaction to recent death threats is "overkill", with Dr Minnis noting it's not uncommon for a Prime Minister to receive such threats.
"I don't know what he (Dr Minnis) means. Anybody who makes a threat of death, it's investigated by the police. Whether you're the Prime Minister or somebody from Kemp Road. If someone threatens you with death, and you make a complaint the police will investigate," Mr Munroe told The Tribune before yesterday's Cabinet meeting.
Mr Munroe said Mr Davis is carrying on with his regular duties as usual despite the death threats made against him on Friday.
"The Prime Minister made it clear that he's carrying on with business as usual. So I'm not quite sure what the former Prime Minister is talking about. The police will investigate all complaints of crime."
 Dr Minnis argued that every former Prime Minister at some point has been threatened. However, he said he has never seen others take on such intense security measures as has Mr Davis.
Mr Munroe wanted to know to  which security measures Dr Minnis referred as "if he knows of different security measures he is free to say".
Mr Munroe suggested if any extra measures have been taken it is the result of recent incidents, such as a demonstration led by Coalition of Independents leader Lincoln Bain outside Parliament on February 1.
"After the fiasco on Bay Street, the Commissioner of Police had a conversation with me. They were being very tolerant, as you, the press could see, people were permitted right up to the door of Parliament. They abused the privilege."
He added: "And so now the police have to react to what is there. And that should be a sign to people. Simply because you are given a privilege, you should be careful not to abuse it."
Police Commissioner Clayton Fernander told The Tribune yesterday that no arrest had been made yet in regard to the death threats made against the Prime Minister, however, he said the investigation is active.
Additionally, Mr Bain reportedly plans to have another demonstration at next week's CARICOM meeting.
When asked about the demonstration, Mr Munroe responded: "Bearing in mind that the police who will be charged with the security measures, as I say when you get extended a privilege, and you show that you can't handle it, then the persons who are charged with controlling a circumstance will assume no doubt that you will react as you reacted on the last occasion and that will no doubt direct their response."
On Friday, the Prime Minister's office received two anonymous calls from someone who made death threats against Prime Minister Phillip Davis, prompting a full-blown investigation.
Police Commissioner Clayton Fernander said during an emergency press briefing at the Prime Minister's office that the calls were made shortly after noon on Friday, adding that officers are following significant leads.
He also said the Prime Minister was in "good spirits" and told him he was not afraid despite being threatened.
"Both calls came in, one right after the other about 15 minutes apart, threatening to kill the nation's leader," he added.
"We, as Bahamians, it shouldn't happen. When you're talking about threatening the nation's leader and we as Bahamians, how we got to this level in threatening individuals, and you can go beyond the prime minister and individuals and we take this very seriously.
"We are now reviewing the threat level so we can put some additional security measures in place along with our law enforcement partner and the team here from the defence force and so we are on top of this."