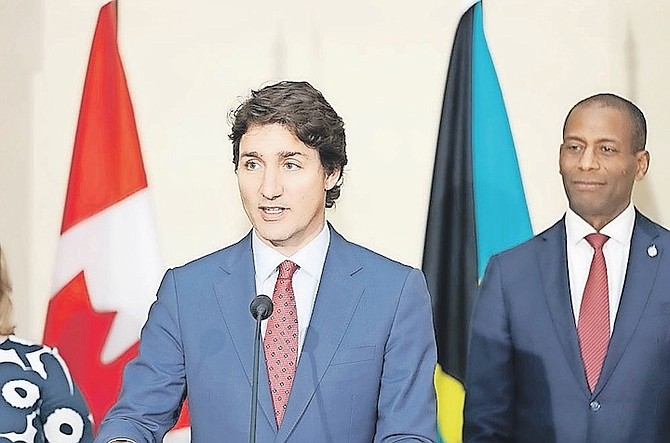 By JADE RUSSELL
Tribune Staff Reporter
jrussell@tribunemedia.net
THE deployment of Canadian navy vessels to Haiti will not be used to intercept migrants trying to flee the troubled country, Canadian Prime Minister Justin Trudeau revealed yesterday.
Prime Minister Trudeau held a press conference yesterday where he told reporters Canada is working to strengthen the Haitian National Police's efforts to stabilise the Caribbean nation.
However, he gave no clear indication if Canada will be sending out forces or boots on the ground to assist in Haiti's worsening state.
Mr Trudeau pointed out for the past 30 years Canada has sent many missions to Haiti in pursuit of providing the country relief. But he said that the focus right now is to strengthen Haiti's police forces.
"We've continued to step up and be there for the Haitian people and we have made commitments that we will continue to do that," he told reporters at a press conference at the Atlantis resort hours after he announced plans to send Canadian boats to Haiti during a CARICOM event at Baha Mar.
"However, we also must learn from what has worked and what has not worked in the past. And that's why our focus now is on ensuring that through strengthening the Haitian National Police, equipping them better, ensuring the best for them in their ability to do their jobs," Mr Trudeau said.
In terms of funding CARICOM nations that are willing to go on the ground of the troubled nation, Mr Trudeau did not give an answer as to whether Canada would provide the crucial funding.
Throughout the press conference, Mr Trudeau highlighted that in order to resolve the unrest in Haiti there needs to be a focus on keeping Haitian people and Haitian leadership at the centre of the solutions being created.
The political and social crisis in Haiti has led to a high level of illegal migration, as many have fled the troubled country in hopes of a better life.
Canada is set to deploy Royal Canadian Navy vessels to assist with surveillance and also maintain a maritime presence off the Haitian coast, according to Mr Trudeau.
Asked if he could pledge that the navy vessels won't be used to intercept migrants who are trying to flee Haiti, the Canadian prime minister confirmed the ships are not there for interception.
"The Canadian ships are not there and will not be there to intercept migrants. They are there to assist the Haitian National Police in their efforts to control the gang activity," he stressed.
Canada's extensive support to Haiti has also sparked the question about how it would take the lead on tackling Haiti's issues.
Mr Trudeau explained that Canada's support to Haiti has been ongoing since September, as he described Canada as being "elbows deep" in its efforts to assist the country.
He mentioned Canada's use of sanctions, humanitarian aid for the Haitian people, and support to the Haitian National Police.
Mr Trudeau said: "Canada stepped up last September, with significant heretofore unseen sanctions directly against the economic and political elites that in Haiti are so directly responsible for the ongoing instability. Not just the political instability, but the violence and the support of gangs in this country.
"As we stepped up on sanctions, we also stepped up with support for the Haitian people through humanitarian aid. Support for the police, through equipment, we have strengthened our presence in the embassy, to be able to engage more, in fact, find and see what is most necessary on the ground."