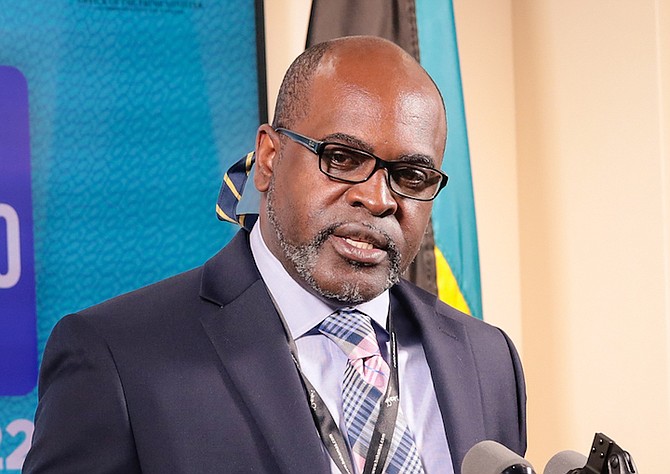 • Crisis could 'throw our Budget off completely'
• Top official confident 'close to or beat' deficit
• Opposition: Gov't 'squandering' revenue rise
By NEIL HARTNELL
Tribune Business Editor
nhartnell@tribunemedia.net
The Ministry of Finance's top official has voiced fears that the migration crisis could "throw our Budget off completely" with taxpayers incurring an additional $500,000 in costs for every 100 new arrivals reaching Bahamian shores.
Simon Wilson, the financial secretary, told Tribune Business that costs incurred in dealing with the exodus from Haiti and Cuba were chief among the unplanned "extra expenses" that the Government and Bahamian taxpayers had to absorb during the six months to end-December 2023.
Speaking as the Government unveiled data on its 2022-2023 first-half fiscal performance, he explained that the soaring number of illegal migrants was imposing a variety of direct and indirect costs that the Public Treasury must cover. Besides the cost of more frequent repatriation flights, the Government also has to fund increased overtime payments to Immigration, police and Defence Force officers plus meet expenses associated with feeding and detaining those apprehended.
Asserting that the Davis administration will be "close to or will beat" its full-year $564m fiscal deficit target, Mr Wilson told this newspaper of the unplanned first-half expenditure: "Immigration is probably the biggest one. With the repatriation exercises, it's probably the biggest one. When we repatriate them we have to feed them, detain them and accommodate them. That can be pretty expensive.
"If those numbers continue to be at the numbers they are, it will throw our Budget off completely. It could really run up a bill. It has a knock-on effect on everything." Subsequently providing further insight, Mr Wilson said: "I can tell you this. For every 100 migrants we will probably have to pay an extra $500,000 in direct or indirect costs.
"When we see a loaded Haitian vessel, or the US coast guard says we've apprehended 300 migrants, that's directly or indirectly close to $1.5m." Keith Bell, minister of labour and Immigration, last month said The Bahamas caught and repatriated some 3,349 migrants to Haiti in 2022. Based on Mr Wilson's figures, that would have resulted in Bahamian taxpayers incurring some $16.5m in extra costs related to these repatriations.
If the total number of repatriated migrants, some 4,748, is used - including 1,001 Cubans - then the extra costs jump to over $23.5m. By contrast, the Immigration Department's full-year 2022-2023 repatriation budget for illegal immigrants stands at $1.827m. Of the $1.204m it received for such purposes in the prior 2021-2022 fiscal year, this sum had been virtually exhausted during the first nine months to end-March 2022 with some $1.189m spent.
Mr Wilson's comments give an insight into the growing financial burden being imposed on The Bahamas as increasing numbers of Haitians, as well as Cubans, seek to flea a combination of violence, poverty, repression and social instability in their respective home nations.
The Prime Minister last night said some 1,023 migrants have already been repatriated to their home countries during the first six to seven weeks of 2023. The governance and law and order crisis in Haiti was among the most prominent topics discussed by Caribbean leaders at last week's CARICOM Heads of Government meeting in Nassau.
Meanwhile, Ministry of Finance data revealed that the 2022-2023 half-year fiscal deficit, measuring by how much the Government's spending exceeds its revenue income, came in at $275.6m or 48.9 percent of the full-year's projected $564m in 'red ink'.
The deficit was incurred despite a $121.5m, or 10.7 percent, year-over-year increase in revenue to $1.259bn for the six months to end-December 2022. Total government spending rose by a slightly higher $128.1m to $1.534bn, albeit the rate of growth was slightly less than for revenue at 9.1 percent. Recurrent spending, which features the Government's fixed costs such as salaries and rents, was up by 8.5 percent or $110.6m year-on-year at $1.417bn.
Kwasi Thompson, the Opposition's finance spokesman, yesterday seized on the Government's spending growth exceeding that of its income to argue that the Davis administration was "squandering the benefits of increasing revenues" through extra expenditure while "Bahamians continue to suffer".
He added: "By their reports, through the mid-point of the fiscal year, while total revenue has increased some $121m when compared to the previous year, total spending has gone up by $128m. So even while things are improving the Government through the mid-year has made the deficit position worse when compared to the same point last year, tacking on some $275.6m to the national debt.
"The deficit has also increased year-over-year from $269m in 2021 to $275.6m in 2022. Given that the deficit has gotten worse even in an improving economy, with no pandemic-related spending, the Opposition is concerned that the Government will not meet its planned budget deficit target.
"By fiscal year end we are concerned that we will end up with a larger-than-projected debt [sic; deficit] and a deteriorating fiscal situation that will require even more borrowing and more taxes on the Bahamian people." Mr Wilson, though, voiced optimism that the Davis administration will achieve its year-end $564m deficit forecast.
"We're going to be very close," he told Tribune Business. "We incurred some extra expenses, but we're going to be close. The revenue is going to pick up, and typically in the second half of the fiscal year the deficit is a lot lower, so barring anything unforeseen we will be close to target or beat target.
"What we expect is that the second half deficit will be lower than the first-half. The bulk of revenues come in during the first half of the calendar year. When we see that number, all things being equal, the deficit target is not unreasonable. It puts us in a very advantageous position in the second half of the year."
The second half of the fiscal year is when the Government typically generates the bulk of its tax revenues as the period coincides with the peak winter tourism season and heightened economic activity, as well as Business Licence fee payments, the bulk of real property tax payments and commercial vehicle licensing month.
While the year-over-year increase in the first-half fiscal deficit is relatively modest, and the $275.6m in 'red ink' is still below 50 percent of the full-year projection, one source said the figures should nevertheless be of concern to the Davis administration when it comes to meeting its fiscal projections.
Speaking on condition of anonymity, they explained this was because of the traditional spike in government spending towards the fiscal year-end in June as ministries, departments and agencies raced to have bills paid - some of which the Ministry of Finance is unaware of. This occurred in the prior 2021-2022 fiscal year, when June's $318.7m deficit alone was 46.2 percent of the full-year total as the Davis administration sought to pay unplanned arrears purportedly left by its predecessor.
"Expenditure bumps up in the second half of the year as folks try to catch up on arrears. May and June are when a lot of invoices come in to meet year-end," the source said. "If I was them I would be a little bit concerned about the pace of expenditure. It's those last couple of months when expenditure spikes. You don't want to be at half your deficit target at the mid-point. You want to be there in February.
Mr Wilson, though, described the first-half revenue performance as "encouraging" and "very strong". He added: "We were tracking about 5 percent ahead of Budget at the half-year on the revenue side. We did very well in January, although we think we could do better. We were running about 6 percent above projections for total revenue at the end of January. February is also turning out to be an encouraging month."
January contains the VAT tax filings from December's Christmas period, and Mr Wilson added: "We are 10 percent over prior year but think we have more room to grow. I don't want to give you a projection, but we think we have more room. We're doing a VAT gap study or tax gap study soon, and that will provide us with scientific information as to what our true potential is."
Mr Wilson said the Government was hoping to hire a firm to conduct the necessary studies by the end of the 2022-2023 fiscal year's third quarter, which closes at end-March. However, Mr Thompson pointed to what he argued was the worsening of the Government's fiscal position based on the monthly deficits for November 2022 and December 2022 compared to their prior year comparisons.
While the Government incurred a collective $89.5m in 'red ink' during those two months in 2021, that number surged to $178.8m - an $89.3m or almost 100 percent increase - in 2022. "While we are pleased to see the rise in revenue year-over-year in both November and December, it is most concerning that we also saw a rise in deficits totaling over $90m over the same period last year," Mr Thompson said.
"Clearly, the Government has taken more from the people but we are in a worse fiscal position..... We again call on the Government to curtail its lavish and extravagant spending and instead put priority on the programmes which provide benefits directly to Bahamian families and communities."
Another source, meanwhile, pointed to the slowdown in VAT collections when measured against the full-year Budget total at the half-way mark. "Last year they had collected 68 percent of Budget VAT," they said. "This year, at the mid-point, they'd only collected 43.4 percent. There's an under-performance of VAT relative to last year and Budget. VAT is the biggest revenue component, and if they don't meet that target it puts the deficit target in jeopardy."