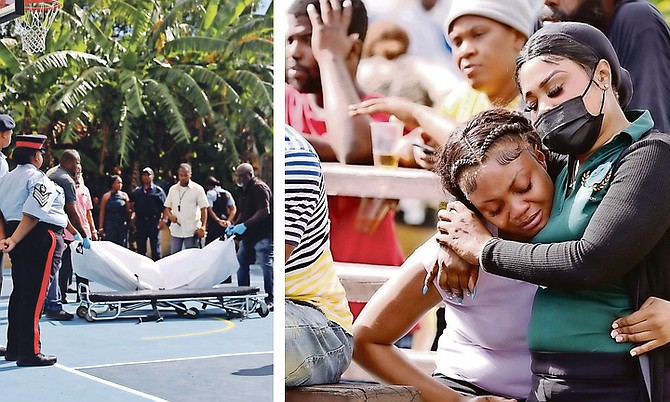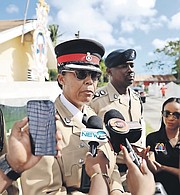 By EARYEL BOWLEG
Tribune Staff Reporter
ebowleg@tribunemedia.net
AN 18-YEAR-OLD girl collapsed and died at a basketball court at Masons Addition park yesterday.
Press liaison officer Chief Superintendent Chrislyn Skippings said police are classifying the matter as a sudden death until they can get more information.
"Around quarter to 10 this morning, we understand that the victim was here playing a game of basketball when she reportedly collapsed," CSP Skippings said at the scene.
"We are going to have an autopsy performed to find out exactly what went wrong (and) why she collapsed on the park today. We can't say if she had any previous medical condition or known to have any," she said.
CSP Skippings added she was told some of the residents attempted to try to revive the teen, but were unsuccessful.
"After they couldn't, they were able to contact EMS who came and recognized there were no visible signs of life."
According to someone who identified themself as a relative of the teen, the victim is La'Bree Bonaby.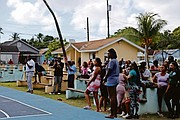 Asked if the teen complained about feeling ill before collapsing, the press liaison officer replied: "Nothing, so that's why we're saying that we have to have an autopsy performed to find out what went wrong. Obviously, something went wrong and she collapsed."
The death left bystanders and those who were playing on the court noticeably devastated. Bystanders were heard wailing and sobbing at the scene.
The incident prompted CSP Skippings to call for more people to learn CPR.
"I always encourage persons to try to know the basic steps in CPR because you never know when something is going to go wrong and so with this particular incident as we talk about it I want to encourage Bahamians and residents to reach out.
"You have Red Cross. You have some of the medical facilities around. Reach out to them and see if you can learn at least basic steps in CPR because one day you never know when you can use it and that very time that you use it you can actually save a life."