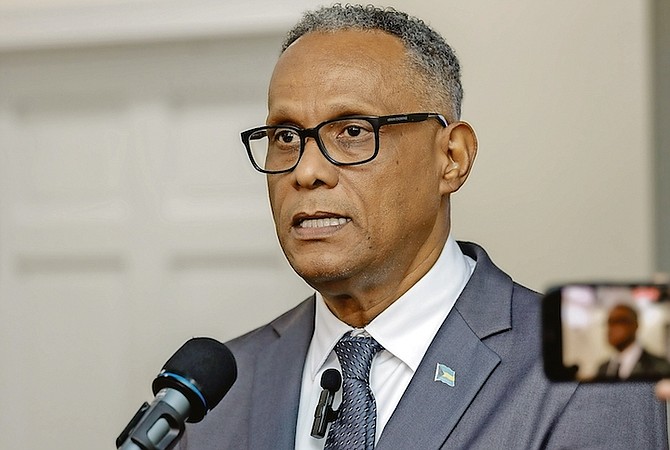 By LYNAIRE MUNNINGS
lmunnings@tribunemedia.net
HEALTH and Wellness Minister Dr Michael Darville said yesterday that the government is actively reviewing potential sites for a new hospital in New Providence.
Yesterday, outside the House of Assembly, Dr Darville responded to speculation that the future site of the new hospital will be in Highland Park, which is in the Killarney constituency.
"Well, between me and you we have a few potential sites that we're looking at," he said yesterday.
"We (will) do a geotechnical study and the site where the rock is adequate for a facility of this nature will be our most accepted site."
He continued: "We made a commitment in our Blueprint for Change and we will construct a new state of the art hospital in Grand Bahama and one in New Providence, and that work is ongoing.
"There has been no finalisation exactly of the site, but we have a potential site that seems to be very promising and the geotechnical studies for that site (are) still ongoing. Once that's completed and it seems suitable then we will notify the media."
Yesterday, Dr Darville noted that once the geotechnical studies are completed, there will be a town hall meeting to discuss the possible impact to the communities in close proximity.
Despite the recent comments, in October of last year Dr Darville said he was satisfied with the new proposed site.
He said at the time: "I would like to let the Bahamian people know that there is some study, some geo-technical studies that are going on, on the rock formation to ensure that it can handle multi-storey capability. I am pleased with the site; the site is about 50 to 55 acres. So, there's room for expansion. It's on high ground, which means that we don't have to worry too much about the elements of climate change.
"But I'm pleased that as we're progressing with the final feasibility, it appears that we have a confirmed site.
"I figure in a couple of weeks - at the latest two months - I will be able to clearly articulate to the Bahamian people where the new site for the Princess Margaret Hospital will be," he added.
The Progressive Liberal Party stated in its Blueprint for Change that its priority was to improve and build health care facilities in the country.