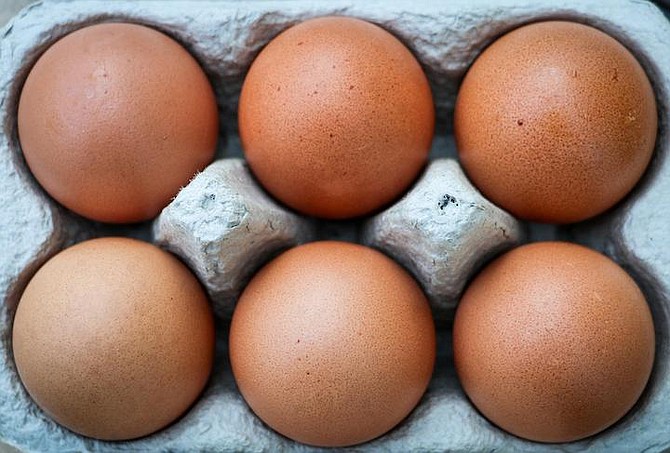 By LETRE SWEETING
lsweeting@tribunemedia.net
SEVERAL local bakeries have expressed frustration over the "incredible" rise in the price of eggs, among other items, in grocery stores on the island.
Some say they have no choice but to pass the costs on to their customers.
A new strain of the bird flu has led to an egg shortage in various countries. The cost of fuel and other things has also added to the increase in price.
Kimani Smith, Purity Bakery's general manager, told The Tribune on Friday that due to egg prices as well as other financial burdens faced by local bakers, Purity Bakery will need to adjust and possibly, raise their prices.
"Just like everything else. This is nothing new. Commodity prices are continuously increasing, obviously it's going to affect us, affect our bottom line, and affect our profitability. This is nothing that is new. Eggs are just one of many price increases that have been going on for the past three years," Mr Smith said.
"You talk about eggs, you should also be asking about flour, about sugar and shortening, about utilities. You should also ask about the labour component and real property taxes, all of these things have gone up," he said.
Mr Smith added: "Nothing you can do about it, but move on and do your best and try to control your cost wherever possible. And unfortunately in certain instances you will have to pass those costs on."
Responding to whether the bakery will use egg alternatives, Mr Smith said: "No, we're not going to do anything radical. Unfortunately, it is what it is. There's another strain of the Avian flu (or bird flu) that's affecting chickens worldwide and this is just some of the realities that everyone has to contend with."
Tessa Lightbourne, who is the owner and head pastry chef at Bourne Sweet, a bakery based on High Vista Drive, said the recent hike in egg prices has put her in a tough spot after having offered a special discount on an egg-based dessert.
"Right now we're running a macaron special, which we already had planned, because we had bought a lot of almond flour to do so. But then the eggs went sky high. So now we have to absorb that, because we're already running the special. We're already giving you a discount and macarons are egg whites," Ms Lightbourne said.
"But I mean, we have to make it work. So if we have to add a few dollars on to every custom design then that's what we have to do. In our bakery, we make everything from scratch. We don't buy any canned goods, any of those like plastic fillings. We don't do any of that, so we make all our pastry creams, which is a base from scratch. All our fillings, all our butter creams and we use brushes also of egg white, so we just can't get around it," she said.
"A lot of people were saying 'oh everyone's going to be a vegan bakery now.' That is an option. It is January, people are looking for healthier alternatives. We may play around with something like that too. But on our standard items, there's really not much we can do. Cake is now a luxury," Ms Lightbourne said.
Meanwhile, Anthony Allen, owner and head chef at Allen's Fine Cuisines, said he has no choice but to increase the price of most of his goods.
"It has affected us tremendously. I have no choice but to raise prices because for the products we produce, there is basically no other alternative to use. You have to use eggs.
"...The last case I bought was $245 for a case of 30 dozen eggs and that was a month ago. I'm so afraid to try and purchase another case now. I just go and buy it retail now. There's no discount rate for purchasing a whole case of eggs," Mr Allen said.
"It's incredible. What can you do, take cakes off the menu?"