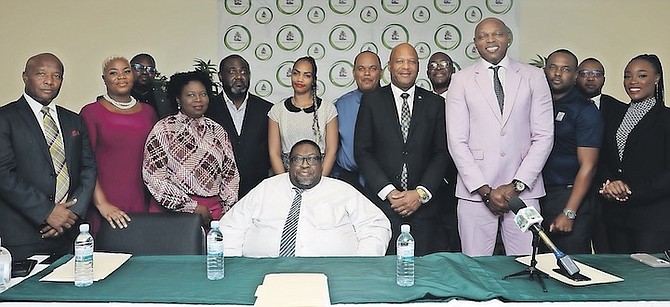 By LETRE SWEETING
lsweeting@tribunemedia.net
SOME 200 local jobs will be available for Bahamians at the Department of Labour's latest job fair this weekend in partnership with the IHOP franchise, said Labour officials yesterday.
Labour and Immigration Minister Keith Bell along with other labour officials held a press conference yesterday to announce the Labour on the Blocks 2.0 IHOP Job Fair.
The event will be held on Saturday at the department's Rosetta Street location from 9am to 3pm.
Mr Bell said the pancake restaurant food chain is looking to fill all vacancies for the first of three locations that it plans to open in New Providence this year and others in the future.
"The first store will be located in the Mall at Marathon and will be opened to the public on or before February 28, 2023," Mr Bell said.
"The search to fill managers and supervisor positions has already begun and training for all new hires are expected to begin on or about February 13, 2023," he said.
"Interested job seekers are invited to pre-register for the job fair by filling out the QR code that is available on the Department of Labour's Facebook page or on the Plus Employment Service Unite Portal at www.jobseekersbahamas. gov.bs," he said.
"As first and second interviews will be conducted during the job fair on Saturday, prospective job seekers are asked to come properly dressed and well groomed. Any job seekers that require assistance in obtaining proper clothing or attire can visit any of the Department of Labour's three New Providence locations on Rosetta Street, Robinson Road or Carmichael Road from 9am to 4pm daily," Mr Bell said.
Burton Rogers, president of IHOP Bahamas, added that the restaurant may be seeking more employees in the next six months.
"Hiring 200 persons is not an easy task and that 200 will hopefully increase to about 600 in the next six months. So we're looking for between 200 to 600 employees within the next six months," he said.
Mr Rogers also wanted to assure Bahamians that the franchise's local restaurants will be no different from those abroad.
"Also, simply because it's a 24-hour restaurant, in the beginning phase of this, because it's new, there's gonna be some tweaking with the hours, obviously late at night, because we have to make sure we have all our ducks in a row," he said.
"So on our first day of operation, when we're opened, we wouldn't exactly go immediately to 24-hours, there's a lot of logistical reasons for that, but eventually we will be a 24-hour restaurant, as expected, and don't fear, we're not changing anything," Mr Rogers said.
"So we're going to keep it as is, we will tweak some stuff on the menu, but all that obviously would have to be approved by the franchise," Mr Rogers said.
He added: "Our second location has been identified, but I don't want to announce it just yet."
Labour director Robert Farquharson said yesterday he hopes this latest fair will improve unemployment figures as the number of jobseekers on the Labour Department's database "was approximately 65,000".
Mr Farquharson also mentioned plans for a new Labour on the Campus Initiative planned for this year, where labour officials in partnership with other government agencies will be taking their services to high school campuses to help struggling grade 10 and 11 students develop skills for a career after graduation.
Persons attending the job fair on Saturday are asked to bring necessary documents including resumes, certificates, National Insurance (NIB) smart card and government issued identification.
Last year, the Labour on the Blocks 2.0 initiative held several job fairs in both New Providence and Grand Bahama, with job seekers in excess of 1,500 having shown up each time.