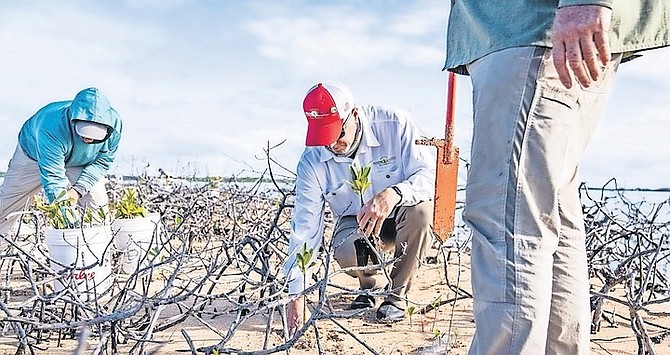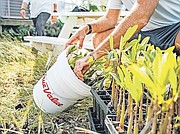 MORE than 1,400 mangroves have been planted in Abaco this week as part of the Northern Bahamas Restoration Project.
Project Healing Waters (PHW) and Bonefish and Tarpon Trust (BTT) partnered for the scheme, which involves US veterans.
The veterans are part of PHW, which uses fly-fishing as a therapeutic discipline - and joined in the planting of mangrove forests as part of their activities.
Thousands of US Veterans struggling with physical and mental disabilities have found hope and healing through the calming, therapeutic practice of fly-fishing.
A group of PHW veterans were in Abaco this week, doing their part to protect the mangroves.
The planting is part of a multi-year initiative that seeks to replant 100,000 mangroves.
Blain Tomlinson, chairman of the PHW board of yrustees, said: "Our veteran participants are extremely excited to provide the ground support for ongoing Bonefish & Tarpon Trust projects and initiatives.
"Time on the water has the power to heal and we now have the ability to help heal our fisheries and coastal communities for future generations, but it's more about providing comradery, new purpose and a deeper sense of belonging for our veterans."
"The fury we witnessed with Hurricane Dorian illustrates how climate change is creating the conditions for stronger and more damaging storms, which is a trend of significant concern in The Bahamas," said BTT president and CEO Jim McDuffie.
"With proper stewardship, natural systems can play a central role in protecting both human communities and conserving vital natural resources, including the flats fisheries of The Bahamas. We appreciate PHW's commitment to our mission and to the restoration of this important mangrove system."
Far Bank, a fly-fishing gear and tackle manufacturer, is a corporate sponsor, and CEO Kris Klein said: "Working alongside our long-established partnerships with Bonefish & Tarpon Trust and Project Healing Waters, we can provide great and restorative fishing opportunities for veterans while ensuring the health and recovery of threatened areas."
Mitch Dziduch, a veteran of Desert Shield, Desert Storm, and Bosnia, said: "For 14 years when I retired from the military, I was just in a dead zone. I was not living from day to day. I existed but I was not living. I joined Project Healing Waters, came to a place like this... it just made such a big difference right here in my heart."