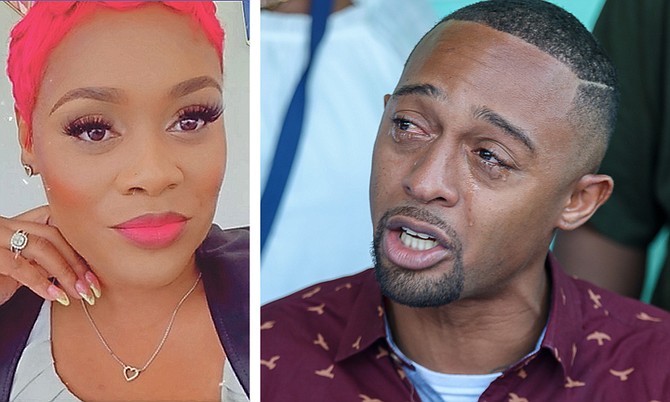 By JADE RUSSELL
jrussell@tribunemedia.net.
AN investigation has been launched into the death of Kenise Darville, a mother-of-three who died days after posting a heart wrenching video on Facebook about the alleged negligence and poor healthcare she experienced at Princess Margaret Hospital.
The video has gone viral, amassing nearly 200,000 views up to press time. Her mourning family is now demanding answers surrounding the circumstances of her death and has called for changes in the public healthcare system.
Health and Wellness Minister Dr Michael Darville on Friday said that an investigation was underway.
"I was familiar with the case," he told The Tribune. "I've seen the posting on social media, and instructed the Princess Margaret Hospital and the Public Hospitals Authority to do an immediate investigation into the allegations. I'm certain that is already being done. And in short order, the PHA and Princess Margaret Hospital will be issuing a statement once all the factual information has been obtained."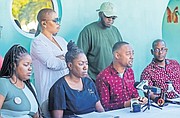 Dr Darville told reporters he had seen the viral video, where the distraught mother of three lambasted PMH's quality of healthcare.
He explained in any case of there being a possibility of alleged malpractice or mismanagement, an investigation must be done.
He continued: "Any case that there is an issue of the possibility of mismanagement, an investigation must go into that particular case to see if there's any elements of malpractice. And in order for us to be able to ensure that we constantly improve the delivery of quality health care, every case that has this type of flavour must be investigated fully.
"And lessons must be learned. And so this investigation will go deep into the circumstances surrounding Mrs Darville's death and a determination will be made whether or not any protocols were missed."
On January 11, Mrs Darville went live on Facebook, detailing her experience in the hospital. As tears streamed down her face, she said "PMH (is) doing a whole lot of foolishness and I feel like this story just needs to get out."
She claimed that doctors waited several days after she was admitted to inform her that she needed to make an urgent plea to friends and family for blood donations.
The mother died on January 19 just after being admitted only two weeks prior.
She was admitted to PMH on January 2, due to unbearable pain she suffered in her lower back. She also grappled with the emotional toll of burying her mother a few days prior.
During admission, Mrs Darville said she was placed in an isolation room and doctors did bloodwork on her.
She said it was revealed that her blood platelets were at 20,000 which is considered very low, since platelets are needed for blood to clot and to prevent bleeding.
The average blood platelets count should be at 150,000 to 450,000, which highlighted the entrepreneur's urgent need for platelets.
In the video, Mrs Darville added that she was allegedly told that blood platelets would be ordered to aid in her treatment. She claimed she was told about a week later that the blood platelets were never ordered by healthcare staff.
"They come to me today (January 11) and going to tell me so casually that 'oh Ms Symonette (her maiden name) now your platelets count is not a 20 it's now at a seven. Which means that you are in urgent need of platelets. And you should get some people to come out and donate blood,'" she said.
Wiping away tears, Mrs Darville explained doctors had at least eight days prior to advise her to make a plea for blood donations but instead waited until her blood count dropped even lower.
While she cried out on the video, a nurse came to her room. She explained to the nurse her grievances as she said something needs to be done.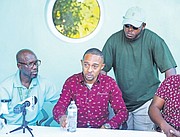 "Sometimes people just gotta go down for a cause and this is a cause I'm ready to go down for, " Mrs Darville said emotionally.
Although she posted the video on January 11, it quickly began amassing more views on Thursday after her death, prompting outrage.
Her family held a press conference on Friday and said they are seeking answers and justice over her death.
Jerad Darville, her husband, also called out for changes to be made in the healthcare system following his wife's death. He stressed on his wife's death bed she was asked to find blood.
"You should never have to be dying and trying to find blood," the emotional father said. "You should never have to be dying and have to make a decision that should I catch a 21 A or jump on Facebook because if I go on Facebook they going victimise me."
When asked if the family planned to take legal action, Mr Darville responded : "Legal action don't fix the system, right. We have to fix the system for people."
He also thanked those who donated blood to his wife after a flyer was posted that she needed medical assistance. He also urged people to continue to donate blood to aid in the public blood bank.