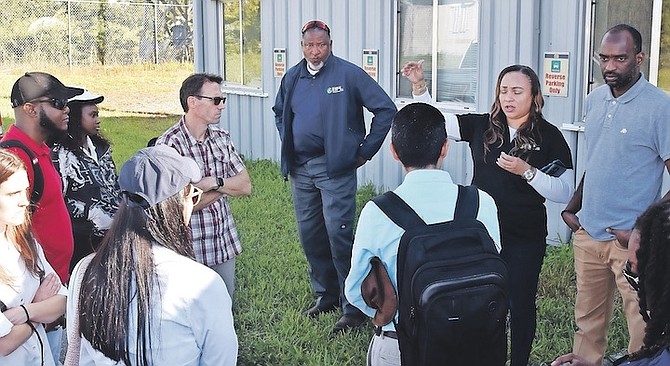 By FAY SIMMONS
jsimmons@tribunemedia.net
AN Inter-American Development Bank (IDB) delegation has toured solar installations in New Providence and Abaco as part of an $89m project to revamp this nation's energy sector.
The IDB officials, part of the multilateral lender's energy mission, are working on the renewables initiative with members of the Ministry of Finance's Project Execution Unit (PEU).
The initiative, called 'Reconstruction with Resilience', seeks to advance The Bahamas' renewable penetration given the country's target of generating 30 percent of its energy needs from renewable sources by 2030. This, in turn, is designed to increase energy resilience and lower costs.
Burlington Strachan, Bahamas Power and Light's (BPL) chief technical officer, led a tour of the 25 Mega Watt (MW) battery energy storage system that is under construction at the Blue Hill Road plant. He explained the infrastructure being installed to accommodate the stand-by solar batteries, and gave an overview of how they operate.
Mr Strachan said the batteries represent a transition from fossil fuel to green energy, and will minimise the current wastage of fuel - especially after a power outage, when more fuel is required to power the grid.
He added that the batteries will reduce electrical trips of BPL's feeds, as the new system will provide a more stable voltage frequency. The battery energy storage system is expected to be in operation by the end of March once the batteries, which are expected to arrive this month, are installed.
The group also visited solar panel sites at C.V. Bethel High School and T.G. Glover Primary School. C.V. Bethel has solar panels installed in three areas, which are able to power the school during the day, significantly reducing energy costs. The 430 panels at T.G. Glover are still being installed.
The IDB team then travelled to Abaco to assess the reconstruction of BPL's transmission and distribution systems following Hurricane Dorian's devastation. While in Abaco, the group visited the Wilson City Power Station, the Marsh Harbour generation plant, the proposed site for the new Red Bays sub-station and the proposed site for the solar park in Seven Hills.