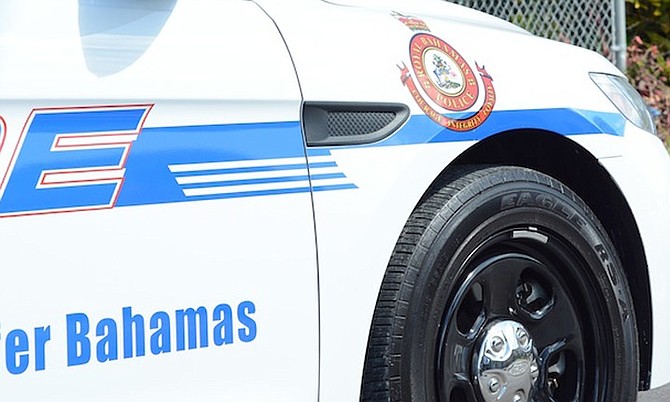 By LEANDRA ROLLE
Tribune Staff Reporter
lrolle@tribunemedia.net 
THE near three-year absence into police-involved shootings has stirred anger in some family members who say they are still searching for answers on their loved ones' deaths. 
Fredrick Major said more than a year after losing his 31-year-old son Azario Major, the family is still upset over what happened, but is mostly disappointed that nothing is being done to confirm what he believes is his son's innocence. 
"It's terribly upsetting and unbecoming and it's intentional that they're telling us here's what the Attorney General's Office is saying (and) the attorney general is saying that they cannot find any prosecutors to prosecute the matter," he claimed in a recent interview with The Tribune. 
"They are spending money on everything else in this country so bring in the pending prosecutors to prosecute. They're paying millions of dollars to clean constituencies just to put money in some PLP cronies' pocket." 
Major was shot multiple times by off-duty police on December 26, 2021.
According to police, three off-duty officers were at a business on Fire Trail Road when they spoke to a man who was "acting in a disorderly manner". 
The man was warned, police reported at the time, and eventually left the establishment. However, police say he returned, then left and returned again twice more.  
 The third time, the officers claimed they noticed the man had a gun and being in fear for their lives, they shot him. He was pronounced dead at the scene. 
 However, the family does not believe what police said  actually occurred that night. 
 "I have all the answers. For me personally, I have all the answers. I know how my son and I know why my son was killed," Mr Major told this newspaper. 
 The grieving father claimed that one of the officers involved in the shooting had known his son personally and was in contact with him. 
 He also alleged that the three times his son went to the establishment was "because they were in communication via telephone." 
 Mr Major said to date, the family has yet to retrieve his son's telephone which he alleged went missing from the crime scene after the incident. 
 "I did my investigations and we found that the phone left the crime scene and ended up in the Podoleo Street area where the tracker was dismantled and all of his information was wiped from his phone," he added. 
 He also said the family hired international experts to analyse the vehicle his son was killed in, adding that findings showed he was shot multiple times to the head and body. 
 "The forensic scientist said that my son was killed sitting in the car and the initial shots were fired though the car glass with the door closed and he stated that it displayed 'malice intent' and there's no indication of them being in fear of life so he totally disputes what the officer said," Mr Major alleged. 
 "There's no way in the world that a man (is) supposed to be shot four times point blank to the head by police officers, 26 times to the body. (His) body had to be cremated because his entire skull collapsed," he said. 
 "We couldn't have an open coffin for him. Now, why is it that police officers are walking around and not being arrested?"  
 He is not the only loved one of a person killed by police that has posed the same questions. 
 Family members and close friends of 25-year-old Deshoan Smith aka "Spider", who was killed by police on June 13, 2020, share similar concerns and have also questioned  the police's version of the story. 
 Smith and two other men were killed on Cowpen Road after they allegedly "ambushed" an officer. 
 Police reported at the time that officers also suspected the men were waiting off Cowpen Road to target someone who was attending a burial ceremony. 
 A friend of Smith, who asked not to be named, said his death is still hurtful because it feels "like it's nothing being done" so they can get the answers that they need. 
 "It's very hard because although I understand he had a past, he was still human and you know, and I feel as if the way they go about doing things is completely wrong," she said. 
 "Because what I gathered from the incident is that if it was a tinted vehicle then how can you open fire on a tinted vehicle because you don't know who is in the vehicle first of all.
 "What if a child was in there? What if a woman was in there, pregnant or something and nothing is being done and it's like there's no law for them. It's like when things happen, they just sweep it under the rug."  
 The friend, who shares a daughter with the deceased, said living as a single mother has not been easy. 
 "It's hard because my daughter asks for him every day. She was two months (old) when he died," she said, adding that her daughter will turn three in April.
 Inquests into police involved shootings were initially delayed because of COVID-19 in 2020.  
Later, former Coroner Jeanine Weech-Gomez was sworn in as a Supreme Court justice, causing further delays as officials waited to replace her.  
 Magistrate Kara Turnquest-Deveaux was named acting coroner in September 2021. 
 However, while inquests into other matters are already being carried out, they have not yet resumed into police-involved killings because the director of public prosecutions has yet to appoint a lawyer to marshal the cases.  
 Chief Justice Sir Ian Winder addressed the issue earlier this month during a ceremony to mark the opening of the legal year. 
 "Discussions with the learned director of public prosecutions had initially identified an officer to perform the function," he said. 
  "That option has since fallen through and the search continues, I'm advised, to locate a replacement marshall. I implore the learned director of public prosecutions once again to bring the conclusion to this matter.
 "It is hoped that the Judicial and Legal Service Commission will shortly advertise to permanently fill the post of coroner," Sir Ian said.