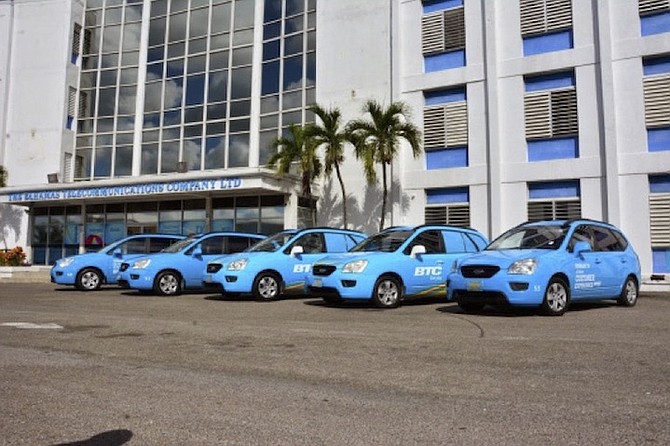 By YOURI KEMP
Tribune Business Reporter
ykemp@tribunemedia.net
Bahamas Telecommunications Company (BTC) contractors yesterday asserted they have been without valid employment contracts since June 2022 as they demanded improved working terms and conditions.
The carrier's independent technicians yesterday called for a 65 percent pay increase, and two-year contracts rather than the rolling six-month short-term agreements previously offered, while branding discussions with BTC's management over the issue as difficult.
Martin Clarke, a spokesperson for the contractors, told Tribune Business he and others have been out-of-contract now for more than six months. "We have an issue with BTC regarding our standard contract. We are contractors, so we have to maintain our own vehicles, we have to service them and license them, inspect and insure them, and we are working for BTC as contractors," he added.
Mr Clarke said BTC was renewing the contractors' employment contracts every six months prior to June 2022, which he asserted was to avoid the technicians being classified as permanent employees if hired for a full calendar year. "They just keep renewing our contractors for six months at a time. They have done this to us three times in a row," Mr Clarks said.
"We have reached that point where we are tired of that. We want them to come and sit down and negotiate for us a reasonable contract that would benefit both sides. They know the labour laws say if you work 12 months, you will be entitled as a worker. So to avoid that, they make you take leave every six months without pay and there's still no contract in place."
BTC, in a statement responding to its contractors' concerns, did not address them directly other than to say it is "a law-abiding corporate entity". The communications carrier, which is 49 percent directly owned by the Government, added: "The company has entered into agreements with numerous contractors and vendors to provide services.
"These individuals are independent contractors of BTC and not full-time employees, and as such are not covered under the bargaining agreement. As the first telecoms company to provide fibre-to-the-home, BTC is heavily focused and invested in completely upgrading its network to fibre, which will eventually see the complete turndown of the copper network.
"A number of contracted technicians have embraced the new fibre technology and upskilled themselves, and have either formed companies or have offered their services as independent contractors. BTC invites, and continues to encourage, all technicians to also upskill with fibre certifications. BTC's chief executive has met with the technicians and has reached out to arrange a subsequent meeting."
BTC outsourced the technicians' jobs some years ago, resulting in them becoming independent contractors rather than full-time employees. Outsourcing is a common practice employed by companies worldwide, although trade unions and others view it as simply a move to cut costs as firms no longer have to pay benefits and other compensation to those affected.

Mr Clarke yesterday said the rate for a BTC technician on call is $21 per hour. He argued that if they receive two calls per day during a five-day work week they would still make less than the current minimum wage of $260 per week.
"These are skilled technicians who have been in the field for the past 25 years-plus. We are all technicians who used to work for BTC and BTC decided to outsource all the technicians, so they placed us on the contract," Mr Clarke added.
"First they said they were going to offer the technicians a contract to operate the outside plants, and they were going to give us first right of refusal. But the Government sold the company. We responded to the Request for Proposals, we got an attorney, and a year later they changed their mind. They are not doing it any more. So they are just keeping us on as contractors and taking advantage of us."
Mr Clarke said the contractors reached an agreement four years ago with BTC's then-chief executive that they would be placed on two-year contracts, and want this arrangement to be reinstated moving forward. He added that many contractors were struggling to obtain credit from banks and other lenders due to the risks associated with the short-term nature of their six-month agreements.
And the contractors also want to unionise, which Mr Clarke said they are currently prevented from doing under the threat of termination. The Government, though, in a minority, is represented on BTC's Board by several directors led by vice-chairman, Valentine Grimes.