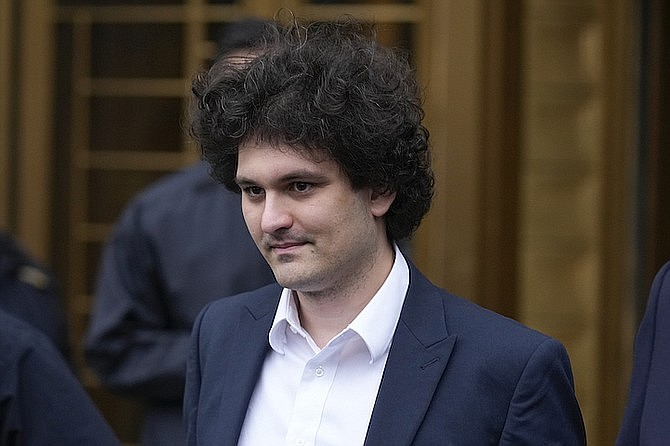 By NEIL HARTNELL
Tribune Business Editor
nhartnell@tribunemedia.net
Sam Bankman-Fried planned to mount an impassioned defence of The Bahamas before the US Congress by implying that attacks on it over FTX's implosion were motivated by racism and prejudice.
The FTX co-founder's written statement, which was included among legal filings in the Delaware Bankruptcy Court, was never voiced publicly as he was arrested the previous night by Bahamian police acting on the request of US federal authorities in the southern New York district court.
Hitting back at assertions by John Ray, FTX's Chapter 11-appointed US chief, that the Bahamian government, Securities Commission and local provisional liquidators had all colluded with himself, Mr Bankman-Fried's written testimony stated: "Their assumption, without evidence, of malign intent and incompetence on the part of other races, cultures and governments would be considered deeply offensive if directed at American minorities.
"It is no less offensive when directed at the citizens of other countries, let alone their regulators. Meanwhile, seizing assets overseen by other governments is a practice most recently considered appropriate centuries ago."
Many observers will likely argue that Mr Bankman-Fried is hardly the most credible defender of The Bahamas' reputation given FTX's implosion, which has left the crypto exchange's clients and investors facing multi-billion dollar losses, coupled with the multiple fraud, money laundering and campaign finance violation charges he now faces in the New York courts.
However, Mr Ray and his team did subsequently back down from their "collusion" allegations, with the FTX US chief quoted in a statement where it was affirmed that the Bahamian Securities Commission acted properly in transferring $450m worth of digital assets to a secure electronic wallet under its control to protect them from being lost or stolen by hackers.
Mr Bankman-Fried backed the Bahamian regulator's actions in the testimony he planned to give before the US House of Representatives Financial Services Committee. "The Bahamas stepped in to safeguard customer assets, acting in their duty as the primary regulator of FTX International," he wrote.
"Meanwhile, John Ray's team - run out of the US - initiated an asset seizure of FTX International, a company run from The Bahamas, regulated in The Bahamas and servicing non-US clients." Peace, at least for the moment, is holding between Mr Ray's team and the Bahamian provisional liquidators for the local subsidiary, FTX Digital Markets, after they reached a co-operation and information sharing deal that must be ratified by their respective courts.
However, Mr Bankman-Fried's testimony backed the Bahamian provisional liquidators in their assertion that FTX's management and controlling persons were all based in and operating from The Bahamas - something that was heavily disputed by Mr Ray.
Supporting arguments by Brian Simms KC, the Lennox Paton senior partner, and PricewaterhouseCoopers (PwC) accounting duo, Kevin Cambridge and Peter Greaves, the FTX chief had planned to tell the US Congress: "The Bahamas is where FTX International is headquartered. The Securities Commission is the primary regulator of FTX International. The mind and management of FTX International has been in The Bahamas.
"FTX International's headquarters and primary office are in The Bahamas. FTX International had nearly 100 employees in The Bahamas and did not, to my knowledge, maintain any employees primarily based in the US outside of US counsel.... The majority of the mind and management of FTX International worked for FTX Digital Markets in The Bahamas."
This was challenged by Mr Ray and his team as they sought to keep Delaware as the main venue for FTX's winding-up. They alleged in legal filings: "FTX Digital Markets was never the centre of the FTX group. It was nothing more than a short-lived provider of limited 'match-making' services for customer-to-customer transactions on the crypto currency exchange built, owned, and operated by FTX Trading, its immediate corporate parent.
"FTX Digital Markets operated for just under six months, from May 13, 2022, to November 10, 2022. Over 90 percent of customers who used the FTX.com exchange were customers before FTX Digital Markets even became operational. Once operational, FTX Digital Markets never earned a dollar of third-party revenue. FTX Digital Markets was a virtual nullity within the FTX group." The Bahamian subsidiary, Mr Ray alleged, had been in existence for just 16 months.
Edgar Mosley, managing director of Alvarez & Marshal, one of Mr Ray's financial advisors, alleged in an accompanying affidavit: "The debtors' records reflect that in the time from FTX Digital Markets' formation, including the less than six months it operated, FTX Digital Markets generated no revenue from customers or other third parties.
"The debtors' records reflect that FTX Digital Markets generated only inter-company or related party revenue, which was paid primarily by FTX Trading as well as other related parties, and FTX Digital Markets did not have third party borrowings.
"The debtors' records reflect that FTX Digital Markets earned approximately $604,000 net income during calendar year 2021, and approximately $5.17m net income through the first three quarters of 2022 from inter-company and related party revenue."