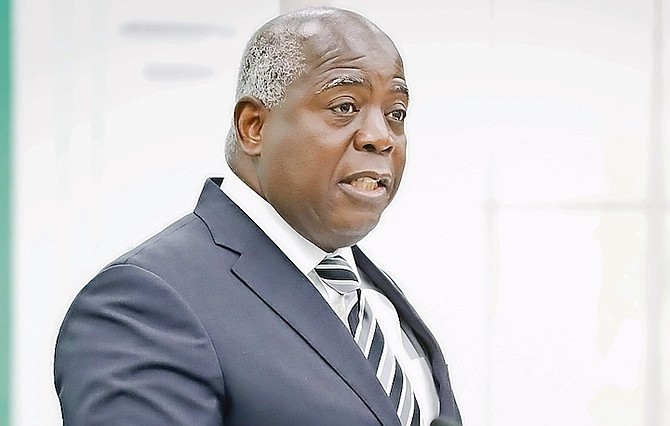 By EARYEL BOWLEG
Tribune Staff Reporter
ebowleg@tribunemedia.net
PRIME Minister Philip "Brave" Davis revealed he has spoken to Attorney General Ryan Pinder who is now seeking to go back to court to get clarity on an existing shanty town injunction and to try to modify it to ensure officials can stop the growing numbers of illegal developments in the country.
The country is currently experiencing a spike of illegal migration from Haiti and Cuba. Nearly 400 Haitian migrants are detained in Inagua after they were caught on a vessel in Bahamian waters this week. Another group of Haitian migrants landed on Andros this week.
The recent influx of migrants from Haiti comes after months of increasing social and political turmoil there.
Central and South Abaco MP John Pinder had previously said the government must act now to deal with unregulated shanty towns in Abaco as the issue is about to reach a "boiling point".
Mr Davis was asked yesterday about the shanty town issue on the Family Islands, in particular for an update about an injunction that was put in place stopping demolition of the communities.
 He stated: "I know that I've spoken to the attorney general. He is now seeking to go back to court to have a clarification on what the effect of that injunction is and to modify it to ensure that we are able to do what has to be done to affect and stop the growing numbers of shantytowns in this country."
 The prime minister was in Argentina this week where he represented the region at the Seventh Summit of Heads of State and Government of the Community of Latin American and the Caribbean States (CELAC) as chairman of CARICOM.
 While there, he said the crisis in Haiti poses a substantial threat to The Bahamas due to an increase in irregular migration.
 Yesterday, Mr Davis said he thinks the international community has heard his "cries".
 "I made that intervention. The prime minister of Haiti was present and we discussed the issues of what's occurring now in Haiti. The challenge is, as I pointed out to my fellow heads, until we fix Haiti, this will continue to happen. It is a humanitarian crisis there. People are desperate, and migration and desperate and dangerous migration will continue."
 He added: "The new policy of the United States government, which I had a conversation with the vice president about a couple of weeks ago, it's also something that's also pulling the Haitians from making that dangerous trek to try to get to (the) United States.
 "Because they don't quite understand the policy that has yet been announced and if this was also confirmed to me by talking with the Haitian delegates at the conference. So there has to be an education about what it means. I had a conversation yesterday, again with the deputy secretary of state of the United Nations, Mr Brian Nichols, discussing this issue and we are working on solutions to get these things done."
 The prime minister recently met with US Vice President Kamala Harris at the White House to discuss a number of issues facing The Bahamas and the wider Caribbean region, including human smuggling.
 Asked to respond to some local critics who don't think the government is doing enough to stem illegal migration, Mr Davis said: "Maybe they could tell us what else we can do, but we know that we are doing all that we can. Last year, we repatriated over 3,500 Haitians back to Haiti. There were about over 40 incidents of our Defence Force intercepting vessels and returning them over the last year and for this year the Defence Force has already interdicted many of them and sending them back home.
 "They're going to continue to come. As long as the conditions in Haiti persist, we're going to have people trying to get out of Haiti and if you speak to them most of them are not coming trying to get to The Bahamas. They are trying to get to the United States of America. And as they come into our waters, because of our international treaties we are bound to process them and return them as quickly as we can. That's what we've been doing."
 He said there has to be education in Haiti about what the options are to leave the country to have a better life.
 "I think it has to start in Haiti and that's why it's very important to try to get the institutions of Haiti back up and running and we need to build capacity in Haiti again, so that people can understand that the government of the United States is willing to accept up to 30,000 migrants from the countries Haiti, Nicaragua, Venezuela, and another one, Cuba.
 "They just need to understand the process. And that requires them, getting to understand it, they get to understand it by people telling them and educating them as to what that process is and then they can engage that process."
 Last December, the US government broadened a programme that allows some Haitian migrants to live and work in the country without fear of deportation. However, the migrants must apply for Temporary Protected Status as those who go to the US illegally will not qualify and may face deportation.