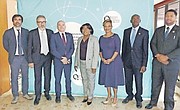 By FAY SIMMONS
jsimmons@tribunemedia.net
BAHAMAS Bureau of Standards and Quality (BBSQ) executives last week met with European Union (EU) officials in a bid to build a stronger exporting culture in this nation.
The hour-long meeting and site visit focused on a project to enhance The Bahamas' quality certification infrastructure through the creation of a Metrology Laboratory that can affirm the accuracy of weights and measurement.
BBSQ staff discussed the current status of the 24-month initiative, which is financed by the EU under the CARIFORUM-EU Economic Partnership Agreement (EPA) and CARICOM Single Market and Economy (CSME) standby facility for capacity building, managed by the Caribbean Development Bank (CDB).
Pauline Curry, the BBSQ's chairwoman, said: "We are grateful for the EU's commitment to prioritising the value of accurate and reliable quality infrastructure for The Bahamas and, indeed, the region."
The project aims to strengthen the services provided by BBSQ so that businesses can improve the quality of their products to meet local and international market requirements. The project is expected to stimulate private sector development and facilitate trade by supporting export competitiveness.
Dr Renae Ferguson-Bufford, the BBSQ's director, said: "The people and businesses of The Bahamas stand to benefit greatly from this initiative. As the project progresses, we look forward to an even stronger co-operation with the EU."
The visit showcased a metrology container laboratory that was mobilised at the BBSQ in January 2022. The laboratory will establish a sustainable industrial metrology service that includes an ISO/IEC17025 compliant quality management system, which allows calibration and testing in mass and volume.
The project is also providing BBSQ laboratory staff with technical training in the quality management system, which will enable the Bureau to produce accurate results that help Bahamian businesses build confidence in their products among local consumers and global export markets.
The metrology container has been furnished with cabinetry, balance tables, laboratory supplies, air conditioning and a humidifier to meet International Standards Organisation (ISO) criteria, and the procurement of laboratory equipment will soon begin.
The BBSQ has also engaged with industry stakeholders from pharmaceuticals and healthcare, plus manufacturing and energy, to highlight the benefits of the metrology container laboratory and to better understand private sector needs.
Aniceto Rodriguez Ruiz, head of co-operation for the EU's mission to Jamaica, Belize and The Bahamas, said: "We are pleased to support this project as it promotes trade as a vehicle for development. By helping national authorities certify quality standards, we are helping small and medium-sized enterprises to attract and access the biggest export markets in the European Union.
"We are also protecting 460m consumers from problems that could arise without standards of quality." The EU team's visit is part of a wider mission to The Bahamas to meet with institutions who have benefited recently from the 27-nation bloc's co-operation projects.