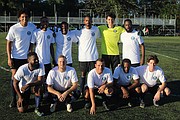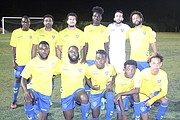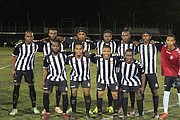 THE Bahamas Men's Soccer League returned to action after the Christmas break with the completion of the quarterfinal rounds of the Hummel Cup 2023 over the weekend at the Roscow AL Davies Field at the Baillou Hills Sporting Complex.
Seventeen FC vs Future Stars FC
In the first match of a very exciting day, Seventeen FC took down the youthful squad of the Future Stars FC 3-1. Seventeen got a brace (2 goals) from Fleurimond St Franc and another from Das Markens, to close of the match. Shadlin Joseph scored on a penalty kick to score the lone goal for the stars.
Match 2:
UB Mingoes vs Renegades FC
The UB Mingoes returned to winning form after suffering consecutive setbacks at the hands of the Dynamos FC. One just before the Christmas break and another resulting in an early exit from the Hummel Cup via penalty shootout. The Mingoes coaches got to see their newest recruit in action as midseason transfer, Evelt Julmis, made his maiden appearance. In the end, the Mingoes got a brace of goals (2) from Ronaldo Greene and an extra goal from J Johnson to silence a testy Renegades squad. Tempers flared in this match at the 34' after a bit of reckless play. Both squads got into a shoving match, but the referee cooled off the tempers with a flurry of yellow cards. UB won the match as well as the yellow cards battle 7-2.
Match 3:
Baha Jr vs Dynamos FC
In the final match of the day, forward Brandon Adderley, returning to fitness, scored a hat trick (2 goals) and partnered with winger Adrian Douglas Rolle, to put away an ambitious Baha Jr Squad 4-0.
Young goalkeeper, Ahmaad Smith was stellar in goal as he kept a clean sheet. Action returns on Wednesday.