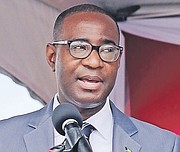 By LEANDRA ROLLE
Tribune Staff Reporter
lrolle@tribunemedia.net
TOURISM numbers are looking very promising ahead of spring break, according to Ministry of Tourism deputy director general Dr Kenneth Romer, who cited room capacity as a major challenge because of high hotel occupancy levels.
During the weekly press briefing at the Office of the Prime Minister yesterday, Dr Romer hailed the increasing tourist arrivals as a good sign for The Bahamas and said on this current trend, officials have every reason to believe they will hit its target of a 20 percent growth in the sector.
"We saw over 30 percent in January," he said. "Those numbers are holding for February and March. We had a situation just the other day where an airline couldn't find seven rooms for stranded passengers.
"Just Saturday past, we had an air transit admitted … into Nassau (with) 310 passengers and we had hoped to overnight them in Nassau, but we could not find rooms at any of our properties to overnight passengers.
"So, our challenge now is really capacity, but the numbers are going to be holding strong. We do believe that we're going to hit the 20 percent at the end of this year. We did 30 plus percent in January and February and March numbers, we believe, are going to look the same."
Last week, Tourism Minister Chester Cooper revealed in his contribution to the mid-year budget debate that nearly one million visitors arrived in The Bahamas in January, representing a 166 percent increase when compared to the same period last year.
"When we look at what is happening in 2023, we are shattering 2022 numbers and 2019 numbers. That's good news. What is even better news is that we saw nearly one million visitors to The Bahamas in the first month of this year," said Mr Cooper.
"I'll repeat that; you may hear me repeat a few things today. In January, we saw nearly one million visitors to The Bahamas. For context, in January of 2023 we saw 846,000 visitors. That number was 300,000 in January 2022. That is a 166 percent increase from January 2022 to January 2023."
Dr Romer said given the nation's growing tourism industry, it was important for The Bahamas to redevelop airports throughout the country to attract more international traffic, which would fall in line with the government's goals to operate airports as "profit centres".
The government has already put out requests for proposals for the development of some 14 Family Island airports.
These include the New Bight International Airport in Cat Island, Exuma International Airport, Leonard M Thompson International Airport in Abaco, North Eleuthera International Airport, Long Island International Airport, Congo Town airport in South Andros and San Salvador International Airport.
According to Dr Romer, some of these airports will undergo major repairs and will feature brand new control towers and crash and rescue facilities, among other things.
"We do believe that this year, we are going to see shovels in the ground. As a matter of fact, we do forecast going into New Bight Cat Island on the 25th of this morning and putting shovels in the ground," Dr Romer added.