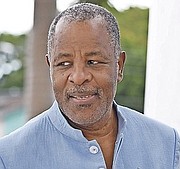 By NEIL HARTNELL
Tribune Business Editor
nhartnell@tribunemedia.net
FOCOL's chairman yesterday agreed that Bahamian petroleum retailers have "made their case for immediate relief" despite a Cabinet minister dismissing any prospect of an increase in gasoline and diesel margins.
Sir Franklyn Wilson, who heads the BISX-listed petroleum wholesaler operating under the Shell brand, told Tribune Business no can doubt that the Bahamas Petroleum Retailers Association (BPRA) and its members have advanced a "reasonable" argument for a margin rise to ease their losses and financial strain.
He praised the gas station operators for a "measured and tempered" approach to negotiating with the Government and raising public awareness of their plight, and added the retail petroleum industry was being asked to make "a disproportionate amount of sacrifice" while acknowledging the Davis administration's reluctance to impose any cost increases on the Bahamian motoring public.
However, Michael Halkitis, minister of economic affairs, in closing the Senate's mid-year Budget debate was resolute in asserting that the Government will not approve any measures that "immediately increase" the price of gasoline such as the margin increase that retailers have been screaming for over the past year.
He argued that the Government was not "unsympathetic" to their situation, and urged the retailers to keep talking and negotiating with it. However, given that a margin increase is at the centre of the industry's demands, it would appear that the sector and Davis administration are at an impasse or stalemate as gas station operators mull measures - such as operating hour and staff hour cuts, possibly even lay-offs - in a bid to slash costs and stay afloat.
Giving the retailers his backing, Sir Franklyn told this newspaper: "I don't think anyone debates the reasonableness of their position, their conduct to-date in terms of the sacrifice they would have to endure. They've been patient, they've been measured, they've been tempered; all those various things.
"Of course I understand the Government is concerned with what the implications are for the general public, but at some point in time - while we all support the concerns they've got - should one set of people be asked to make a disproportionate amount of sacrifice. That really becomes the question in my view.
"Yes, I know a margin increase will not be welcome news... I'm talking about the retailers now; it doesn't relate to the wholesalers. My bottom line position is that it's hard to dispute the reasonableness of their position. I think it's tough to dispute that they've been very measured and reasonable in trying to get some relief. There's no question about that in my mind.
"Obviously the Government knows the impact it will have on Joe Public, and I think any government will be concerned with doing anything that could create additional strain on the public. However, the question becomes: Is it reasonable to ask one set of people to carry a disproportionate share of the common burden? I think the answer to that is 'no'."
Mr Halkitis, though, proved unyielding in the Senate. "I would just like to say we have been in discussions for some time; for many months," he said. "The concerns of the retailers have been their margins; they have not had a margin increase for a number of years.
"Some additional concerns are those who rent their premises, the level of the rent, the level of the franchise fees that they have to pay the oil companies, the level of the amount off-the-top from the sales in their stores that they have to pay the oil companies that really squeezes the margin. The Government has a fixed rate of tax on gasoline, a combination tax on diesel.
"In all of our discussions with the petroleum retailers, we have been very sympathetic to their plight, but the Government of The Bahamas is not minded to take any action that will lead to an immediate increase in prices at the pump. Our position remains that the Government of The Bahamas will not implement anything that leads to an immediate increase of the price at the pump."
Mr Halkitis said the Government was prepared to study alternative relief proposals from the gas station retailers, he reiterated: "We will not do something that will lead to an immediate increase in the price of gas at the pump. I don't know if I can say it any simpler, I've said it over and over, Mr vice-president, and I stand by that."
He added that there was "no way to dance around" the fact that granting the margin increase sought by petroleum retailers will immediately increase gasoline and diesel prices, and the Government is determined to control prices for the benefit of motorists even if it plunges dealers into losses. Describing it as "a difficult environment for everyone", Mr Halkitis said he "invites the retailers to continue with dialogue" even though there seems little point in the two sides talking.
The minister suggested that the Association's mooted actions could be "counter-productive", and urged it not to take the "hard way" of potential conflict and confrontation with the Government. "Let's continue the dialogue. There's always a way to come to an amicable solution," he urged.
The challenge is that the Government has ruled out addressing the industry's core complaint: The price-controlled fixed margins on every gallon of gas and diesel sold. The last increase enjoyed by gas station operators occurred in 2011, some 12 years ago, under the last Ingraham administration, and operating costs and inflationary pressures will have increased substantially then.
That took gasoline margins from 44 cents per gallon to 54 cents, where it has remained ever since. Retailers had pushed for a 50 percent or 27 cents per gallon increase that would have taken this to 81 cents per gallon, but the Government has refused to budge despite the argument this is essential to keeping them in business.
There have also been suggestions that the industry's price control structure be switched from a fixed margin to a percentage that would more easily adjust to changes in global oil prices. The sector's main problem is that the fixed 54 cent margin is no longer sufficient to absorb ever-increasing costs, which include higher overdraft and card fees, plus rising utility and labour costs.
The minimum wage rise has hit gas stations hard, given that many persons were employed at this salary level. The resulting $50 per week, or 24 percent, increase has also required them to pay increased National Insurance Board (NIB) costs. And last year's spike in gas and oil prices, while increasing their top-line sales, means higher turnover-based Business Licence fees even though profits have not changed due to the fixed margins.
NIB contribution rate increases and the up to 163 percent increase in Bahamas Power & Light's (BPL) fuel charge also await. Sir Franklyn yesterday said discussions on wide-ranging reforms to the industry's pricing structure and business model need to wait while the needs of the retailers are addressed.
"Right now these people need relief. They are in a tough spot," he said. "You cannot tie people's hands and tell them to operate a prudent business.... Right now they need immediate relief. I think they've made their case. They've been measured in putting their case. What else can they do?"
Sir Franklyn added that FOCOL had itself been measured in its dealings with its gas station operators on issues such as rent, franchise and royalty fees. "I think the record will show, certainly in the case of FOCOL, that's exactly what FOCOL has done," he said. "We've been very reasonable in terms of pushing for rate increases and things of that type.
"As a matter of fact, I spoke recently to the chief executive and he confirmed we are doing all we can to hold the line."