Photo Gallery
Powerade Potcakeman Triathlon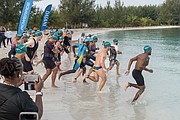 BAARK! - Bahamas Alliance for Animal Rights and Kindness - completed its 10th Annual Powerade Potcakeman Triathlon on March 5 and it was a resounding success.
Launy Duncombe of Freeport, Grand Bahama, a CARIFTA triathlon team member, emerged as the overall male winner with a time of 1:04:38, followed closely by Jorge Marcos with a time of 1:04:57, and rounding out the top three finish was Simone Bertoldo, last year's winner, with a time of 1:06:44.
In the female category, the overall winner was Kami Roach, also a CARIFTA triathlon team member, clocked in the winning time of 1:12:30. Sylvia Bateman of Freeport, Grand Bahama, and the assistant coach for the last CARIFTA triathlon team finished second with 1:13:25 and Suzy Eneas, last year's winner, rounded off the top three finish with a time of 1:13:39.
The sprint relays, which are always a crowd favourite, did not disappoint this year. The overall winners of the Male Sprint Relay were the "East Side Eagles" consisting of Justin Higgs, Giles Sawyer and Geren Albury with a time of 1:07:24. "Tri'ing Hard" with Ragh and Ragil Cordova, clocked in a second-place finish with 1:11:08.
In the Mixed Sprint Relays, "St. Andrew's School" with Giada Bertoldo, Gordon McKenzie and Robert Holcombe, were victorious with a time of 1:03:15.
"Slow Down for What," Cameron Roach, Felix Neely and LeiLei Lightbourne took second place with a time of 1:05:42.
Rounding off the third-place finish was "Session Box" with Maggie Shehan, John Mollen and Amanda Darville with a time of 1:12:48.
SunCash, a bronze sponsor, provided gift cards to the overall winners.
• Below are the top three winners of the various age groups:
Male 16 - 19 Female 16 – 19
1st Enea Gervasini – 1:09:17 1st Erin Pritchard – 1:14:44
2nd Barron Musgrove – 1:12:49
3rd Jason Cates – 1:13:24
Male 20 - 29 Female 20 - 29
1st Justin Higgs – 1:13:27 1st Arianne Evans – 1:32:30
2nd Michael Holowesko – 1:16:23
3rd Kohen Kerr – 1:29:01
Male 30 - 39 Female 30 - 39
1st Daniel Freire – 1:13:31 1st Wima Stefanutti – 1:23:57
2nd Peter Wagner – 1:15:31 2nd Britt Christensen – 1:29:31
3rd Ferhat Sen – 1:29:11
Male 40 - 49 Female 40 - 49
1st Cameron Roach – 1:07:52 1st Ilaria Gervasini – 1:21:16
2nd Andrew Ratcliffe – 1:10:17 2nd Samantha Cartwright – 1:35:57
3rd Daniel Belton – 1:11:41
Male 50 - 59 Female 50 - 59
1st Simon Townend – 1:11:15 1st Sarah Farrington – 1:33:55
2nd Sean Farrington – 1:11:35
3rd Edward Bethel – 1:15:51
Male 60 - 69 Male 70+
1st Gerald Wathen – 1:24:02 1st Ulrich Filser – 1:32:36
Winners of the Puppy Category:
Boys 8 & Under Boys 9 – 10 Girls 9 - 10
1st Caiden Bain – 6:48 1st Stafford Sweeting – 6:46 1st Hailey Cunningham – 10:19
2nd Alan Gervasini – 8:04 2nd Fraser Menzies – 6:55
3rd Kai Weightman – 8:37 3rd Lyall Menzies – 7:39
Winners of the Junior Category:
Boys 11 – 12 Girls 11 - 12
1st Sibby Fynn Potter – 22:56 1st Nai'a Belton – 25:26
2nd Lauchlan Menzies – 22:59 2nd Veranique Strachan – 27:37
3rd Kendrick Cargill – 34:48
Boys 13 – 15 Girls 13 – 15
1st Malcolm Menzies – 34:12 1st Taylor Knowles – 50:14
2nd Ayden Bain – 37:06 2nd Chelsea Smith – 59:34
3rd Jayden Smith – 42:47
Official times for all participants can be found on https://www.raceprompt. com/the-potcakeman-triathlon-2023/. The event is sanctioned by the Bahamas Triathlon Association and is a qualifier for the CARIFTA Triathlon in August.
The triathlon features a 750m swim, 12-mile bike and 5K run. There are also two junior categories (ages 11-12 and 13-15) and two puppy categories (ages 8 and under and 9 – 10). The triathlon is a family-fun event that has grown over the last 10 years, attracting participants from the USA, Canada, Mexico, Panama, and the UK. This year's race attracted a participant from Finland.
The triathlon was brought to you by the generosity of its sponsors. Title Sponsor: Powerade, Gold Sponsors: JS Johnson, Purina, FX Pro, Think Simple, Dunkin' Donuts; Silver Sponsors: Albany, Modernistic Garden and Pet Supplies, Freak Show, and Tito's Vodka/Jimmy's Wine and Spirits; Bronze Sponsors: Panama Jack, Odyssey Aviation, FYP, Ports International, Callendars & Co, Caves Village Vet, Terrain Landscape Architects and SunCash. Special thanks to our Race Crew, Swim Cap and Race Bag sponsors: Damianos Sotheby's, The Shoe Village, Think Simple; Junior/ Puppy Aquathon sponsor: Dunkin' Donuts; Event Providers: Bahamas Waste, BASRA, Dasani, Nassau Rowing Club, Polar Ice, Bahamas Red Cross, Rotary Club of East Nassau, Graham Real Estate, Windermere Salon and Spa, The Pets Kitchen, Lyford Cay International School and Raffle Donors: Custom Computers, Cycles Unlimited, Powerboat Adventures, SunBum, The Ocean Club, The Shoe Village, Bon Vivants, Windermere Salon and Spa, Panama Jack, and Baha Mar Resort Foundation. Funds raised from the Potcakeman Triathlon will go to support the operational costs of Baark!
In 2022, Baark! completed approximately 4,500 spay and neuters, its goal is to perform between 5,000- 7,000 spay and neuter surgeries annually. The five-year goal is a minimal number of unwanted dogs and cats, resulting in safer and cleaner communities.
Baark! was founded in 2009 with the mission to carry out spay/neuter and education projects to reduce the homeless dog and cat population and end the unnecessary suffering of dogs and cats in The Bahamas.