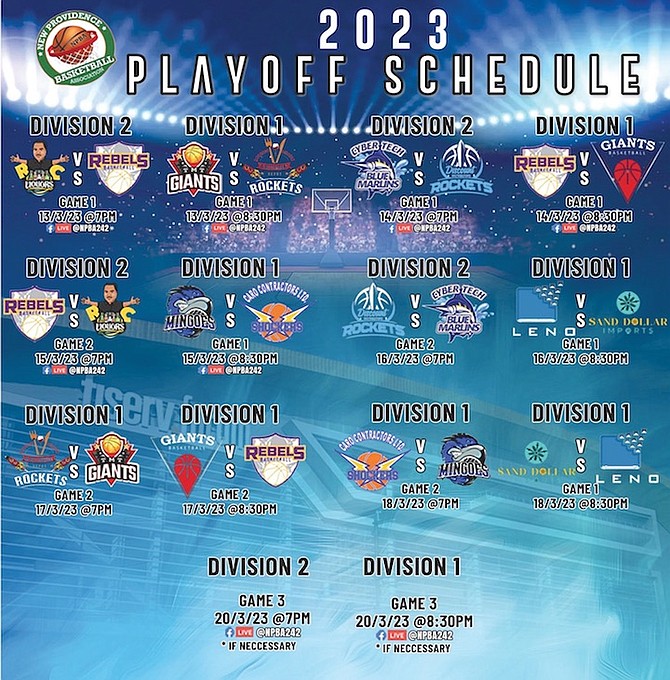 By TENAJH SWEETING
tsweeting@tribunemedia.net
THE New Providence Basketball Association (NPBA) playoffs is set to commence 7pm tonight at the A.F. Adderley Gymnasium between the division one and two teams.
The first game to get the NPBA playoffs underway will feature the RC Liquors Eagles versus the D2 Rebels. For division one, the first seed of the Vince Ferguson Division the Discount Distributors Liquors Rockets will look to make a statement against the fourth seed TMT Giants.
The last time the two teams faced off, the Rockets defeated the TMT Giants 87-73 in a 14-point beat down. The TMT Giants will look to pull off an upset against the undefeated Rockets. These games will kick start a long week of playoff games within the respective divisions.
James Price, president of the New Providence Basketball Association, talked about his expectations of this year's playoff matchups.
"I expect it to be some good series, especially the two and three [seeds] in division one with the Shockers and the University of The Bahamas and the Leno Regulators and Sand Dollar they should be some good series," Price said.
This year's division one playoff matchups will include the D1 Rebels vs the Commonwealth Bank Giants, the University of The Bahamas Mingoes vs Caro Contractors Shockers, Leno Regulators vs Sand Dollar, and the TMT Giants vs D1 Discount Distributor Liquors Rockets.
The Commonwealth Bank Giants, first seed in the John Archer Division, will look to take home a championship in this year's playoffs.
Giants head coach Perry Thompson Jr talked about the team's mindset heading into the matchups. "As a programme our expectations are always high. Our goals are always to win a championship, we are not worried about any team outside of our own," Thompson said.
He added that the main priority of the powerhouse team is to simply remain as healthy as possible going into the NPBA playoffs.
For the division two playoffs, match ups will include Cyber Tech Blue Marlins vs D2 Discount Distributor Liquors Rockets, and the R C Liquors Eagles vs D2 Rebels.
Despite a decline in the amount of fans in attendance at the games, Price said the NPBA will have some incentives for the playoffs so that fans can have some enjoyment.
The games are scheduled to take place March 13-18.