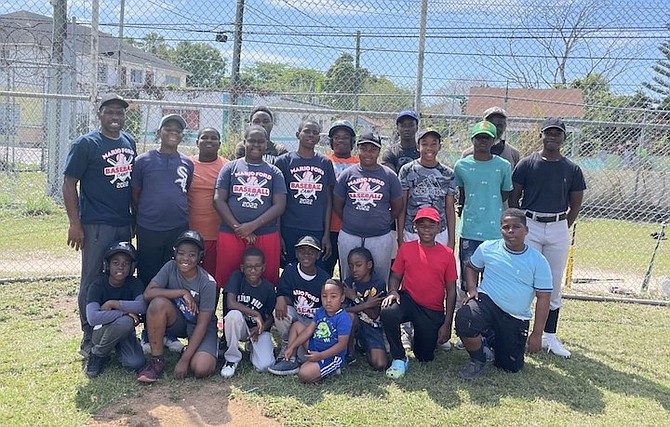 By TENAJH SWEETING
tsweeting@tribunemedia.net
THE Mario Ford Baseball camp made its return to Windsor Park this past weekend. It was the group's first session back on the field as the young men looked to learn basic baseball fundamentals and skills.
The baseball camp usually hosts sessions three times out of the calendar year. Sessions take place in the beginning of the year, during the summer, and at the very end of the year, according to Ford.
The camp targets children between the ages of four to 15 so that they can learn the game at an earlier age and develop the necessary essentials to compete at a higher level.
Mario Ford, head coach of the baseball camp, talked about what children can expect to learn after joining his camp.
"We work with the kids teaching them the basics of learning how to catch, how to throw, and teaching them how to hit," Ford said.
Ford added that the sport is mostly repetition but it does take time, practice and consistency.
Persons that are interested in starting at the camp or parents interested in placing their children in a camp can do so by simply showing up at Windsor Park on Saturday mornings at 9am. Persons would be allowed to sign up and register to be a part of the programme.
Wamonceur Victor, a 14-year-old newcomer at the Mario Ford baseball camp, talked about his experience in the camp so far.
"It has been hard but coach Mario [has] been helping me through it," Victor said.
Victor said he learned about the camp via a friend at his school and decided to join. He added that coach Ford is very helpful with helping you work throughout the programme and on your skills.
Raheem Fertilien, a 16-year-old member of the camp, talked about why he enjoys the Mario Ford baseball camp. "Even if you don't know the game, Mr Mario will help you learn it and I would recommend it to a couple other people who [are] trying to learn the sport," Fertilien said.
The Mario Ford baseball camp operates as a training ground for young athletes that want to pursue baseball at a higher level.
The next session for the baseball camp will be held at 9am next week Saturday at the Windsor Park off East Street.
Persons that are interested can show up and get started on their young baseball journey.