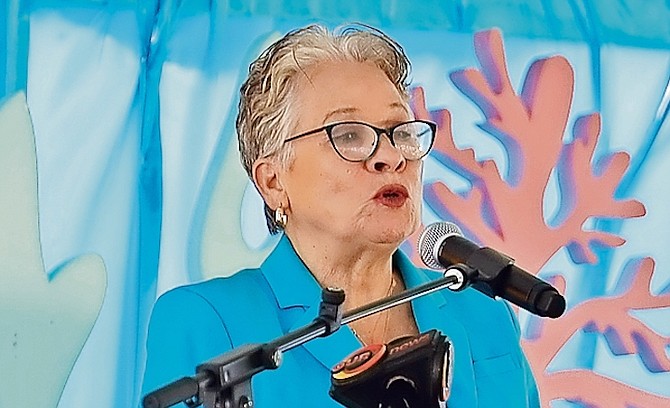 By JADE RUSSELL
Tribune Staff Reporter
jrussell@tribunemedia.net
EDUCATION Minister Glenys Hanna Martin revealed yesterday her views have not changed on Royal Caribbean International's $110m project for Paradise Island, saying she did not support it during the Minnis administration and her opinion remains the same.
The Tribune asked Mrs Hanna Martin about her past objections to the project on the sidelines of an event yesterday.
While in opposition in 2021, Mrs Hanna-Martin called the proposal "hare-brained". She hit out at the Minnis administration for "kicking a Bahamian developer to the curb" in favour of the cruise line.
However, it was recently announced that the revised proposal was approved by the Davis administration, and developers are expected to break ground "almost immediately".
"My views have not changed," Mrs Hanna-Martin told this newspaper yesterday. "First of all, the cruise industry does not require an island on New Providence. I mean, what we should be developing... is the cultural and entrepreneurial opportunities for the cruise ship visitors when they disembark. They keep saying there's nothing to do, well let's get something done," she said.
The Englerston MP added Crown land should be very carefully utilised due to it being a limited resource and owned by the Bahamian people.
The project has been mired in controversy for years. Both the cruise line and the government had been embroiled in a long-running battle, including in the Supreme Court, with Bahamian entrepreneur Toby Smith, who has asserted he has a binding lease for at least two Crown land acres that Royal Caribbean is seeking to use in its project. Mr Smith is seeking to invest $2m to restore Paradise Island's lighthouse.
However, on February 16, Chief Justice Sir Ian Winder rejected the entrepreneur's claim that his lease agreement is valid.
Asked about Mr Smith yesterday, Mrs Hanna Martin pointed out from day one she has said the "Bahamian participant" in the matter needed to be "front and centre".
"The Prime Minister indicated that talks are continuing with him (Mr Smith) but certainly, he was part of this. This is a deal that we inherited from the Free National Movement administration—I did not support it then, my views have not changed on it," Mrs Hanna Martin also said.
When contacted by the Tribune yesterday, Mr Smith praised Mrs Hanna Martin for sticking to her stance.
"I praise her for being true to her words and we look forward to bringing our development to fruition with the support of everybody in the government," Mr Smith said.
Yesterday, Mrs Hanna Martin also blasted former Prime Minister Hubert Minnis for his comments on the project. Dr Minnis this week criticised the revised project, accusing the Davis administration of "disadvantaging" Grand Bahama by not linking RCI's Paradise Island deal with projects for that island as his administration had planned.
"I hear the former Prime Minister criticising it. But you know if he says it was tied to Grand Bahama but when Grand Bahama failed, why is he arguing now it's tied to Grand Bahama? And he was proceeding with it when the Grand Bahama deal was not clearly going anywhere. So, he's speaking out of two sides of his mouth," Mrs Hanna Martin said.
In 2020, while in opposition, it was reported that Prime Minister Philip "Brave" Davis declared that a PLP government would cancel any lease granted to RCI for Crown land to develop its beach club project. However, after the Progressive Liberal Party won the 2021 general election, officials said Mr Davis was seeking a compromise in the Crown land row.
Last week, Mr Davis said his administration has ensured that Bahamians have more involvement in the controversial project and said it was approved so that visitors have more activities.
"We approved the project to ensure that Bahamian participation is maximised, that Bahamian opportunities are maximised," Mr Davis said on the sidelines of an event. "From the timeline that was given they intend to start breaking ground almost immediately. Hopefully it will be started because part of the challenges that we have in the country today is what we call attractions for tourism.
"Very often on any given day, we could have up to 30,000 tourists in our port and there has to be attractions for them. This will be one of the other attractions that will be available to them and so that is very welcome news for us... and there will be opportunities for Bahamians," Mr Davis said.
Minister of Tourism Chester Cooper has said regarding the Crown land being leased to RCI, the government plans to also convert this asset into an ownership stake in the development that would be held by the country's sovereign wealth fund.
According to Mr Cooper "the project will cover 17 acres – of which 13 acres represent privately held land and some four acres of Crown land that was included in the lease to RCI by the former administration".