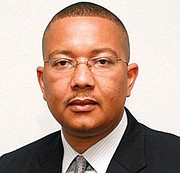 By NEIL HARTNELL
and FAY SIMMONS
Tribune Business Reporters
The Grand Bahama Port Authority's (GBPA) president yesterday suggested running an electricity cable between his island and Abaco as a way to "stabilise" electricity costs and bring rates down.
Ian Rolle unveiled the plan at the Grand Bahama Business Outlook conference, where he suggested that such a venture would potentially expand Grand Bahama Power Company's customer base and provide additional redundancy for Abaco consumers who presently rely on Bahamas Power & Light (BPL).
"We feel if we are able to stabilise the cost of electricity.... we envision a cable possibly running from Grand Bahama to Abaco that would help to spread the cost over a larger population and add redundancy for our brothers and sisters next door to us," he explained. "We hope that with the spreading out of cost, the rate, it will have a positive effect for all of us."
Back solely on Grand Bahama, Mr Rolle confirmed that the transition to renewable energy was "a big push for this island". He added: "We have three to four solar plants proposed for Grand Bahama to stabilise the cost and transition to clean energy. I'm so happy to say that one of the projects the Port has been working feverishly on will break ground tomorrow."
Hours later Mr Rolle and the GBPA were joined by Grand Bahama Power Company in signing a four-party agreement, also involving the Inter-American Development Bank (IDB), for construction of a $15m utility-scale solar project at two sites that will supply a combined 9.5 Mega Watts (MW) to the island's electricity grid.
The deal will see Lucayas Solar Power begin construction on the Devon and Fairfield plants this month. The build-out of the two sites, which will provide 4.5 MW and 5 MW, respectively, is set to create some 80 construction jobs and be completed by the 2024 first quarter.
Lucayas Solar Power will operate as an independent power producer (IPP) that sells the electricity it produces to GB Power, which will then distribute it to its customer base via Grand Bahama's electricity grid. GB Power will purchase the solar energy produced by the plants at a locked-in price of $0.09 cents per kilowatt hour (KWh) over the duration of a 25-year power purchase agreement (PPA) with Lucayas Solar Power.
Elsewhere, Juan Fernandez, Carnival's vice-president of port operations, said site clearance for its Grand Port project was now complete and it was working to elevate the location some 12-15 feet above its present level. This work was now 50 percent finished, and he added that landside construction was likely to start towards the end of this year.
Some 80 Bahamians are working at the site currently for various contractors, he added, and Carnival is forecasting that by the second year of operations its port project will be responsible for creating around 1,000 jobs on Grand Bahama. Ground breaking for the development took place in May 2022.
Mr Rolle said yesterday of Carnival's cruise port: "This was a long overdue project that took a while to get over the finish line but we managed it. My team and the shareholders of the Port Authority worked feverishly to get this deal over the finishing line."
Marc Weller, Weller Development's president and founding partner, told the Grand Bahama Business Outlook that its 36-acre Six Senses project is due to complete construction and be operational by 2026. ''That site, there's gonna be 45 waterfront and canal villas, and then there's to be 20 branded residences," he explained.
"And then we have amenities including the Six Senses spa, several restaurants, Earth Lab, and the marine research and dive centre. We're slated to open in 2026. We're actually getting close but it's subject to approval by the Department of Environmental Planning and Protection. But it's, as you can see, it's low slung. These are all single and kind of one-and-a half storey buildings.
"We've got 27 villas, 15 one-bedrooms and five two-bedrooms, a few three bedrooms and reserved. Then you got a beach club, you know, which is not huge. This is 4,300 feet, hotel lobby receptions, only 5,000 feet, spa and wellness, another 6,000 feet. That's actually the biggest building because that's where they think people want to spend time, a great bar and then back of house."
Turning to the project's economic impact, Mr Weller added: "There's a possibility for incredible economic revitalisation. There was also an opportunity for job creation, both on the construction and development side. But then in the permanent side and the training side, and then also on the environmental sustainability side.
"Six Senses core values, it fits right in with what it is we're trying to accomplish here - local sensitivity, global sensitivity. It's a very thoughtful brand… they work really hard to fit in locally. They're not coming in and trying to impose this big huge project or product that could be put anywhere near water or could be put anywhere in the United States. Their projects, they're all unique.
"Their menus are unique, they source their foods uniquely. Everything's unique about the project; the architecture, the design. They've crafted experiences. And what's neat about crafted experiences is they're different from place to place. So here they'll develop and come up with their own ways to do that, which will be great. Emotional hospitality with an emotionally intelligent approach to service that begins with empathy," he continued.
"I think The Bahamas thinks about it a lot more than than other municipalities - the model for sustainable tourism - and I think it's a model that is sustainable and they can go forward. It's about investing in businesses that think outside the box, that think about the environment, that put the environment first and really think about that and then how to create jobs and how to create eco-tourism off of that."