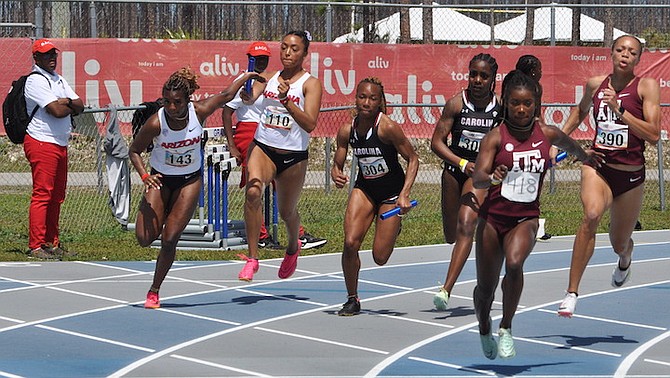 By BRENT STUBBS
Senior Sports Reporter
bstubbs@tribunemedia.net
GRAND Bahama — Veteran coach Pat Henry remembers his last trip to The Bahamas in October to participate in the homegoing service for his former Olympic sprinter Shavez Hart. This time, he was in a more celebratory mood as his Texas A&M Aggies captured the inaugural Island Relays over the weekend.
Henry, now in his 18th season as the head coach at Texas A&M, watched as his Aggies dominated the men's division with a 58-point advantage over the Arizona Wildcats and trailed the Oklahoma Sooners by 36 in the two-day meet that concluded on Saturday at the Grand Bahama Sports Complex.
"It's a great place to come. I think my team had a great time. We've been here since Monday and the people have been so kind to us," Henry said. "It's the week after our NCAA appearance and for some people, we hit it hard and for others, we took it easy.
"But for the most part, what we tried to get done here this weekend is we just wanted to take it easy and get through this week without any injuries."
Henry, who has coached at Texas A&M for the past 18 years after spending 19 years at Louisiana State University where he coached strongwoman Laverne Eve, said it was hard to come here for the funeral of the 29-year-old Hart in January, but because they enjoyed their time here this weekend, he's looking forward to bringing the Aggies back in the future.
Texas A&M took the men's crown with 198 points over Arizona, who had 140. Oklahoma was third with 132, the South Carolina Gamecocks were fourth with 125 and the University of the Bahamas Mingoes rounded out the field with 19.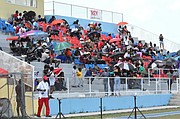 On the ladies' side, the Sooners took the title with 193 with the Aggies following with 157. The Wildcats got third with 152, the Gamecocks were fourth with 99, the Vanderbilt Commodores were fifth with 54 and the Mingoes completed the table with just one.
The Aggies got something to celebrate on the ladies' side as Camryn Dickson took the title of the fastest woman at the meet in the 100m in 11.81, holding Arizona's Neysia Howard, who was second in 11.96 with Mikayla Hayes of Oklahoma getting third in 12.14.
"I just really wanted to get out and save my drive phase for as long as I could," Dickson said. "It was a little windy today, so I just let the momentum carry me through to the line since I was tired going through the line since I was a little tired from the last 60-40 metres."
Coming off what she felt was a pretty good indoor season, Dickson said she is looking forward to the rest of her outdoor season, especially getting it started here in the Bahamas where "it's amazing and I'm so blessed that track has brought me all the way here."
In the men's 100m, it came down to a photo finish as Anthony Greenhow of South Carolina nipped Trayvion White- Austin of Arizona, in times of 10.66 and 10.67 respectively. Demarius Smith, unattached, clocked 10.76.
"I was just coming off the 4x1 and so I had to rest my legs, so I just tried to stay strong," Greenhow said. "I don't have the best start, so I knew the guy who came second had a really good start, so I had to stay to my race, which is my finish."
Greenhow said he couldn't ask for a better place to be in than in the Bahamas.
Portugal native Rogerio Amaral, representing South Carolina, won the men's 1,500m in 3:54.80 ahead of Arizona's Iker Sanchez Lopez and Cooper Quigley, who had to settle for second and third respectively in 3:55,15 and 3:56.97.
"I love it. I love the culture and the music. It made me feel like I was home," said Amaral, who noted that his trip here was wonderful.
"With this crowd cheering all of us on, I just wanted to go out there and put on a show for them. None of the guys wanted to make a move, so I waited for the final stretch, which is something I like to do in Arizona."
And all the way from Germany, another South Carolina representative Svenja Sommer took the women's 1,500m in a sprint as well in 4:35.25, well ahead of Sailor Hutton of Arizona, who did 4:36.81 for second. Gabi Barrara of Oklahoma was third in 4:40.38. "I love it. It was always my dream to come here. I love the weather, I love the beach and everything here," said Sommer, who had to display a little bit of tactics to win her race. "Nobody wanted to take the lead in my race, but after my team-mate did, I was glad that I had a little bit of power left. Now that I am finished, I can enjoy the rest of my time here."
And while there was a clean sweep by Arizona in the women's high jump, Tallie Bonds and Alexa Porpaczy Arizona matched the same height of 5-feet, 10 ½ -inches or 1.79m to share the victory with Emma Gates take third with 5-7, 1.70m.
Bonds said they all have had "so much fun here with their beach day and training" that she "never wants to leave."
But she said despite all of the distractions, she performed as best as she could, but she will never "forget this experience. This was one of my best ones, so I'm sure I will be back."
Marvin Henfield, who helped organise the meet, called it an "amazingly successful event."
While the meet was originally scheduled for 2021 to help bring some economy to Grand Bahama in the aftermath of Hurricane Dorian, he said he's glad that they finally got it off the ground two years after the shutdown by COVID- 19. "There's so much I've learnt this weekend," said Henfield, one of the country's top basketball trainers. "Track and field is new to me, but there's so much that I learned in the planning of this event over the past four years."
Henfield said they already have 12 verbal commitments for next year with the numbers expecting to double, but he's not sure if he's ready to take on that many. He just wants to see where it goes because Grand Bahama pulled out all the stops to make it happen. "If there's one word I can describe this experience here, it's 'hungry.' The people here are hungry and ready to get back to work and to be gainfully employed. So we're happy that we were able to bring a little of that to the economy here."
Not only did the fans, who showed up in great numbers, get to watch the visiting athletes compete against some of the members of the University of the Bahamas, they also got to see their own local high school athletes in action as many of them are preparing to travel to New Providence this weekend for the joint National High School Championships and final CARIFTA trials.
• Here's a look at the top three finishers in the events contested during the meet:
100m – Camryn Dickson, Texas A&M, 11.81; Neysia Howard, Arizona, 11.96; Mikayla Hayes, Oklahoma, 12.14.
Women's 200m – JaylaJa Jamison, South Carolina, 23.28; Jermaisha Arnold, Texas A&M, 23.38; Charokee Young, Unat-Texas A&M, 23.57.
Women's 400m – Jania Martin, Texas A&M, 52.56; Jahnile Registre, South Carolina, 53.28; Aallliyah Francis, South Carolina, 53.29.
800m – Sylvia Chelangat, South Carolina, 2:05.99; Alisa Lyesina, Arizona, 2:06.02; Yazmine Wright, Oklahoma, 2:08.12.
Women's 1,500m – Svenja Sommer, South Carolina, 4:35.25; Sailor Hutton, Arizona, 4:36.81; Gabi Barrara, Oklahoma, 4:40.38.
Women's 3,000m – Julia Abell, Texas A&M, 9:59.58; Abbey Santoro, Texas A&M, 10:00.23; Grace Plain, Texas A&M, 10:00.41.
Women's 100m hurdles – Jaiya Covington, Texas A&M, 13.74; Talle Bonds, Arizona, 13.80; Taylor McKinnon, Vanderbilt, 14.76.
Women's 400m hurdles – Ashonti Warner, Oklahoma, 57.38; Daneeshaa Davidson, Oklahoma, 57.91; Elena Kelety, South Carolina, 58.19.
Women's 4 x 100m relay – Texas A&M (Jania Martin, Leeah Burr, Camryn Dickson and Jaiya Covington) 44.33; Oklahoma (Kennedy Blackmon, Eva Kubickova, Amanda Obijaku and Mikayla Haynes) 44.50; Arizona (Neysia Howard, Jenica Bosko, Lauryn Ford and Taylen Wise) 44.85.
Women's 4 x 400m relay – Texas A&M (Leeah Burr, Sanu Jallow, Kennedy Wade and Joniar Thomas) 3:34.10; Oklahoma (Ashonti Warner, Jenna James, Alyia Green and Jade Arkinson) 3:39.72; Vanderbilt (Nicole Anderson, Taiya Shelby, Kaira Brown and Allyria McBride) 3:54.23.
Women's 4 x 800m relay - South Carolina (Elena Kelety, Sylvia Chelangat, Kieley Gayle and Grace Zamrowski) 8:56.91; Vanderbilt (Taiya Shelby, Nicole Anderson, Kaira Brown and Allyria McBride) 9:01.03; Vanderbilt (Lainey Phelps, Julia Rosenberg, Emma Curry and Mackenzie Culpepper) 9:20.15.
Women's hammer throw – Ava David, Arizona, 58.83m; Abby Moore, Oklahoma, 57.93m; Geraldine Udo, Oklahoma, 55.53m.
Women's javelin throw – Katelyn Fairchild, Texas A&M, 53.40m; Lianna Davidson, Texas A&M, 52.25m; Erin Tack, Texas A&M, 44.86m.
Women's shot put – Payden Montana, Oklahoma University, 56-4 (17.17m); Paige Low, Oklahoma University, 53-101/2 (16.42m); Mackenna Orie, Arizona, 52-9 (16.08m).
Women's pole vault – Cassidy Bradshaw, Oklahoma, 13-1 ½ (4.60m); Ava Riche, Texas A&M, 12-1 ¾ (3.70m); Heather Abadia, Texas A&M, 12-1 ¾ (3.70m).
Women's long jump – Symone Washington, Oklahoma, 20-4 (6.20m); Jenica Bosko, Arizona, 19-11 ¾ (6.09m); Joniar Thomas, Texas A&M, 13-81/2 (6.01m).
Women's high jump – Alexa Porpaczy, Aruizona, 5-10 ½ (1.79m); Talie Bonds, Arizona, 5-10 ¾ (1.79mm); Emma Gates, Arizona, 5-7, 1.70m.
Women's triple jump -
Men's 100m – Anthony Greenhow, South Carolina, 10.66; Trayvion White- Austin, Arizona, 10.67; Demarius Smith, unattached, 10.76.
Men's 200m – Zarik Brown, Oklahoma, 21.02; Jordan Chopane, Texas A&M, 21.02; Muzuri Mattar, Oklahoma, 21.05.
Men's 400m – Edward Richardson, South Carolina, 47.01; Carl Hicks, Arinoza, 47.14; Isaac Davis, Arinoza, 47.37.
Men's 800m – Isaac Barrera, Oklahoma, 1:54.27; Aidan Hatton, South Carolina, 1:54.32; Cade Russo, Arizona, 1:54.76.
Men's 1,500m – Rogerio Amaral, South Carolina, 3:54.80; Iker Sanchez Lopez, Arizona, 3:55.15; Cooper Quigley, Arizona, 3:56.97.
Men's 3,0000m – Gavin Hoffpauir, Texas A&M, 8:40.49; Cooper Cawthra, 8:40.55; Eric Casarez, Texas A&M, 8:41.38.
Men's 110m hurdles – Filip Demsar, South Carolina, 14.15; David Warmington, Oklahoma, 14.73; Zachary Extine, Arizona, 14.77.
Men's 400m hurdles – Felipe Medrado, Texas A&M, 58.03.
Men's 3,000m steeplechase – Colin Caso, Oklahoma, 9:50.29.
Men's 4 x 100m relay – Oklahoma (Josh Bour, Carter Cukerstein, Zarik Brown and Muzuri Martar) 39.40; Arizona (Trayvion White-Austin, Brian Limage, Carl Hicks and James Onanubosi) 39.81; South Carolina (Blair Brooks, Filip Demsar, Emory Floyd and Anthony Greenhow) 40.11.
Men's 4 x 400m relay – Texas (Sam Presnal, Cutler Zamzow, Omajuwa Etiwe and Christian Rosales) 3:11.58; South Carolina (Filip Demsar, Anthony Greenhow, Jackson Junkins and Gatlin Lawson) 3:11.58; Arizona (Carl Hicks, Isaacs Davis, Trayvion White- Austin and Lynicc Lopez) 3:13.34.
Men's 4 x 800m relay – Texas A&M (Cooper Cawthra, Chandon Chhikara, Gavin Hoffpauir and Victor Zuniga) 7:47.35; South Carolina (Rogerio Amaral, Aidan Hatton, Jack Mensch and William Spencer) 7:53.21.
Men's hammer throw – Jordan Geist, Arizona, 73.94m; Ben Ryer, Oklahoma, 59.16m; Alessio Pirruccio, Texas A&M, 54.93m.
Men's javelin throw – Sam Hankins, Texas A&M, 70.59; Jared O'Riley, Arizona, 69.15m; Julian Stoicoviclu, Texas A&M, 63.04m.
Men's shot put – Bryce Foster, Texas A&M, 62-83/4 (19.12m); Youssef Koudssi, Arizona, 61-113/4 (18.89m); Dylan Targgart, South Carolina, 60-11 (18.57m).
Men's discus throw – Youssef Kopudssi, Arizona, (55.18m); Zach Landa, Arizona, (52.56m); Ethan Sanders, Texas A&M, 52.20m.
Men's high jump – Carter Bajoit, Texas A&M, 6-11 ½ (2.12m); Kobe Franklin, South Carolina, 6-6 ¾ (2.00m); Jaidyn Brown, University of the Bahamas, 6-0 ¾ (1.85m).
Men's long jump – Reinaldo Rodrigues, Arizona, 24-9 ¾ (7.56m); Ricky Smith, Oklahoma, 24-5 (7.44m); Blair Brooks, South Carolina, 23-11 ¾ (7.31m).
Men's triple jump –Brandon Green, Oklahoma, 51-6 (15.70m); Blair Brooks, South Carolina, 47-10 1/ 2 (14.59m); Kunle Akinlosolu, Oklahoma, 45-7 ¼ (13.90m).
Men's pole vault – Zach Davis, Texas A&M, 15-11 (5.85m); Gregston Connor, Texas A&M, 15-11 (4.85m); Jack Mann II, Texas A&M, 15-5 (4.70m).
Age Group Division
Girls 100m – Shatalya Dorsett, 12.57; Phebe Thompon, 13.05; Kianna Henchell, 13.27.
Boys 100m – Tervon Clarke, 11.43; Michael Riley, 11.44; Aiden Kelly, 11.65.
Girls 400m – Quincy Penn, 57,33; Shaniyah Addwerkey, 1:00.80; Janiyah Rolle, 1:01.71.
Boys 400m – Akerman Bowleg, 49.79; Javano Bridhgewater, 50.03; Jayden McGregor, 50.77.