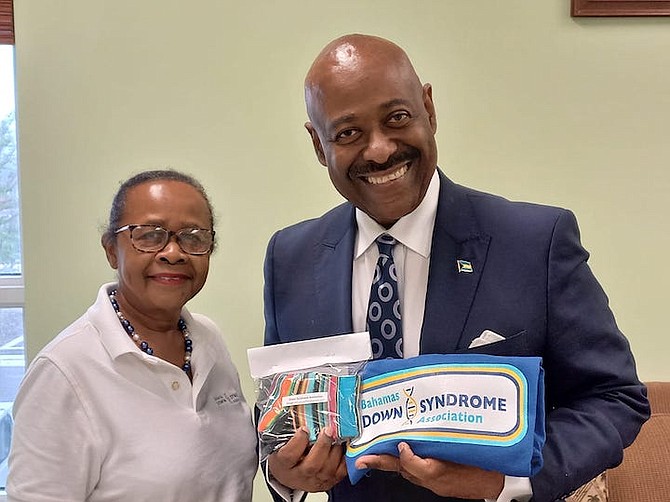 PEOPLE are being urged to wear mismatched socks tomorrow (Tuesday) to mark Down Syndrome Day in The Bahamas. 
The global day has been declared by the United Nations to celebrate and raise awareness of people with Down Syndrome. 
"Inclusion of persons with disabilities in every aspect of our daily lives and especially in policymaking and decision-making to enable them to have equal opportunity to education, employment, health, social and cultural activities and government services exemplifies the rights-based approach," said Nalini Bethel, chairperson of the National Commission for Persons with Disabilities. "We are trying to level the playing field so that a person with a disability enjoys the same human rights as the rest of us and the same access to services." 

The Bahamas Down Syndrome Association's president, Betty Taylor, said they are advocating for full and effective participation by members in decision-making concerning persons with Down Syndrome having the freedom to make their own choices. 
She said: "Everyone has the right to be treated fairly. We are working not only to raise awareness but also to improve the lives of those with Down Syndrome in The Bahamas." 
The association encourages the public to buy their socks on sale at Harbour Bay Plaza and wear the mismatched socks tomorrow.    
A proclamation declaring today as World Down Syndrome Day by Prime Minister Philip "Brave" Davis has been issued. 
And Minister of Social Services and Urban Development Obie Wilchcombe said his Ministry is moving swiftly towards a policy of inclusion for all. 
He said: "It is very important that we each play a role in giving a helping hand to those who are in need but equally as important, to recognise that persons with disabilities have the same rights as those without disabilities, and that everyone should be encouraged to fully participate in the social, economic and cultural life of The Bahamas."