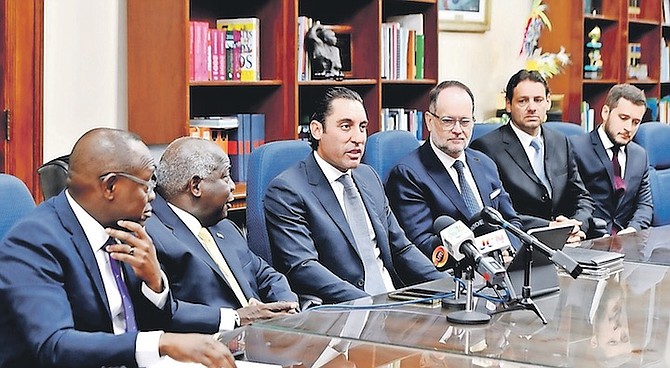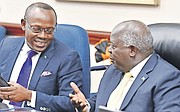 By LYNAIRE MUNNINGS
Tribune Staff Reporter
lmunnings@tribunemedia.net
A new $500m project for Exuma promises to boost that island's tourism and spark significant job growth.
Government officials signed a Heads of Agreement with Cave Cay Limited yesterday, paving the way for its development of a new resort and marina in Cave Cay, Exuma.
Prime Minister Phillip "Brave" Davis called the agreement's signing historic.
He said: "This is a $500m investment which we enthusiastically embrace. Again it demonstrates the efforts that we're putting into expanding and diversifying the tourism product." 
"And it also, again, marks the expression of confidence that the international community is having in our brand and I want to thank the developers for their continued confidence.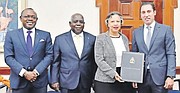 "We look forward to this project coming on stream and adding again to the inventory of luxury resorts and exciting experience for our tourism." 
 Deputy Prime Minister Chester Cooper, the MP for Exuma, said this was the fifth Heads of Agreement signing for projects in Exuma since the Davis administration came to power, reflecting the "renaissance" of the island.
 Mr Cooper said the development would provide more than 250 jobs and entrepreneurial opportunities for Bahamians.
 He said the environment would not be affected negatively.
"Of course, you already know that Exuma is the yachting and boating capital of the Bahamas and this marina will certainly add significant charm and value to the already significant offerings that we have," he said.
 "We anticipate that Cave Cay Limited is going to build one of the largest marinas in the country, but I'm delighted to say there's going to be no dredging as this marina already exists.
"So, this is a restoration, revitalisation of what Cave Cay has been known for over the last decade or more and this new investment of $500m in excess thereof is certainly going to do wonders for the entire area."
 Felipe MacLean, CEO of Cave Cay Limited, said his team would keep the project environmentally sustainable. 
  He said the project would be completed in eight years, with the first phase done over two years and a workforce of 80 percent Bahamians.
 Officials did not specify when construction would begin for the project.