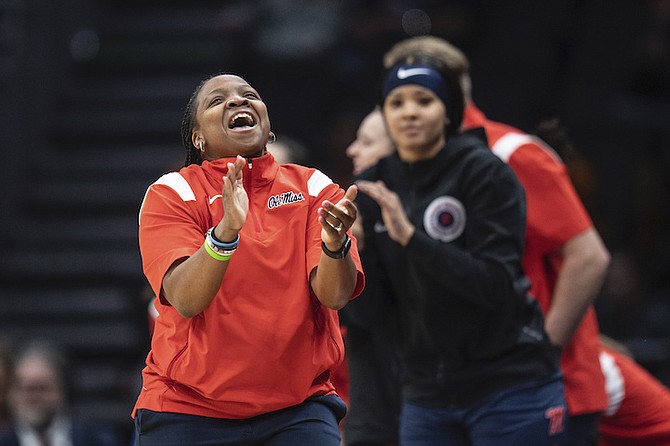 By BRENT STUBBS
Senior Sports Reporter
bstubbs@tribunemedia.net
AFTER falling short of advancing to the Elite Eight of the National Collegiate Athletic Association (NCAA) Women's Basketball Championships, coach Yolett McPhee-McCuin urged the Bahamian public to be patient with her University of Mississippi Lady Rebels.
Ole Miss made their exit in the Sweet 16 of the March Madness Tournament on Friday night as they fell victim to the Louisiana Cardinals inside the Climate Pledge Arena in Seattle, Washington.
The Rebels, 25-8, qualified for the Sweet 16 for the first time since 2007, having advanced past Gonzaga and an upset over top-seeded Stanford in their first two games to secure their second-consecutive fourth-place finish in the Southeastern Conference (SEC) during the regular season.
But McPhee-McCuin said they were hoping to continue their trek to at least the Final Four, but Louisiana stopped them from moving on. But she noted that she was still impressed with the strides her team made along the way.
"It's more than I expected, but we lost about 70 percent of our scoring to the WNBA," said McPhee-McCuin, whose top performer centre Shakira Austin skipped her junior year to earn the third overall pick in the Women's National Basketball Association (WNBA) Draft by the Washington Mystics in 2022.
"So if you would have asked me at the beginning of the season would I expect for this team to be in position, I probably would have said no, but they worked extremely hard to get here and so they surpassed all of my expectations. We just have to be a little more patient. We will eventually get there."
Against the Cardinals, the Lady Rebels had an uphill battle after trailing 20-15 at the end of the first quarter. It was an 18-13 third quarter spurt that propelled Louisiana to a comfortable 52-42 lead that they maintained through the fourth quarter to hold off every comeback Ole Miss mounted.
"It was great. I just think the lights got a little too bright for us," said McPhee- McCuin. "This was our first time competing in the Sweet 16 for the first time in 16 years and Louisiana was there a lot more times. But we will be back. We have now set a standard that we have to maintain and to surpass in the future."
Three senior guards led by example with double figure scoring performances for Ole Miss. Marquesha Davis had 19 points, eight rebounds and three assists, Myah Taylor also had 19 points with three rebounds and Angel Baker chipped in with 11 points and six rebounds.
Louisiana produced a more balanced attack with four players in double figures as junior guard Haley Van Lith connected on a game high 21 points with five rebounds and four assists.
McPhee-McCuin said prior to the start of the season, she brought her entire team, including coaching staff and supporters to the Bahamas in November, for a pre-season tournament at Baha Mar, which helped them to bond together and get the ball rolling for the regular season.
"That helped us tremendously. We played up to our level talent being away in an uncomfortable environment and I truly feel like that helped us to get to where we are," said McPhee-McCuin, who hopes to return in November for another pre-season tournament at Atlantis this time.
On Friday, McPhee- McCuin said she was pleased to see the support from the Bahamian public in the stands. She noted that there were more than 25 Bahamians in attendance, including members of the Bahamas Consulate and her parents Daisy and Gladstone 'Moon' McPhee, who assisted in her development from her initial stages as a student-athlete at Catholic High School in Grand Bahama.
"There was a lot of pride and I am eternally grateful for it," McPhee-McCuin said. "I know that people expected us to go on, but it just wasn't our time. Our time will come. I just want the Bahamian people to be patient with us. We will be back."