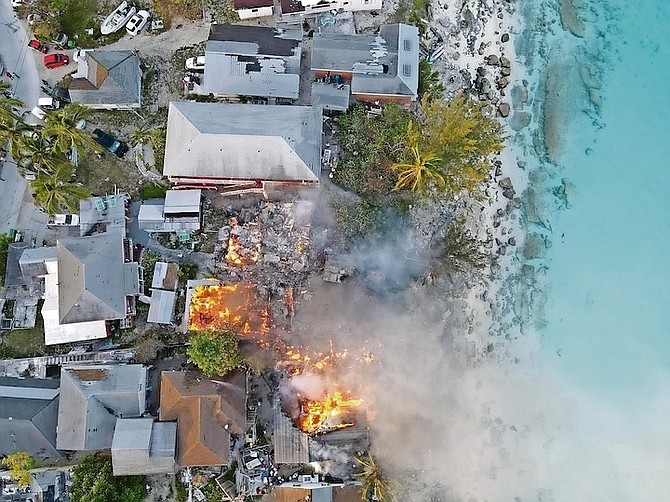 By JADE RUSSELL
Tribune Staff Reporter
jrussell@tribunemedia.net
A DAY after a fire shook the Porgy Bay settlement of Bimini, 22 displaced residents are rebuilding their lives with varying optimism.
They include newlyweds, retirees, and a 17-month-old baby, most of whom were asleep on Sunday morning when they were forced awake by the scent of smoke, loud noises of falling debris, or the screams and calls of neighbours.
They are being temporarily accommodated in hotels and rental units on the island at the government's expense.
Anthony Weech, 40, estimated it will cost $25k to rebuild a home he just moved into in January.
Despite the trauma of the fire, he said he can't take time off from work.
"I can't stop working now," he said. "I took today off, but I gotta go back to work tomorrow. Plans don't stop."
 Mr Weech said he and his wife are staying at the Big Game Resort, which employs his wife.
 He is concerned about whether an accommodation will still be available for them in a few weeks.
 "They haven't really said where they're going to put us," he said. "Dealing with this resort, it's a busy time right now for them so they're not gonna let us be here (for long). When they need the room, they gotta get it, so that's the only thing. We're like, where to from here?"
 Stephen Smith, meanwhile, said he recently invested $250,000 in the family home he watched burn down. He said he could only salvage his passport, adding: "I didn't sleep last night."
 Suslyn Bain said it was difficult not sleeping in her own home on Sunday night.  
 "It feels bad because I liked it up there. It was quiet and peaceful," she said with a sigh. "You work hard for it, but like they say, it's vanity. But you know, (this) is still a hard thing."  
 The lack of functional firefighting equipment on Bimini has got attention after the fire. Ms Bain's daughter, Jemma, lamented what could have been if working equipment was available.
 "If they did have the right equipment or came faster it wouldn't have spread that much. Everyone was helping out with buckets and hoses, but it (the fire) was too big," she said.
 "We need a fire truck, we really need one," her mother added. "After yesterday, we need a fire truck badly."
 Bimini island administrator Desiree Ferguson told The Tribune social workers and officers with Urban Renewal helped the affected families with housing.
 She said the residents were given food and clothing.