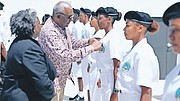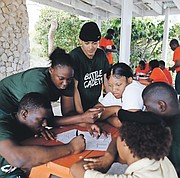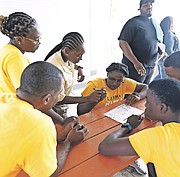 By Fay Simmons
THE LJM Maritime Academy held its annual Founder's Day events last week, which included a pinning ceremony and the Battle of the Cadets activity day.

Among them, freshman KayJa Fawkes said she became interested in maritime life after her uncle suggested it and her experience has been good thus far. She said: "I found about LJM Maritime Academy when I was looking for something to do after high school, besides going off. My uncle is a captain, and he knew about the LJM Maritime School that a lot of females were going to. So he was like, if you don't want to go off, you can sign up and see if you like it or not. So, I signed up and I got in, and it's been really good so far."
She said: "My 3.40 GPA was received from doing well on my physics, navigation, ship husbandry, general ship knowledge, mathematics, chemistry and PT. My future plan is to go into the yachting industry after I'm finished with my sea time. Hopefully I can open up a touring company that will bring a lot of tourists and help females get started working in the maritime industry."
She added: "I would tell any young female that is interested in the maritime industry to don't let anybody discourage you. If you feel like this is the career for you, then go for it. Don't listen to any negativity and there's going to be a lot of men that will belittle you, but once you know that you're strong headed and this is what you want to do, you can make it."
Lanario Williams, deck navigation junior initially enrolled to obtain a Captain B licence, and is now a part of the officer's programme.

He said: "To become a captain, thats like 10-15 years right there. First I have to finish this school, then take the exam to become a third officer then go back out to sea then take the second officer exam, then the first officer exam, then become a captain. And then, when I become a captain, I'll make another set of goals, all I know now is that I want to invest in the Bahamian maritime industry."
He added of the award he received on Thursday: "The award I got yesterday was the Pride Award, which means my GPA was between 2.5 and 3.0. It was just an indication that showed me that hard work pays off because all the work I do goes unadvertised, it shows I'm on the right track. A lot can come from the maritime field, whatever you want to do - there is room for it in maritime, its a good environment to be in."
Kyle Roberts, engine rating, developed a curiosity for engineering during fishing trips with his father.

He said: "I'd often go out on the boat with my father and go fishing and off course, we're not going to paddle out. I wanted to figure out the inner makings of the thing that would get us to and fro and that got me interested in engineering."
Mr Roberts described receiving his outstanding performance award as a proud moment.

He said: "I got an award for outstanding performance inside of the engine ratings programme given to me from the founder of the school himself, Lowell J Mortimer, it was a very proud moment, and I hope for more. I plan on going out on the sea, mostly to get onto larger vessels like tankers or cruise ships and the like, but I see myself crossing oceans and seeing all the ports while I'm out there."
Brandon Wilson, student services coordinator, said: "We train, we have cadets and we have ratings. We train individuals as officers of navigational watch or officers of engine room watch. Our rating programmes, those persons train to be efficient deckhands or efficient engine room watch. There are a wide range of opportunities in this industry. The Bahamas is surrounded by water. We have over 4,000 yachts that enter the country per year and there are not enough people in the industry to cater to them."