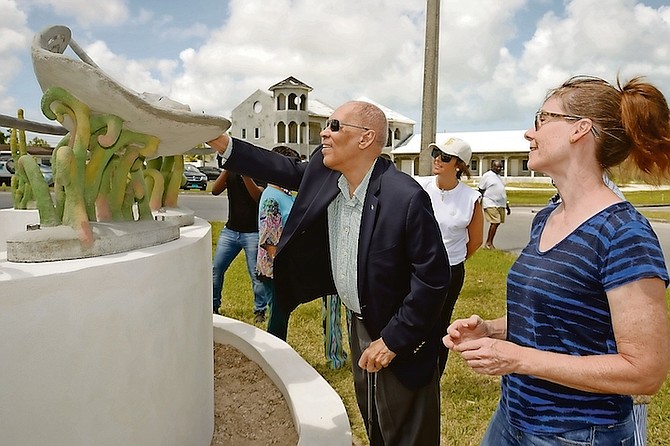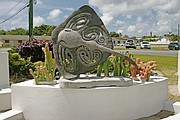 By DENISE MAYCOCK
Tribune Freeport Reporter
dmaycock@tribunemedia.net
THE third of a series of environmental art sculptures in Freeport was unveiled at the roundabout of West Atlantic Drive and Pioneer's Way on Sunday.
Sir Arthur Foulkes and his wife, Lady Joan, were present at the official unveiling of a stingray sculpture created by artist Jacki Boss. Also present was Sarah St George, chairman of the Grand Bahama Port Authority Ltd.
Ms Boss has been commissioned by the GBPA for two previous environmental art pieces – a coral sculpture at the Coral Road roundabout, and a seahorse mural at the Kelly's roundabout at West Atlantic Drive and Settler's Way.
This is part of an initiative by the Grand Bahama Port Authority to beautify Freeport.
GBPA vice president of building and development services Nakira Wilchcombe, chairman of Keep Grand Bahama Clean (KGBC) Committee, said the sculpture is a depiction of the marine environment.
"We want our children to enjoy these sculptures; we want them to see these creatures and live things in our natural environment," she said.
She said the GBPA will continue with the environmental theme throughout the city at roundabouts, but next time featuring flora.
The stingray sculptures are made of concrete. One weighs approximately 800lb and took Boss 300 hours to create. The other two smaller pieces weigh about 200lb and took six to eight weeks each to create. Armature made of stainless-steel rods and mesh are inside each sculpture.
Ms Boss said the sculptures are dedicated to the theme of environmental protection and awareness.
"I am honoured to be able to do what I do in Freeport, she said.
"I would like the community of Freeport and throughout GB, and the country to view them as a gift to the community. I may have created the art and the GBPA may have facilitated their public presentation, but as a public art work they no longer belong to any one person, but rather to the entire community," Boss said.