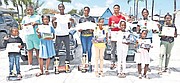 By Fay Simmons
THE ANTIQUE Auto Club of the Bahamas' held its 20th annual art competition which drew in dozens of youngsters eager to show off their creativity and artistic skills. The judges considered 51 submissions from students ranging from five to fifteen years old, with Imani Carter of Queens College taking her division and overall top prizes.

Proceeds from the event are donated to a children's charity, this year The Bahamas Association for the Physically Disabled was selected.
The competition is free-to- enter and entrants were given a drawing pad and tools, and asked to select a vehicle on display at the antique auto club's annual show and asked to draw a car of their choice and color it. Jim LaRoda, the club's Art Co-Ordinator explained the process.
He said: "This art competition has been running for 20 years now. We have students come in and participate, then we do a judging and prizes are given. All the kids have to do is come here, select one of the cars on display, draw a picture of it and first, second and third of each of the four divisions will win prizes. The prizes are an award certificate, trophy and a replica of an antique car."
Katheryn Neely, Xavier's Lower School, took home the top prize in the five - seven age group; Dyvyne Miller, Sadie Curtis Primary School came first in the eight to ten age group and Jonathon Martin, Aquinas College took home top prize in the fourteen to fifteen age group.
Results
Overall: 1st Imani Carter, 2nd Jonathon Martin, 3rd Dyvyne Miller

Age 5-7: 1 Katheryn Neely (Xaviers Lower School), 2 Korynn Sands (Home Schooled), 3 Ishmael Davis
Age 8-10: 1 Dyvyne Miller (Sadie Curtis Primary), Victoria Huyler (Xaviers Lower School), 3 Nala Neely (Xaviers Lower School)
Age 11-13: 1 Imani Carter (Queen's College), 2 Serenity Pedican (Xaviers Lower School), 3 Daylensia Williams (Xaviers Lower School)
Age 14-15: 1 Jonathon Martin (Aquinas College), 2 Tarique Butler (HO Nash Jr High School), Honorable Mention - Destin Grant (Jordan Prince William High School).