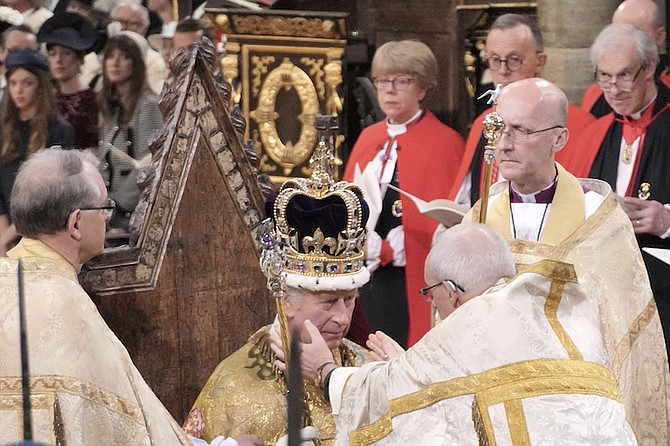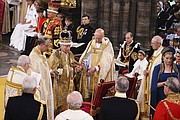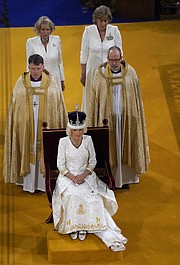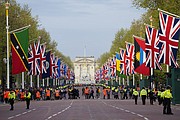 By DANICA KIRKA and JILL LAWLESS
Associated Press
LONDON (AP) — King Charles III was crowned Saturday at Westminster Abbey, in a ceremony built on ancient traditions at a time when the British monarchy faces an uncertain future.
Trumpets sounded inside the medieval abbey and the congregation shouted "God save King Charles" as the ceremony began in front of more than 2,000 guests, including world leaders, aristocrats and celebrities. Outside, thousands of troops, tens of thousands of spectators and a smattering of protesters converged along a route that the king traveled from Buckingham Palace in a gilt-trimmed, horse-drawn carriage.
It was the final mile of a seven-decade journey for Charles from heir to monarch.
To the royal family and government, the occasion — code-named Operation Golden Orb — is a display of heritage, tradition and spectacle unmatched around the world.
The rite was expected to by watched by millions, though the awe and reverence the ceremony was designed to evoke are largely gone — and many greeted the day with apathy.
Some even met it with disdain. Republican protesters gathered outside to holler " Not my king " for a celebration of an institution they say stands for privilege and inequality, in a country of deepening poverty and fraying social ties. A handful were arrested.
As guests arrived, the church buzzed with excitement and was abloom with fragrant flowers and colorful hats. Among them were U.S. First Lady Jill Biden, French President Emmanuel Macron, Canadian Prime Minister Justin Trudeau, eight current and former British prime ministers as well as Judi Dench, Emma Thompson and Lionel Richie.
Thousands of people from across the U.K. and around the world camped overnight along a 1.3-mile (2-kilometre) route that the king and his wife, Camilla, traveled to reach the abbey.
At a traditional Anglican service slightly tweaked for modern times, Charles, clad in crimson and cream robes, swore on a Bible that he is a "true Protestant."
But for the first time, a preface was added to the coronation oath to say the Church of England "will seek to foster an environment where people of all faiths and beliefs may live freely," and the epistle from the King James Bible was read by Prime Minister Rishi Sunak, Britain's first Hindu leader.
A gospel choir performed a newly composed "Alleluia," and, for the first time, female clergy took part in the ceremony.
For 1,000 years and more, British monarchs have been crowned in grandiose ceremonies that confirm their right to rule.
These days, the king no longer has executive or political power, and the service is purely ceremonial since Charles automatically became king upon death of his mother, Queen Elizabeth II, in September.
The king remains the U.K.'s head of state and a symbol of national identity — and Charles will have to work to unite a multicultural nation and keep the monarchy relevant at at time when support for it is waning, especially among younger people.
The anti-monarchy group Republic said six of its members, including its chief executive, were arrested as they arrived at a protest. Police have said they will have have a "low tolerance" for people seeking to disrupt the day, sparking criticism that they are clamping down on free speech.
A cost-of-living crisis is also making everyone in the U.K. poorer, raising questions about the cost of all the pomp.
Charles has sought to lead a smaller, less expensive royal machine for the 21st century. So this will be a shorter affair than Elizabeth's three-hour coronation.
In 1953, Westminster Abbey was fitted with temporary stands to boost the seating capacity to more than 8,000, aristocrats wore crimson robes and coronets, and the coronation procession meandered 5 miles (8 kilometres) through central London so an estimated 3 million people could cheer for the glamorous 27-year-old queen.
Organisers this time shortened the procession route, trimmed the coronation service to less than two hours and sent out 2,300 invitations to world royalty, heads of state, public servants, key workers and local heroes. There were judges in wigs, soldiers with gleaming medals attached to red tunics and members of the House of Lords in their red robes.
Heir to the throne Prince William, his wife, Kate, and their three children were all in attendance. William's younger brother Prince Harry, who has publicly sparred with the family, arrived alone. His wife Meghan and their children remained at home in California.
Built around the theme "Called to Serve," the coronation service began with one of the youngest members of the congregation — a boy chorister — greeting the king. Charles responded by saying, "I come not to be served but to serve."
The moment is meant to underscore the importance of young people — and is a new addition in a service laden with the rituals through which power has been passed down to new monarchs throughout the centuries.
The symbolic peak of the two-hour service came halfway through when Archbishop of Canterbury Justin Welby placed the solid gold St. Edward's Crown on the monarch's head. Trumpets sounded and gun salutes were fired across the U.K.
In another change, Charles has scrapped the traditional moment at the end of the service when nobles were asked to kneel and pledge their loyalty to the king.
Instead, Welby will invite everyone in the abbey to swear "true allegiance" to the monarch. He'll invite people watching on television to pay homage, too — though that part of the ceremony has been toned down after some criticised it as a tone-deaf effort to demand public support for Charles. Welby will now suggest people at home take a "moment of quiet reflection" or say "God Save the King."
The public's response to Charles, though, during the service and along the parade route, is key, said George Gross, a visiting research fellow at King's College, London and an expert on coronations.
"None of this matters if the public don't show up,'' Gross said. ''If they don't care, then the whole thing doesn't really work. It is all about this interaction.''
And today's public is very different from the audience that saw Elizabeth crowned.
Almost 20% of the population now come from ethnic minority groups, compared with less than 1% in the 1950s. More than 300 languages are spoken in British schools, and less than half of the population describe themselves as Christian.
Although organisers say the coronation remains a "sacred Anglican service," the ceremony will for the first time include the active participation of other faiths, including representatives of the Buddhist, Hindu, Jewish, Muslim, and Sikh traditions.