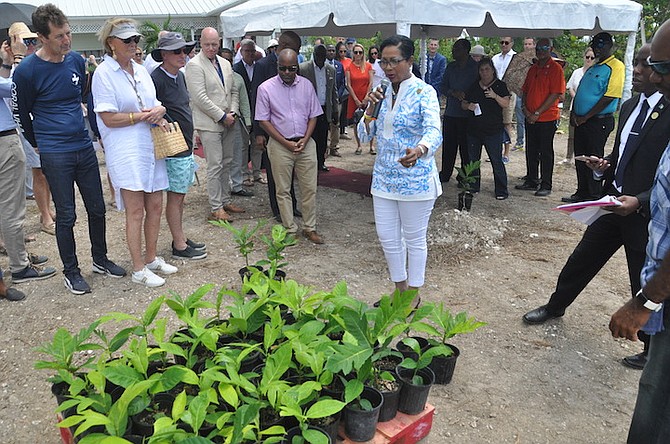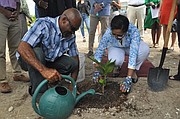 By DENISE MAYCOCK
Tribune Freeport Reporter
dmaycock@tribunemedia.net
 ANN Marie Davis, wife of the Prime Minister, planted one of the 50 breadfruit trees gifted to the Ole Freetown Farm in East Grand Bahama on Friday.
 Mrs Davis, a guest at the Forum For Impact, presented farmer George Johnson and his wife, Sissel, with three varieties of the plant – the Otea, Yellow Heart, and Maafala from The Trees That Feed Foundation.
 The couple's farm/agri-tourism business was devastated during Hurricane Dorian in 2019. They lost all their animals, crops, and a long-time farm employee.
 After surviving the terrible ordeal, the Johnsons later learned that the only two surviving breadfruit trees had been accidentally bulldozed during the cleanup phase.
 Mrs Davis donated the 50 breadfruit plants in the spirit of this year's 50th Bahamas Independence anniversary.
 "I thought donating 50 trees to farmer George, and his wife, would be a great gesture in the spirit of the independence celebration," she said.
 "He lost all his animals and crops, except for his two breadfruit trees that survived Dorian, but were accidentally plowed by a machine that cleared the land. So, I wanted to help them replace that and also to help him restart the agri-tourism business he had going."
 Mrs Davis said FFI is a great conference as it focuses on climate change, resilience, and conservation and promoting clean oceans and atmosphere.
 Breadfruit trees, she said, are very beneficial. In addition to being a healthy and nutritious food source, she said it has the ability to sequester carbon more than many crops.
 "Once you start counting carbon...it will surely make a difference when we want to reduce our carbon footprint and count those carbon credits," she said.
 "So, I plan to plant a lot more breadfruit trees because I plan to help cure the hunger crisis we have, help with food security," she said.
 Mrs Davis said that breadfruit is a staple product that can feed a family of four for 10 years. "If you have nothing else, you can survive off a breadfruit tree," she said.
 She said that Grand Bahama has so much land that can be developed for agri-tourism.
 "There is so much space here, and as we were driving here there were miles and miles of just land with dry trees from the hurricane.
 "If we can convert that into breadfruit groves, could you imagine the kind of economic benefits we would have here?" she said.
 The Johnsons were very moved by the gesture and thanked Mrs Davis, and Mary and Micheal McLaughlin for their generous donation from the Trees that Feed Foundation.
 "We will forever be grateful for these special trees," said Sissel Johnson.
 Mrs Johnson said that the loss they endured during Dorian has been heartbreaking, but they are slowly restoring the farm.
 "By the grace of God, my husband and I, as well as my mother, survived (Dorian). Our longtime employee and farm family, Kenel Joseph, lost his life, as well as hundreds of our farm animals," she recalled of that fateful day.
 "We have had almost four years of time to reflect, and heal, and with our faith, we have been trying to move forward, one day at a time," she said.
 The Johnsons have learned from Dorian and have decided to take a different direction in their farm agri-tourism business, with more fruit trees and short-term crops.
 "So now we are focused on the trees and crops that are able to come back, intercropping, permaculture, and container growing as the way moving forward. Eco-Agri-tourism has always been a main focus, and we will continue on that path," Mrs Johnson added.
 The Johnsons still have a long way to go and are grateful for the support they have received from everyone in the community, including family, friends, organisations, the GB Port Authority, past and present governments, and complete strangers.
"We have been ever so blessed from the day we were rescued after Dorian up to this day," she said.