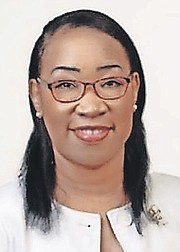 • Commonwealth eyeing 'all areas for growth'
• Consumer loan delinquency cut below 5%
• Business Licence return drives 38% fee rise
By NEIL HARTNELL
Tribune Business Editor
nhartnell@tribunemedia.net
Commonwealth Bank yesterday revealed its $19.58m first quarter profits "exceeded expectations by 54 percent" despite having to contend with a more than one-third year-over-year increase in licence fees.
Tangela Albury, the BISX-listed lender's vice-president and chief financial officer, told Tribune Business that its 2023 full-year figures will be impacted by "non-controllable additional expenses" driven by the reimposition of Business Licence fees on the commercial banking industry.
But, while this will increase Commonwealth Bank's annual operating costs by some $2.8m, she voiced confidence that the bank will hit both its second quarter and 2023 full-year financial targets after profits for the first three months were aided by signs of renewed growth in its core lending business.
Ms Albury, revealing that loan delinquencies in its key consumer credit segment have now fallen below 5 percent of the total outstanding portfolio, also expressed optimism that Commonwealth Bank will be able to "maintain dividend payments" of $5.9m per quarter throughout 2023 as COVID-19's devastating financial impact starts to slowly recede into the past.
Speaking after the bank's 2023 first quarter profits declined by almost 35 percent year-over-year, falling to $19.58m from $30.406m in 2022, she explained that the latter figure was almost entirely driven by the "v-shaped" pandemic rebound which enabled it to recover or write-back some $17.403m in loan loss provisions during the early part of last year alone.
Loan loss provision recoveries dropped by 72.5 percent year-over-year, declining to a more regular $4.817m, which meant Commonwealth Bank had to rely more on interest income and fees from its core lending business to drive growth. These helped push 2023 first quarter profits to a level some $5.5m higher than the $14.1m historical average achieved over the past five years.
"The first quarter results exceeded expectations for the period by approximately 54 percent," Ms Albury said. "The bank continues to have a strong liquidity position to be a major participant in the expansion of local credit. Given that the market for qualified borrowers has improved in 2023, all of the bank's business segments are targeted for growth.
"We are cautiously optimistic that the lending market can significantly expand beyond pre-Dorian and pre-COVID-19 levels. Accordingly, we are encouraged when we attract those customers in segments of the economy that have a proven track record for low delinquency, even in challenging business environments."
Ms Albury said Commonwealth Bank's ambitions to convert depositors into borrowers remains "a work in progress" as it works to "determine the appropriate type of product-service mix that will be most effective, including tailoring our existing products and exploring value-added services which are favourable to making us their complete banker of choice".
Commonwealth Bank's interest income jumped by almost $2m during the 2023 first quarter, growing by 6.3 percent to $33.488m from $31.513m during the same period in 2022. Net interest income rose by 7.1 percent, growing to $29.224m from $27.274m in a sign of some lending growth, while fees and other income were up 59.8 percent at $6.039m compared to $3.778m in the prior year.
The BISX-listed lender also enjoyed some loan portfolio expansion, as the book grew by more than $11.5m to reach $797.724m at end-March 2023 compared to the 2022 close. Customer deposits also increased by a slightly higher margin of just under $18.5m, rising from $1.513bn to $1.532bn.
"We have been able to improve delinquency percentages in our non-performing loan book, as well as overall improvement in loan contractual delinquency percentages," Ms Albury said. "Delinquency in our core business, consumer lending, is now below 5 percent, and the bank is operating within budgetary expectations for 2023.
"We believe that there are further opportunities for a decline in delinquency, which are attached to simultaneously achieving growth in loan receivables while continuing to focus attention on controlling delinquency levels.... The continued rebound of the Bahamian economy has improved the level of qualified borrowers over the prior year.
"Accordingly, the bank is focused on the opportunity to drive organic business growth through a posture of safely expanding credit to both new and existing customers, and past customers recovering from the economic challenges of the last three years. In addition, we continue to price our products and services effectively on both sides of the balance sheet. We are still experiencing some reversals of impairment allowances. However, it is a milder contribution to the bank's profitability year-on-year."
Expenses, though, have come under pressure with general and administrative costs (G&A) up year-over-year by more than $2.5m, having risen by 14.9 percent to $20.278m during the 2023 first quarter as opposed to $17.642m during the prior year period.
"2023 will be impacted by some non-controllable additional expenses which did not affect the prior period results, such as the reintroduction of Business Licence fees which increases the bank's operating costs in 2023 by approximately $2.8m. This represents an approximately 38 percent increase in licence fees paid by the bank over the prior year," Ms Albury told Tribune Business.
"The bank is committed to improving its infrastructure, which requires investment in people and overall organisational development. In addition, increases in utility costs year-on-year and business maintenance costs reflect inflationary elements that are now showing some permanence as part of the bank's operational costs. However, these increased costs, which are reflected in the 2023 financial results, have been budgeted and the bank is operating within budgetary targets."
Detailing Commonwealth Bank's positive outlook on the remainder of 2023, Ms Albury said: "We are very confident that we can maintain dividend payments through the rest of 2023. We are approaching the hurricane season, and this creates a level of uncertainty that we cannot predict.
"Otherwise, we expect to be positioned to pay the usual two cents per share per quarter, which approximates $5.9m quarterly. We were also pleased to pay an extraordinary dividend during the first quarter of 2023 such that our total return to shareholders in the form of dividends was $11.7m compared to $2.9m during the same first quarter of the prior year.
"We anticipate achieving our budgetary targets for the second quarter and the full 2023 financial year. The first quarter results have certainly exceeded the past five-year historical average profitability for the same period," she added. "The bank's historic net profit of $76m in 2022 benefited from the V-shaped recovery of the economy.
"However, as the economy is now stabilising and lending conditions normalising, the first quarter financial results are certainly encouraging. We expect that our profitability will be in step with the historic financial results that are just before the impacts of Hurricane Dorian and COVID-19."