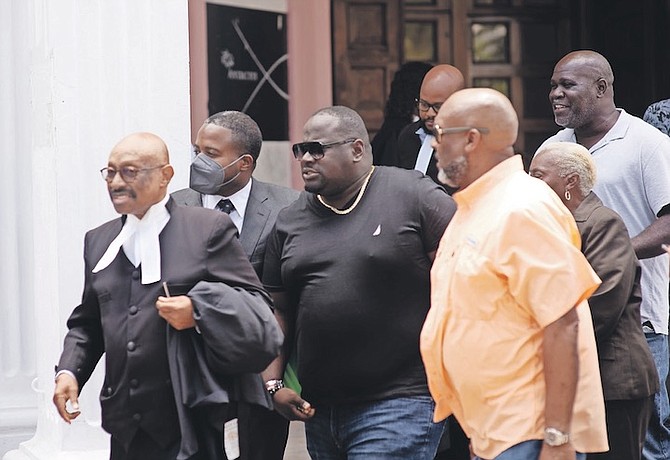 By LEANDRA ROLLE
Tribune Staff Reporter
lrolle@tribunemedia.net
THE Court of Appeal stayed Adrian Gibson's corruption trial yesterday pending the outcome of his appeal of a ruling from Justice Cheryl Grant-Thompson.
On May 16, Mr Gibson's lawyer, Murrio Ducille, KC, gave urgent notice of his appeal of Justice Grant-Thompson's ruling on Mr Gibson's constitutional application.
Elwood Donaldson, Jr, the former general manager of WSC, is also challenging the judge's ruling.
The appellate judges were expected to hear arguments on the appeal yesterday but did not do so because Mr Gibson's lawyers did not file their submissions.
"This is your application," Justice Jon Isaacs said to Mr Gibson's legal team. "You have said it's urgent and yet you have not provided any submissions. The other side treats it as urgent and has pre-empted your submissions and filed their own. They are more diligent than you are."
The appellate judges expressed other concerns with the appellant's appeal, including the lack of clarity on which judgement was being challenged.
"The other point to be made," said Justice Stella Maureen Crane Scott, "is the notice of appeal motion is only in respect of one appellant and so while we have seen as I understand it certificates of urgency from two other of your clients."
 Justice Isaacs said he would have dismissed the defendant's applications if left to him.
 He said he was "baffled" by how Mr Gibson's lawyers expected the court to hear their appeal without receiving the necessary submissions.
 Mr Ducille replied that he found out about the appeal hearing on Friday, though he acknowledged this was not an excuse.
 The appellate judges reminded him that he said his application was urgent.
 Mr Ducille agreed, telling the court, "I have no defence," before asking for a short adjournment.
 Acting Director of Public Prosecutions Cordell Frazier objected to his request, arguing there was no justifiable reason for the appellants' failure to file the proper documents earlier.
 Ultimately, the judges accepted Mr Ducille's three-week adjournment request.
 Mr Gibson, a sitting MP, is charged with Mr Donaldson, Rashae Gibson, Joan Knowles, Peaches Farquharson and Jerome Missick on 98 charges, including conspiracy to commit bribery, bribery, fraud, receiving and money laundering.
 Earlier this month, he filed a constitutional motion, arguing that his defence had been prejudiced due to the Crown's lack of full disclosure.
 He also argued that his right to a fair trial would be breached if Alexandria Mackey, the Crown's key witness, did not testify in person.
 Mr Donaldson has adopted the same arguments.
 Justice Grant-Thompson dismissed their application last week, calling it "misconceived" and "premature."
 According to court documents Mr Donaldson's lawyers filed, he is appealing on six grounds.
 Mr Donaldson's lawyer claims that Justice Grant-Thompson erred when she said the Crown was not obligated to make all disclosures to the defence.
 "The learned judge erred when she failed to declare that article 20(1), 20(2)(c) and 20(2)(e) of the constitution of the Commonwealth of The Bahamas, which prevents the appellant from being tried with the main prosecution witness, Alexandria Mackey, giving evidence by way of video link, had been breached," the document said.
 "The gist of her evidence depends on paper exhibits and cheques which would not be feasible to be dealt with by way of video link evidence."