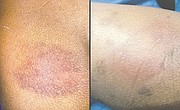 By LETRE SWEETING
Tribune Staff Reporter
lsweeting@tribunemedia.net
PARENTS of the Bimini Primary School students who were allegedly bruised when a police officer beat them in March are concerned police officials are ignoring their complaints and demands for accountability.
On Friday, police Commissioner Clayton Fernander told reporters police had not completed their investigations into the beatings and are working on the matter with the Ministry of Education.
However, Tanishka Sands, a mother whose child was reportedly beaten, said she reached out to officials last week for an update on the investigation but got nowhere.
"I haven't heard anything from the police, social services, nor education," she said yesterday. "I reached out to education about a week ago, and nothing. They didn't say anything, and nobody contacted me."
She said she doesn't believe the investigation is being handled swiftly or appropriately.
In March, the Ministry of Education and Technical and Vocational Training said the Ministry of National Security had been requested to investigate the alleged actions of the officer, noting it received a report of an incident at the school "resulting in the purported discipline of several boys at the school allegedly by a police officer".
"The matter is under active investigation, which will result in swift and appropriate action," the ministry said in a Facebook post.
Since then, the school's principal has been reassigned. Education Minister Glenys Hanna Martin confirmed the punishment was inconsistent with the ministry's policies.
Davaria Sherman, the mother of an 11-year-old boy who was beaten, said police officers have not reached out to her.
"I haven't heard anything from anyone. No one contacted me. I honestly feel like they're trying to sweep it under the rug, but I can't say for sure," she said yesterday.
Ms Sherman previously told The Tribune her son's bottom was bruised until it turned "red and purple".
She had warned school administrators not to beat her son on his hip because he has pelvic kidney, a condition that affects the position of one's kidney.